Four Webster Students Part of International Arts Ecology Movement Oct. 16 in St. Louis
On Saturday, Oct. 16, from 1-4 p.m. in St. Louis' historic Central West End, Climate Change Theatre Action St Louis 2021 will be part of an international ecology movement representing over 250 events and 30 countries using the arts to call attention to the most pressing issue of our time. Webster University students Bryce Miller, Jade Collins, Ben Speed and Elizabeth Lewy are among the performers.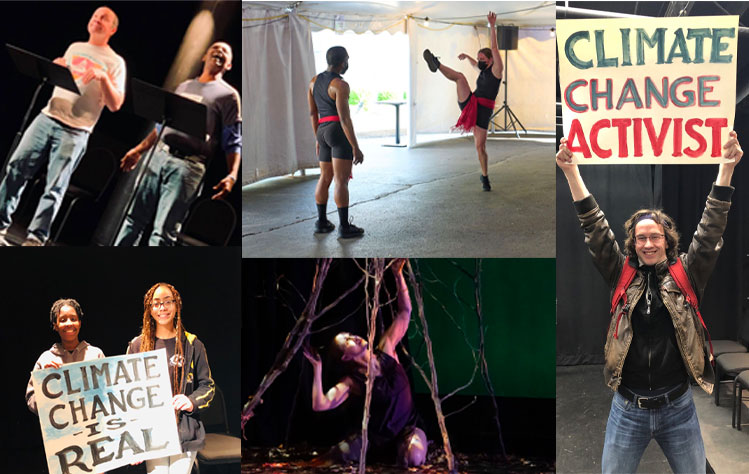 Reflecting an age span of performers of over 50 years, the event will include performers from the Central Visual and Performing Arts High School in "How Dare You?," an adaptation of teenage activist Greta Thunberg's address to the UN, theatre students from the Webster University Conservatory of Theatre Arts, well-known local theatre artists and performances by two dance companies, Ashleyliane Dance Company and Karlovsky and Company Dance.
The galleries include Duane Reed, Houska, Philip Slein, and Projects +, all located on McPherson Avenue in the historic CWE district between Euclid and Walton.
"Climate change is no longer a burning specter on the distant horizon. It is here now, wreaking havoc in our communities, in our neighborhoods, and it is currently and directly threatening our children's very future. We must as a world work relentlessly, using science and the arts as our best weapons to fight this murderous man-made menace," says project collaborator Philip Slein, owner of the Philip Slein Gallery.
The arts are a pathway to illuminate the issues in an engaging way and also to promote hope, joy and engagement. It is both meaningful and important that St. Louis take part in this international arts and ecology movement.
Event Information
Viewers will be able to see a short play or two of under ten minutes in a gallery before proceeding to the next gallery to see others. The event will feature approximately 8-10 short pieces that were commissioned internationally and have been published.
Most performances will be repeated four to five times, in rotation, or approximately every twenty minutes, starting at 1 p.m. Some work may also be performed outside.
Indoor performances will be limited to ten audience members at a time and masking will be required.
Local Artists and Performers
Many St. Louis theatre artists are involved in presenting this project, including Anna Blair, Donna Weinsting, Dan Kelly, Teresa Doggett, Susan Volkan, Michael Paplanus, Don McClendon, Carrie Hegdahl, Alice Kinsella, Bethany Barr, Hassie Davis, Glynis Brooks, Rachel Mitchell, Bryce Miller, Jade Collins, Ben Speed, and Elizabeth Lewy, among others.
Ashleyliane Dance Company will offer selections from their critically acclaimed "Environmental Intelligence." Artistic Director Dawn Karlovsky of Karlovsky & Company Dance will also collaborate with community dancers to present "In Our Time," a structured improvisation engaging with architecture and space and thematically exploring ideas around shifting and changing.
Classical and jazz guitarist Carol B. Eder will also perform.
Additionally, there will be outdoors tabling by environmental groups including Great Rivers Greenway, U.S. Green Building Council - Missouri Gateway Chapter, Missouri Coalition for the Environment, Project Animal Freedom, World Bird Sanctuary, Metropolitan Congregations United, Earth Dance Organic Farm School, St Louis Voter Registration Group, 365 STL and more.
Parking
Street parking is available as well as a paid lot on Euclid Ave. between Washington and McPherson Ave.
"The issues facing us are real but so are the opportunities to change the direction of this global crisis," said Joan Lipkin. "The arts are a pathway to illuminate the issues in an engaging way and also to promote hope, joy and engagement. It is both meaningful and important that St. Louis take part in this international arts and ecology movement."
Produced by Webster University alumna Joan Lipkin and Pamela Reckamp, the St. Louis event is part of a worldwide series of readings and performances of short plays about the climate crisis and environmental justice. CCTA 2021 will take place from Sept. 19 to Dec. 18 to coincide with the United Nations Climate Change Conference (COP 26).
The last iteration of CCTA, in 2019, included over 220 events in nearly 25 countries. For more details, the list of participating playwrights, and previous collaborators, see climatechangetheatreaction.com.
Community partners Pi Pizzeria and Jeni's Splendid Ice Cream will provide special discounts to event attendees.