Community Music School Faculty Profile: Zena Ilyashov
The year is 1990. To escape persecution and in search of cultural and artistic freedom, Zena Ilyashov (piano) and her family immigrate to America from Minsk, Belarus.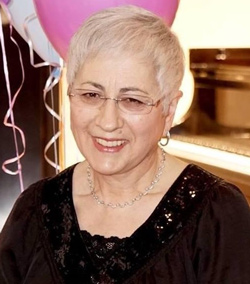 Starting out is challenging and very modest. With little to no English and only about $400 in their possession, Zena and husband Yuly Ilyashov (violin) are determined to provide greater opportunities for their gifted children - pianist Masha and violinist Pavel. The United Jewish Community of St. Louis, Jewish family services, and HIAS gave the refugee family some essential help in the early days and the Ilyashov family is eternally grateful for the much needed assistance.
After a few months of English classes, Zena is already employed and working full-time filing medical records for a doctor's office - a job she remembers doing "poorly and slowly" since she was still getting comfortable with the alphabet.
Fortunately, the St. Louis music community is welcoming of the Ilyashov family and they are soon presenting concerts in the area. An article in the Post Dispatch is noticed by the prominent and esteemed Rabbi Jeffrey Stiffman. An avid music lover, he is moved by the story about the 4 musicians and concerned that they don't have a piano at home. Rabbi Stiffman invites the family to his home and subsequently gives the family one of his own pianos and asks to enroll as Zena's private piano student. Rabbi Stiffman is Zena's first student in St. Louis, and 31 years later he continues to have his weekly lessons every Thursday.
From my very first performance to my wedding, she has been always there for me
The Community Music School, then known as CASA, is also aware of the Ilyashov family. Their son Pavel is a violin student at the school and Yuly, teaches a few lessons. Yuly remained on the CMS faculty for over 20 years and taught many students - most of whom join the St.Louis Youth Orchestra. He passed away in January 2021.
CMS gave Zena a chance also - starting with just one student. It turned out to be a wise decision. That 30-minute lesson was the beginning of what is a 31 year tenure with CMS.
A number of Zena's students go on to major careers in music. The amount of competition winners is simply too staggering to list. Her students perform as soloists with major orchestras in America and abroad - including our very own St. Louis Symphony. They perform countless recitals and play chamber music with the finest of musicians. Many go on to study at the most esteemed music schools on both the east and west coast.
But it is not the accolades that bond her students and make Zena an extraordinary teacher. She encourages each student to do their personal best and gain a genuine love for music. From the youngest student and their parents to 31-year-student Rabbi Stiffman, Zena's studio is a family. This family, along with her children and grandson, mean the world to her. Without fail, they love her back dearly.
Zena always encouraged me to follow my inner artistic voice with courage and determination
Reflections from Students and Colleagues
"I have so much to be thankful for from having studied with Zena. Our lessons together are still often on my mind, shaping my teaching now just as they shaped my own playing years ago. Above all else, Zena gave me the gift of high musical standards. The high standards come from a deep respect for the music. And the respect comes from love. Zena taught me what it means to love music."
- Nicholas Susi, concert pianist and professor of piano in Duluth Minnesota
"Zena always encouraged me to follow my inner artistic voice with courage and determination. I am so grateful for her unwavering guidance and inspiration over the years!"
- Dominic Cheli, pianist
"As a young student, Zena inspired and pushed me to be the best pianist and musician I could be. She gives her all to her students, and her dedication to excellence is remarkable. I will always credit Zena's influence with who I am as a performer today."
- Lindsay Garritson, pianist currently based in Florida
"I am forever thankful for having had the opportunity to study under Zena. She worked with me not only on technique, dynamics, and deepening my understanding of music history, but also on helping me to develop my own sense of musicality and interpretation of every piece I performed in a way that no other person could have done. She is incredibly dedicated to both her students and their families, and throughout the years I studied with her, she became a treasured part of my family. And perhaps most importantly, through her guidance and her own passion for teaching and for music and opera, she instilled in me a deep love for the arts, and it is this connection that I'll take with me wherever I go. Music has added such a richness and balance to my life, and I could not imagine my life without it. And for that, I am so very grateful to my wonderful, "forever teacher," Zena. "
- Sasha Rice, Princeton University.
"I started studying with Zena when I was 8. She was hugely influential to me as a musician and as a person. From my very first performance to my wedding, she has been always there for me, a consistently kind and supportive presence. As a piano teacher now I hope I can give my students half of what Zena has given me through my life."
- Kristine Olevsky, who has soloed with many orchestras including the St. Louis symphony; she currently does a lot of accompanying and is teaching in several universities
"Hiring Zena to the piano faculty at CASA (now CMS) was one of the best things I could have done for the St. Louis music community. From our first meeting in the large performance hall at the school, I was struck by her refined musical integrity, her care and concern for the welfare of all she met and her personal humility. The subsequent growth in her studio and the many successes of her students served as further evidence of how much she added to the piano world as she became the esteemed mentor and treasured friend of so many colleagues and families. The Community Music School is a better place for her presence and contributions and I am proud to have been part of the support system that brought Zena to all of our lives. Wishing a very Happy 75th Birthday to my dear friend, Zena!" - Sheila Ryerse, pianist and first director of Community Music School
Prepared and written by Antonina Gerassimova (piano) with most special and sincere thanks to Pavel Ilyashov for providing the precious details of his family's journey, and huge thanks to all former employers and students who shared their thoughts about our mentor and teacher, mother, musician and inspiration Zena Ilyashov.