Community Music School Adds New Faculty for 2021-2022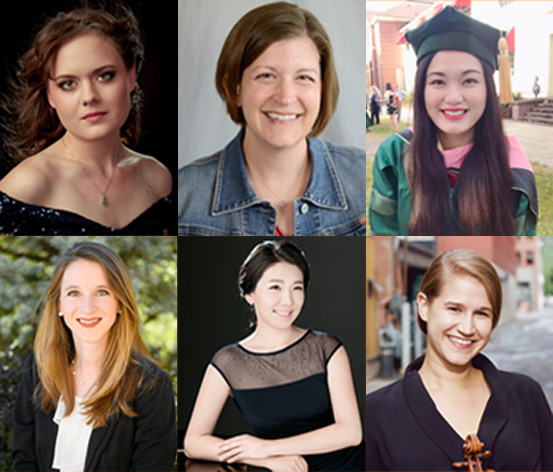 The Community Music School of Webster University is pleased to welcome new faculty for the 2021-2022 academic year. The CMS employs over 90 faculty teaching all instruments of the band and orchestra, piano, voice, and guitar. Every CMS faculty member has a minimum of a bachelor's degree or equivalent experience, and 85 percent have advanced degrees.
Autumn Chodorowski, violin
M.M. Violin Performance, Northwestern University; B.M. Violin Performance, The Glenn Gould School; A.D. in Chamber Music Studies, San Francisco Conservatory of Music; Studied with Almita Vamos, Paul Kantor and Ian Swensen; Principal Second Violin of the Quad City Symphony Orchestra; Associate Principal Second Violin of the Illinois Symphony Orchestra; Faculty at the Stringwood chamber music camp; Former Fellow at the New World Symphony and Civic Orchestra of Chicago; Summer festivals include Tanglewood Music Center, Spoleto Festival Orchestra USA, Music Academy of the West, Aspen Music Festival, and National Repertory Orchestra; Soloist with the Bachiana Philharmonic Orchestra in Sao Paulo, Brazil, and the Quad City Symphony Orchestra; Prominent chamber music performances include concert premiere of "You Are Mine Own" at Spoleto Festival USA, collaborations with students at Shanghai Conservatory in Shanghai, China, collaboration with Jeremy Denk at Music Academy of the West, collaborations with the Pacifica Quartet and Geoff Nutall at the San Francisco Conservatory of Music, and with the Ariel Concert Series in St. Louis, MO; Former Faculty at Mid Peninsula Music Academy in San Francisco, CA, and Sitka Fine Arts Camp in Sitka, Alaska.
Crystal Chu-Sharp, Kindermusik
D.M.A. Percussion Performance, University of Oregon; M.M. Percussion Performance, New York University; B.M. Percussion Performance, National University of Singapore; studied with Pius Cheung, Jonathan Haas, and Rodney Dorsey. Worked as Graduate Teaching Fellow for various music ensembles at the UO as assistant conductor, ensemble coach, band librarian and coordinator. Former Principal Percussion, Eugene Concert Orchestra (OR). Guest artist at Space City New Music Festival. Social Media Manager, Beta Percussion International Institute. Performed at Oregon Bach Festival, Northwest Percussion Festival, soundSCAPE Festival, SICPP, World Youth Wind Orchestra Project (Austria), and the WASBE Conference. Originally from Hong Kong, Dr. Chu-Sharp is happy to call St. Louis home with her husband and daughter. Her research study in interdisciplinary art and creative performance practice enriches her teaching effectiveness at all levels, and she always aims to provide an inclusive learning environment for her students. Besides English, she is fluent in Mandarin and Cantonese.
Rebecca Chung Hamilton, violin
M.M. Violin Performance, The Juilliard School; B.M. Violin Performance & B.A. Psychology, Northwestern University; studied with Naoko Tanaka, Almita & Roland Vamos, and Yuan-Qing Yu; member of Santa Barbara Symphony Orchestra, Santa Barbara Chamber Orchestra, and New West Symphony; former substitute of Pasadena Symphony and Los Angeles Chamber Orchestra; has performed with artists such as Sarah McLachlan, Barry Manilow, and Ariana Grande; has performed on many tv and film scores such as "Ferdinand", "Onward", and "House of Cards". For more information, visit www.rebeccachung.com.
Marta Edler, piano
M.M. in Piano Performance, Catholic University of America in Washington, D.C. and B.M. in Piano Performance and Music Theory, University of Missouri-St. Louis. Praised by the Washington Post for the ability to "create delightful caricatures with bright rhythms, deliberate octaves, and gentle lines." Teachers include Dr. Ivo Kaltchev, Alla Voskoboynikova, and Eugenia Weisman Evans. Finalist at the International Piano Competition, Washington, D.C. (2018); Concerto Competition Winner, University of Missouri-St. Louis (2016); First Place, Missouri Music Teacher Association Competition (2016). Recipient of the William Masselos Scholarship Award (2017, 2018); Daughters of the American Revolution Honorary Award (2018); Blanche M. Touhill Award for Music Excellence (2016); July Goldman Award for Excellence in Musicianship (2014, 2016); Presser Award (2015); Hilda E. Stroh Scholarship (2014, 2015).
Performances with orchestras include the Catholic University of America Orchestra, the St. Louis Gateway Festival Orchestra, and the University of Missouri-St. Louis Orchestra. Instrumental and vocal collaborative coaches include: the Arianna String Quartet, Rick and Sharon Christman, Steve Morton, Alla Voskoboynikova, Stella Markou, and Ralitza Patcheva. Past instructor positions: faculty at the International School of Music in Washington, D.C., teaching assistant at the Catholic University of America, and private piano instructor at the Arts on Elm in O'Fallon, MO. Students have successfully participated in regional and national competitions and have been selected to perform at the Kennedy Center in Washington, D.C. and Carnegie Hall in New York.
Sarah Klevorn, Conductor-Young People's Concert Orchestra (YPCO)
M.A., Music Education, Eastman School of Music; B.M.E. & Certificate in Violin Performance, Florida State University. Currently serves as Orchestra Director in Kirkwood School District; students performed at MMEA (2020) and won the Gold Rating and Adjudicator Award at the National Heritage Festival (2020 & 2016). Former faculty, Winter Park High School in Orlando, FL, and Recipient, Winter Park High School Spirit Award for teaching. WPHS full orchestra ensemble named Orlando Philharmonic's Orchestra of Distinction. Conducting study with Dr. Patrick Dunnigan (FSU), and orchestral training with Corinne Stillwell (FSU) and Juliana Athayde (Concertmaster, Rochester Philharmonic). Orchestral experience includes Metropolitan Orchestra of St Louis, Cordancia Chamber Ensemble, and the Tallahassee Symphony.
Mihyun Lee, piano
D.M.A. piano performance, Ohio State University; M.M. piano performance, Cleveland Institute of Music; B.M. piano performance, Sook-Myung Women's University; former faculty member, Baek-Seok Arts University and Sook-Myung Women's University; former piano instructor; Ohio State University (GTA) and Jefferson Academy of Music; former staff accompanist, Hobart and William Smith Colleges; Current faculty of St. Charles Community College; Secretary of St. Louis Area Music Teachers Association; member of the Piano Teachers Round Table in St. Louis.
Performances with Russia Pacific Symphony Orchestra, Vienna CMS Orchestra, Romania Oltenia Craiova Philharmonic Orchestra, Janacek Concert Chamber Orchestra, and Sae-Jong Symphony Orchestra; Guest performance at Triumph Music Festival-Gala Concert (Philadelphia); First prize of International Young Artist Piano Competition, Asia International Music Competition, Korean World Arts Association Piano Competition, Music Education Newspaper Piano Competition, and recipient of American Protégé Competition; Winners concert at the Kennedy Center in Washington, D.C. and Carnegie Weill Hall in New York; Broadcast on WOSU TV and Classical 101, Columbus; Actively performing in US (New York, Philadelphia, Washington D.C, Ohio, Indiana), Europe (Italy, Czech), and Asia including solo recital in Seoul Arts Center in Korea.
Amy Meschke, violin/viola
B.A. Truman State University, M.A.E. Truman State University, M.A. Educational Administration Lindenwood University. Studied violin and viola with Norma Tomlinson, Dr. Eugene Dowdy, Jorge Richter, Dr. Clifford Panton, and Dr. Sam McClure. She attended master classes with Ani Gregorian Resnick and Ara Gregorian while she was a student at Truman State. Amy has performed with the St. Louis Community College Meramec orchestra under the direction of Mr. Gary Gackstatter. She has performed with numerous guest artists with the Meramec orchestra over the years including Eugene Friesen, Paul Winter, John McCutcheon, Barbara Higbie, Laura Love, and Sam Bush. Amy is an orchestra director in the Mehlville School District. She coordinates the strings program in Mehlville. Amy has taught strings to elementary, middle, and high school students for over twenty years.