New Works Concert Features Original Choreography by Dance Faculty, Alumni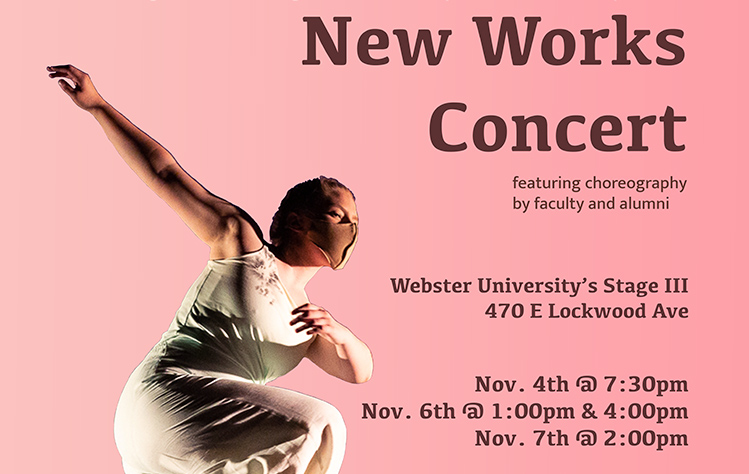 The Department of Dance in Webster University's Leigh Gerdine College of Fine Arts presents the New Works Concert on Nov. 4, 6 and 7 in Stage III on the main campus in Webster Groves, Missouri.
This performance showcases original choreography by Webster Dance faculty members Jennifer Welch Cudnik, Dawn Karlovsky, Monica Newsam and Ashley L. Tate, along with Webster Dance alumni Tayler Kinner and Sydnee Reese.
Performance Times and Tickets
Nov. 4, 7:30 p.m.
Nov. 6, 1 p.m. and 4 p.m.
Nov. 7, 2 p.m.
The performance takes place in Stage III, the lower level of Webster Hall, 470 E. Lockwood Avenue.
Tickets are $15 for adults, $7 for seniors, Webster alumni, and non-Webster students; $2 for children 12 and under; and free for Webster students, faculty, and staff.
Seating is limited. Reservations are highly recommended, and masks are required. To purchase tickets, visit: lgcfa.brownpapertickets.com/
For further information, please call the Fine Arts Hotline at (314) 968-7128, email dance@webster.edu, or visit www.webster.edu/dance
Artist Statements
Jennifer Welch Cudnik, adjunct faculty member at Webster Dance, created a contemporary ballet for the students.
She comments on her work: "The garden is a nostalgic sanctuary that fills the senses with idealistic sentiments while providing nourishment for body and soul. For thousands of years the garden has served as a place for reinvigoration and centering. From the Egyptian gardens of pools surrounded by ornamental shrubs and trees to spiritual Chinese gardens designed as offerings for the Immortals, to community gardens, victory gardens and provision gardens and the most current trend of pandemic gardens, the garden is paramount in our myth.
"The garden also teaches humility, respect, patience, perseverance and offers a sense of self-accomplishment and purpose. This work will strive to illustrate a respect and reverence for the garden while acknowledging and holding space for the immense complications of the garden throughout history. In gardening, as in ballet, it is crucial to stay in tune with natural patterns and rhythms while also considering each individual's autonomy. The work will be a cultivation of these perceptions."
Dawn Karlovsky, founder and artistic director of Karlovsky & Company Dance and adjunct faculty member at Webster Dance, speaks of her work: "It is difficult not to be impacted by all the political, social, environmental, and controversial discourse embedded our lives. In some way or another, and in more or lesser degrees, we continue to be touched by the shifting attitudes and changes in our world.
"For me personally and choreographically, I am looking at these experiences as a study of human behavior; as an opportunity to observe the evolution of our interactions with one another, and the ways in which we comport ourselves in daily life. As I witness and experience these current shifts on how we navigate within our personal and shared spaces, I reflect on the altered ways that we now interact with one another. I am grateful and honored to work with this impressive group of dancers who have been so welcoming to the choreographic process and so generously willing to play and to collaborate."
Tayler Kinner, co-founder and artistic director of Big Plate Dance and alumna of Webster Dance, describes her contemporary trio: "like a boat going past all the bus stops explores the surreal sense of drift, isolation, and grief that occur in the aftermath of loss."
Monica Newsam, president of NEWSAM AERIAL DANCE and adjunct faculty member at Webster Dance, has created an aerial work for the students.
She said: "Levitating is an aerial silks solo performance that guides you through the performer's contrasting experiences of Earth vs. Sky - of being on the ground surrounded by struggles and difficulties in the first part of the performance that is balanced by the serenity achieved through levitation in the second half. When you rise above the earth, into the calm of the sky, you can transcend the chaos and satisfy your hunger for inner peace."
Sydnee Reese, owner and artistic director of Imagine Dance Project and the alumna of Webster Dance, describes the process for her piece:
"I hope to provide the dancers in my piece with an experience that will teach them the value of being an artist. I want them to learn that when dancing, they are sharing a piece of their soul with the world. I want them to be proud to freely express themselves and the subject matter through movement. Existentia is a piece meant to bring awareness to the oppression that women are currently enduring in Afghanistan. The shapes and movement phrases were created based on imagery from current news articles and interviews from women in Afghanistan. The work is meant to capture the essence of the hardships and obstacles these women are facing."
Ashley L. Tate, founder, artistic and executive director of Ashleyliane Dance Company and Adjunct Faculty member at Webster Dance, has created a classic jazz duet for the students.
She talks about her work: "Influenced by the styles of prominent choreographers such as Katherine Dunham, Giordano, and Fosse, this piece is a whimsical exchange between two 'frenemies.' This ode to theatre (set to tunes sung by Broadway star, Valarie Pettiford) is sure to get the audience clapping, tapping, and swaying. Jazz dance has evolved into many hybrids and has a long and complex history, but one thing is for sure...this dance genre is here to stay!"