Dance the Vote Receives Inclusion and Accessibility Award
Dance the Vote (DTV) received one of four Arts and Culture Accessibility Cooperative 2020 IDEA Awards for their organization's commitment to Inclusion, Diversity, Equity, and Accessibility.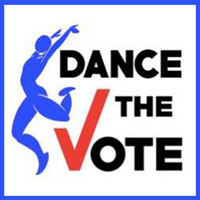 Founded by Webster University alumna Joan Lipkin '75, a theatre artist and social activist, and co-produced by Ashley L. Tate, DTV is a non-partisan organization that promotes voter advocacy and registration through performance, video, graphics and other arts related channels and civic engagement.
Webster University was a partner on the initiative, with winning selections announced in October 2020.
"Webster is thrilled to have partnered with Dance the Vote on this incredible project," Webster's chief diversity officer, Vincent C. Flewellen, said at the time. "We received some outstanding submissions from students who reflected on history and the importance of honoring the legacy of John Lewis.
The other recipients for the inaugural IDEA awards include St Louis Shakespeare Festival, the Arts and Education Council of Greater St Louis and Jenna McNeal, lead visitor engagement supervisor at the Missouri History Museum.
"We want to celebrate our community, which is why we created these awards. The award is presented for Inclusion, Diversity, Equity and Accessibility, so all of those parts factored into a decision to present an award to Dance the Vote. They were selected as one of the winners of the ACAC IDEA awards for their commitment to use the arts to promote voter registration and the right to vote to a diverse audience during an unprecedented election," said Magan M. Harms, Arts and Culture coordinator for MindsEye.
Choreography to Encourage Voting
Following the deaths of George Floyd and Breanna Taylor and in recognition of the 30th anniversary of the signing of the Americans with Disabilities Act, Dance the Vote centered racial justice and disability in numerous ways over the past year.
They focused on commissioning choreographers of color to create videos about voting and issues that might compel someone to vote, creating 23 virtual pieces that were shared weekly. In addition to original dance pieces, each episode also had information on how to check one's voter registration or register and where to call if they had problems at the polls. They also created disability specific graphics and video featuring people with disabilities to promote voting, and commissioned disability specific dance videos for the 2020 virtual episodes of their season that just ended.
Dance the Vote was also featured on "Every Vote Counts: A Celebration of Democracy", hosted by America Ferrera, Kerry Washington and Alicia Keys and produced by Global Citizen that was seen on CBS, BET and streamed on multiple international platforms including Twitch, Amazon Music and YouTube.
"We are honored to have been selected and in the company of such significant colleagues and institutions," Lipkin said. "Anything that continues to bring more awareness of the importance of accessibility benefits our entire community, as one in four Americans will experience disability whether temporary or ongoing in their lifetime."
Read More