Communications Students Place Third at Regional Advertising Competition
Story by Drew Fisher, junior, Advertising and Marketing Communications
Webster University's Advertising Campaigns Competition class finished in third-place at the annual District 9 National Student Advertising Competition. In addition, the team took home the night's design award. The competition was held virtually April 16.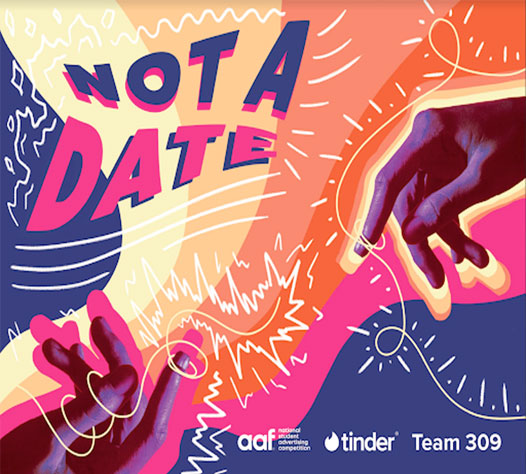 Each year, advertising students interview to earn their way into this class, instructed by Julie Clark, creative director at St. Louis agency Momentum, and Michael Whitmer, group account director at Osborn Barr + Paramore. Once in, the students are part of the team that creates the campaign for the NSAC. The students develop an integrated marketing campaign for a client to present to the judges from the industry. This year's client was Tinder, the dating app.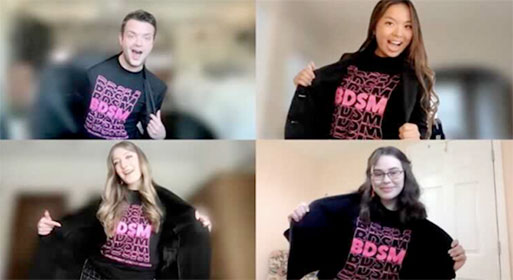 The presenter's shirts utilized a playful twist on the acronym BDSM, changing it to "Brand Development with a Strong Message."
Team members included students from the Advertising Campaign Production class: Lydia Bryda, Aliya Coons, Ellie Corner*, Nash Davis, Emma Ferguson*, Drew Fisher*, Liana Gallyoun-Arroyo*, Taylor Giegerich, Natalia Halon, Amber Humphreys, Rebekah Jimenez, Jacob Knoebel, Amina Kopic-Osmanovic, Stanley Luster, Maximilian Rodhouse, Benjamin Sullivan, Mckenzie Thessin and Anna Weber.
Our consistent success at these competitions against [these larger] schools...proves we are a force to be reckoned with.
"It was easy to sit around and come up with things to add to the campaign but it took a lot of hard work and real dedication to come to the best iteration of every idea whether that meant starting over for something better or just a few little tweaks," said creative director on the project and senior advertising major Liana Gallyon.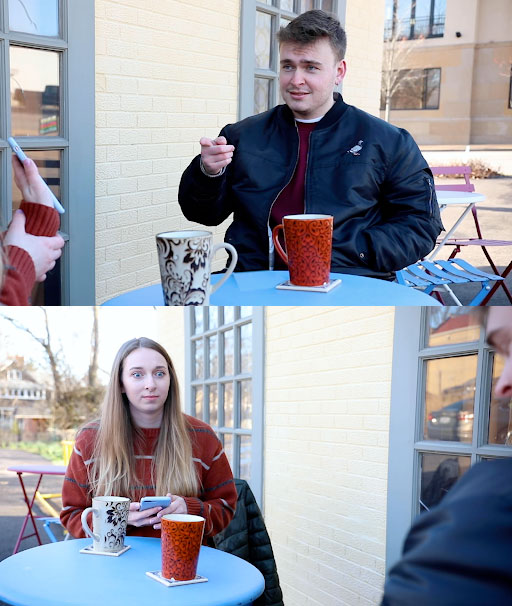 The class really "shows how professional groups work and how everyone always has something of value to add to the team," said Gallyon. "Being friends with my "coworkers" really helped make the long nights more fun too."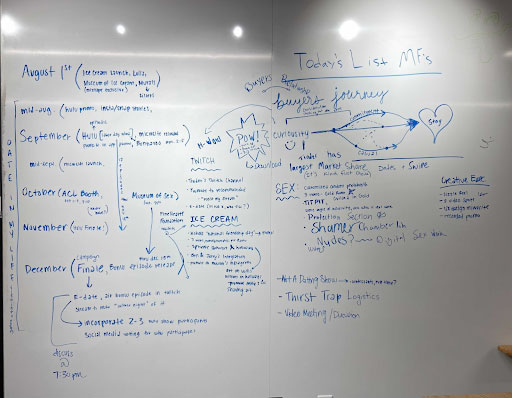 "The team worked incredibly hard this semester and we're so proud of their dedication and final campaign," said Clark. "Only three points that separated third and first places—so incredibly close. And while virtual presentations are often a challenge, Webster received nearly perfect presentation scores. AAF District 9 is planning to be back in person in Kansas City in 2022. Michael and I are very much looking forward for students to be able to grow and learn from the live presentation and judges' Q&A experiences once again."
Competition
The 10 schools competing included University of Missouri-Columbia (Mizzou), University of Nebraska-Lincoln, Webster University, University of Kansas, University of Northern Iowa, Creighton University, Saint Louis University, Lindenwood University, Missouri State University, University of Iowa.
The University of Missouri-Columbia's team finished in first-place for the fourth year in a row. The University of Nebraska finished in second. Both scores narrowly surpassed Webster's.
"Our consistent success at these competitions against schools double, triple, and even 12 times the size of Webster proves we are a force to be reckoned with," said account executive and junior advertising student Drew Fisher. "Despite being the smallest school at the competition, we always make an impact."
*denotes presenter