Patton, Jones Honored at 6th Diversity, Equity and Inclusion Conference; Recordings Available
Webster University's sixth annual Webster University Diversity & Inclusion Conference, "Beyond Conversation: Driving Our Future," drew more than 2,000 participants across three days of virtual sessions Feb. 23-25, 2021.
Throughout the conference, the University honored the two 2021 recipients of its Champion for All Award: Valerie Patton, chief diversity, equity, and inclusion officer and president of the Greater St. Louis Foundation; and Ella Jones, mayor of Ferguson, Missouri.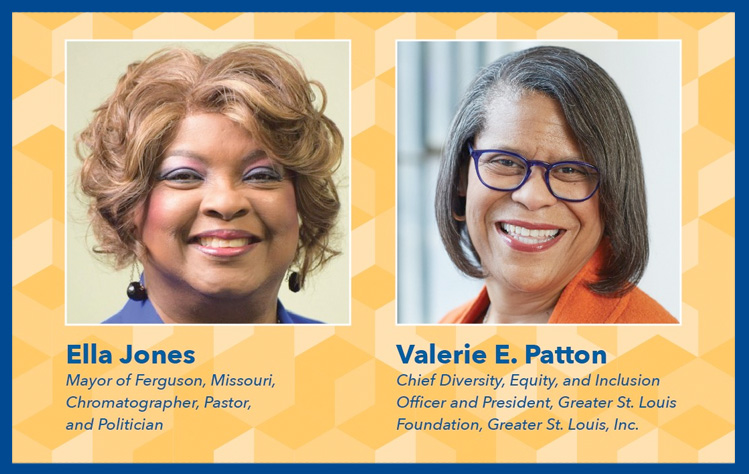 "Patton and Mayor Jones are influential leaders within the diversity, equity, and inclusion space and continue to make great strides in the St. Louis community," said Elizabeth (Beth) J. Stroble, chancellor of Webster University. "Webster is so proud and excited to honor both of these women for their leadership and accomplishments with the 2021 Champion for All Award."
For the first time, the entire conference was held virtually, meaning community members throughout Webster's global network could attend every session. Recordings of most sessions are now available through this playlist on Webster's YouTube channel.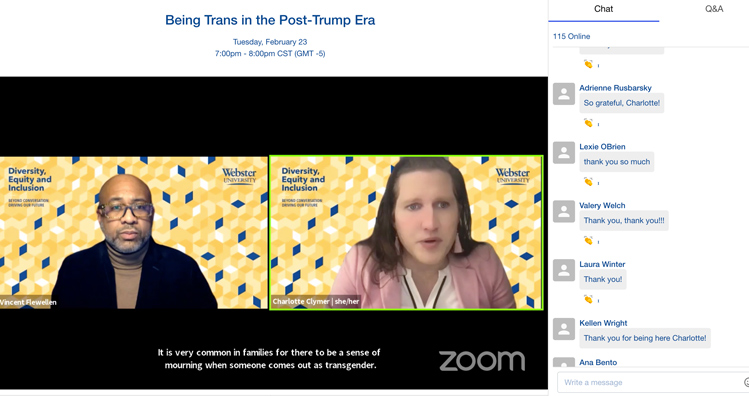 Keynote speakers included Charlotte Clymer (pictured above in discussion with Chief Diversity Officer Vincent C. Flewellen), a transgender activist, military veteran and former press secretary for rapid response at the Human Rights Campaign, the nation's largest civil rights organization dedicated to advancing lesbian, gay, bisexual, transgender, and queer (LGBTQ) equality; and Patrisse Cullors, the co-founder and executive director of the Black Lives Matter Global Network, and the founder of grassroots Los Angeles-based organization Dignity and Power Now.
Sessions throughout the conference were presented by guest speakers, and Webster University faculty, staff and students, with host and moderator assistance provided by Webster staff, faculty and students. Topics ranged from research on aging, truth and reconciliation commissions, and developing anti-racist curriculum, to a moving performance by spoken word artist Alex Tha Great.
See several of the topics and recordings on the YouTube playlist.
Watch Recording of Sessions
Recordings of a majority of the sessions are now available for attendees to view on the conference website. Those who registered can visit eventmobi.com/conversations to log back in and select "View Recordings" or navigate from the "Conference Agenda" available in the dropdown menu located on the top left of the site page.
Non-attendees and the general public may also view and share recorded conference sessions on this Webster University YouTube channel playlis.
Support from Sponsors
The conference was free to attend, which is made possible by several sponsors and partners.
Sponsors of the conference included: Andy's Seasoning, Ameren, Armstrong Teasdale, Brown & Crouppen, EBSCO, The Jane M. & Bruce P. Robert Charitable Foundation, Lockton, Reinsurance Group of America (RGA), SixThirty, and the St. Louis Community Foundation, plus addiitonal support through Webster University's Jackson & Thomas Society and Multicultural Center & International Student Affairs.