Register for Webster's 6th Annual Diversity, Equity and Inclusion Conference Feb. 23-25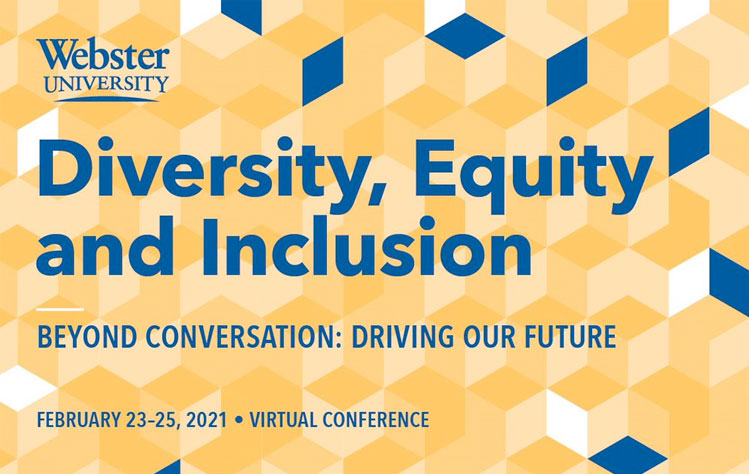 Webster University will host its sixth annual Diversity, Equity & Inclusion Conference, "Beyond Conversation: Driving Our Future," virtually Feb. 23-25. The virtual format of the 2021 conference will enable everyone to participate, without borders. There is no cost to attend the conference, but registration is encouraged.
"We are delighted to welcome our keynote speakers Charlotte Clymer on Feb. 23 and Patrisse Cullors on Feb. 24," said Elizabeth (Beth) J. Stroble, chancellor of Webster University. "Never has there been a more critical time to gather, engage and commit to greater inclusion, equity, and justice."
Clymer, a transgender activist and military veteran, is the former press secretary for rapid response at the Human Rights Campaign, the nation's largest civil rights organization dedicated to advancing lesbian, gay, bisexual, transgender, and queer (LGBTQ) equality. Cullors is the co-founder and executive director of the Black Lives Matter Global Network, and the founder of grassroots Los Angeles-based organization Dignity and Power Now.

On Tuesday, Feb. 23, partners from Armstrong Teasdale, a law firm headquartered in St. Louis, will share key challenges that minority communities face in employment, and will share action items to eliminate unconscious bias around criminal history to provide a fair chance for employment. On Wednesday, Feb 24, Alexandria Gurley (Alex Tha Great) will be performing a spoken word piece.
Additionally, many other well-known community and university leaders will be speaking throughout this significant conference. Visit the registration page to see the lineup and schedule.
"This past year demonstrates how critical it is that we take immediate steps to listen, to understand and to act. Webster University is stepping up to convene this conversation to enable us all to do everything we can for a more just society," said Julian Schuster, president of Webster University.
Learn more about the 2021 Webster University Diversity, Equity & Inclusion Conference at this registration link.