Lee-Johnson Presents at AERA on Anti-Asian Hate Crimes, Microaggression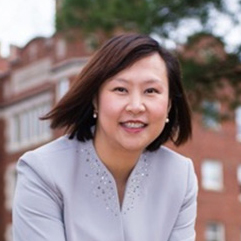 Nicole Lee-Johnson presented her study about anti-Asian hate crimes and microaggression at this year's American Educational Research Association (AERA) Annual Convention, which was held virtually on April 8-12, 2021.
According to the official website, AERA was founded in 1916 and has 25,000 members. The AERA Annual Convention is the largest conference for educational researchers in the world and it is intended for showcasing groundbreaking research. Learn more information about AERA 2021 here.
This year's AERA convention theme was "Accepting Educational Responsibility," and Lee-Johnson's presentation title was "How to Accept Educational Responsibilities and Disrupt Anti-Chinese Rhetoric due to Covid-19?" Her presentation discussed the important findings from her survey research about Sinophobia and anti-Asian verbal and non-verbal attacks on and off campus. Her findings corroborated many scholars' claims to tackle anti-Asian hate by taking educational responsibilities, and by forming allyship and solidarity.
Some of the key findings include:
stop AAPI Hate (https://stopaapihate.org/reports/) has recorded nearly 3,800 hate crimes, discrimination, and microaggression incidents;
derogatory labels such as Chinese virus, Chinese plague, and Kung Flu have profound impact on the ideological positionality of Chinese and Asians in the world;
racist slurs such as "Yellow Monkey" was recorded in Lee-Johnson's study, among other racist slurs on Chinese and Asians; and
findings in Lee-Johnson's study showed evidence of Trumpism on the identity crisis of Asians.
Lee-Johnson offered suggestions for K-12 and higher education administrators, faculty, staff, and students in her paper:
create channels for international students and students of Asian descent to report hate crimes, verbal and non-verbal attacks, and various forms of microaggression;
offer anti-racist training regarding the identity crisis for Asians in the U.S.A. and the world;
offer panel discussions and presentations with Asian faculty, staff, and students as speakers;
advocate for solidarity and allyship among faculty, staff, and students;
organize events and form support groups for Asian families in the community;
provide professional counselling services for supporting the psycho-emotional needs of Asian faculty, students, and families.
Lee-Johnson concluded with "We are not a virus" in her presentation; she calls for allyship for tackling Sinophobia, xenophobia, and the Yellow Peril through research, education, and community outreach. Lee-Johnson is the director of Webster's Ed.D. program.