Education MA Student Teaches on TV in 'Room 9'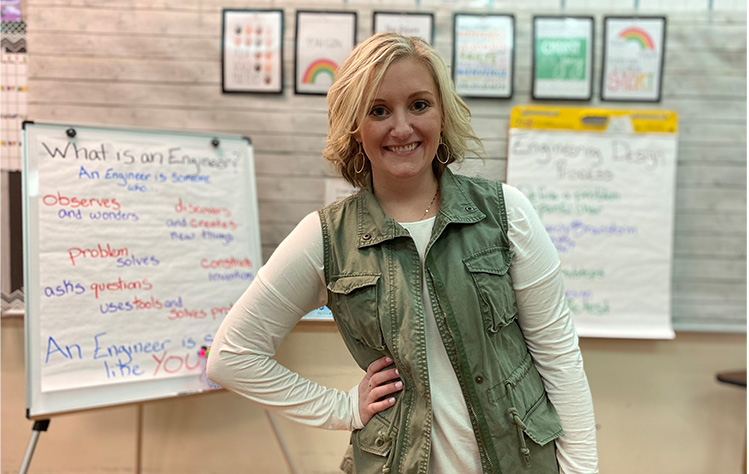 Emily Gentemann, a Webster University graduate student and fourth-grade teacher at Dewey International Studies, part of St. Louis Public Schools (SLPS), has adjusted to a new teaching setting this school year: She is one of the featured instructors on Nine PBS' "Teaching in Room 9" program.
"Teaching in Room 9," according to Channel 9's website, provides two hours of free literacy, math, science and arts instruction for prekindergarten through 3rd grades, weekdays from 11:30 am–1:30 pm. It's taught by committed local educators at home, such as Gentemann, and ensures all kids in the region have access to quality teaching during the academic year shutdown and into the summer, regardless of access to internet or computers.
Gentemann, who is enrolled in the Teaching English as a Second Language (TESL) in Webster's School of Education, said the Channel 9 program started last year as a response to kids being at home due to the outbreak of the corona virus pandemic. "Their goal is to educate kids who are at home, kids who are watching TV and digitally learning, to give them extra learning resources and additional teaching."
Gentemann became involved in the project through SLPS' elementary science coordinator, J. Carrie Launius, a fellow webster graduate. Launius partners with Washington University, who uses the Institute for School Partnership, and the Institute for School Partnership partners with Channel Nine to do the science portion for Room 9. "Carrie recommended me, and that's how I got involved."
Gentemann said that teaching in front of a camera was a little terrifying at first. "I do have a little bit of background in community theater. I've worked with Whitecliff Summer Playhouse in Crestwood, Missouri since I was a kid, so I think having that background has made it just a little bit easier. I can kind of ad-lib my way through it, but I can definitely see my growth so far and where I get a little bit more excited or a little bit more interested compared to my first lesson."
Her Webster education has helped her prepare how to support English Language Learners (ELL) students
"Trying to teach anybody online or through video recording is difficult because you're not going to get that interaction piece, and I think most teachers will say that they that's what they thrive on and they get that feedback and that interaction," she continued. "I'm sure every teacher will say the live stream or the videos calls are hard because you don't know if the kid is actually receiving and understanding. With a video recording, you have to assume that they're getting it and are enthusiastic about it."
Gentemann said that what she likes about teaching changes each day. "I love that the kids come in and I don't know how they're going to interact, what questions they might ask," she said. "A kid the other day asked, 'well, you can dig to China right?' So, we had to talk through digging through China and how it's not possible and no matter how far you dig you're never going to actually get to the magma that's in earth's core. So those kinds of questions and having the background and knowledge that I have, but then also having those questions that come up, I think it continues my education, too."
She feels well prepared to interact with English Language Learners (ELL) students, thanks to Webster's School of Education, which is in the middle of a five-year, $2.7 million grant to support success for such students and their teachers.
Half of her fourth-grade class is made up of ELL students, she said. "I'm very intentional about making sure that vocabulary is explained, there are visuals for those kinds of students, and there are sentence stems. I'm not just, 'you know what a mountain looks like,' or 'everybody goes to the ocean.'"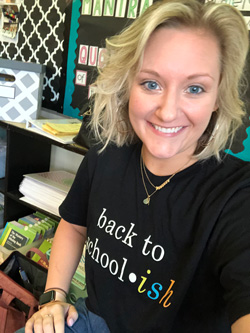 And she incorporates that mindset not only in the classroom, but also in her work with PBS. "The video I just finished recording is about bodies of water, and in class the other day, I had three or four kids say that they have never been to the ocean who are not ELL. I thought, 'My ELL students might also say that,'" she said. "So part of my video also includes a video of the Gulf of Mexico to give kids at home the idea of 'here's what the ocean looks and sounds like' and just giving them that experience."
Gentemann has advice for parents who have kids learning at home. "Keep your kids as active and engaged as possible and use additional resources other than just what teachers provide, like Room Nine. There are so many websites and games out there, too, but remembering that also there's so much benefit to human interaction," she said.
"We don't think about this often, but anytime you're cooking, you're using measuring spoons, and you're pouring and measuring things out, so talking and doing that with your child and explaining, 'This is a half-cup compared to a whole cup,'" she suggested.
"And then when you boil water, that's two states of matter. If you're baking a cake you're going to go from a liquid to a solid. Those are very simple things that you're likely doing daily, but you're usually so focused on getting it done that you're not having that conversation with your kid and saying, 'this is what I'm doing, why I'm doing it, how I'm doing it, and what's happening.' And kids are so curious that if you explain that to them, they will be interested. It's really important to just get the kids off the screen and talking."
Gentemann recently finished recording her seventh lesson out of 14 for "Teaching in Room 9." Second grade science episodes air on PBS Channel Nine from 12:30 p.m. to 1 p.m. on Fridays.