'Career Talk' with Vincent Dessenne, GM of Heraeus Materials, Webster MBA Alumnus
Vincent Dessenne, Webster Geneva MBA alumnus (2004), joined Webster Geneva students virtually, in an ongoing series hosted by Career Services called "Career Talks". He presented from the perspective of a C-level manager, but also about his own personal career.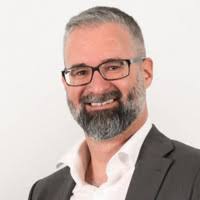 With 25 years of experience in small to large medical companies in business development, operations and finance, Vincent is also a leader in the business community. He is active on company boards and is a delegate to the Chamber of Commerce and Industry of the Canton of Vaud in Switzerland.
He leads a 100-employee facility of Heraeus Medical Components (1'900 employees, 10 sites worldwide) that manufactures components for worldwide cardio/neurovascular and cardiac rhythm management medical device manufacturers. Heraeus Medical Components is a market leader in medical devices, and the firm provides expertise in materials science, leading-edge manufacturing technologies and supply chain excellence. Originally a student of math and physics (including studies in IT and robotics), he also holds a PhD in biomedical engineering. Vincent grew his career through a passion for continuous improvement and a commitment to lifelong learning.
The MBA at Webster gave me a lot of tools that I could apply on the spot
Vincent pursued his MBA at Webster in the mid-2000s. The largest challenges of leading a company, he shared, relate to managing complexity, leading people and constantly adapting. Regarding his Webster studies, he said, "The MBA at Webster gave me a lot of tools that I could apply on the spot, enabling access to a GM position; it does not give you experience, it offers a ladder, which you may use to elevate yourself." Speaking about his career, he added, "I have tried various things and moved away from them, but the hardest was moving from engineering to management; it sounds glamorous, but I've seen geniuses humbled and weakened by struggling at management."
Resilience Drives Survival and Creates Learning
One theme that resonated through his presentation was the need for resilience—for companies and individuals alike. Vincent shared some stories of the seismic shifts he led his company through, following the financial crisis of the late 2000s.
When the world-wide financial crisis hit, 85% of the firm's revenue came from global exports and the CHF appreciated massively by 20% in a matter of months against the USD and EUR, while market prices of raw materials were going up, plaguing the real economy. Medical device prices started to plummet and customers as well as competitors rapidly moved to low-cost countries, while wages are usually more than 40% of total costs in industrial setups in Switzerland. In a perfect storm scenario, medical regulations started to drastically toughen, thereby very much increasing the burden on our customers and then mechanically on us and
some suppliers for whom medical markets were becoming too risky for the benefits started to exit, all this creating instability in the market. Turbulence in the industry continued for years, right when Covid-19 came. The lesson he shared was simple: "Adapt with the times, or your company will disappear."
Being in Switzerland allows you to provide service to both Asian and American partners
So how did the company thrive, in spite of these challenges? First, Vincent shared that while customers started to challenge manufacturing in Switzerland, known to be an expensive place, he turned the place into a tremendous asset: employers can recruit very highly talented graduates here, identify partners for research, find high-quality business partners, and so forth. "Being in Switzerland allows you to provide service to both Asian and American partners, because of its time zone", he said, "yet it is, admittedly, an expensive place to operate; so you need to be lean and focused, and while companies can decide to relocate, they lose the ability to take advantages of a great and quite unique local infrastructure."
That kind of focus meant that Vincent had to relocate some products and services to other sites in order to survive, even though these businesses had been the core of company's growth in the past. The company concentrated on a "high value-add" portfolio, refined their supply chains, and so forth.
At the same time, he led the firm through diversification. That required trial and error. They tried to target their expertise to serve the luxury watch industry, for example, but they first launched that initiative with unfortunate timing in the market. His lesson to students here was simple: "In unpredictable environments, focus on what is going well, learn from things that aren't, and constantly adapt and refocus efforts on what matters next."
As a leader, he also worked very heavily on minimizing cost, creating massive savings and a leaner, more financially fit company. At one point he had to lead the organization through a difficult but necessary downsizing. Through the process, however, they created a culture of shared survival – a bit like a family, he said – amongst those who remained.
Creating a Culture of Change
In his presentation, Vincent made the case for flat organizational structure, and he spoke about the mindset a leader needs to guide employees through large-scale, organizational change. That kind of large-scale restructuring is often seen as a threat to employees. Yet in today's context, according to Vincent, it is the absence of change that worries employees more—about the sustainability of the employer itself. "If they see you're not changing, they start to think that the organization won't survive, in particular if it has become visible that past changes have made the organization stronger against all odds."
So how does a leader create a culture that engages people in change? Vincent explained that change often makes the goals seem hazy or "fuzzy" to employees – and that's not very reassuring. A leader needs to create a way for everyone to see the milestones on the road that you take.
"Placing every employee in touch with customers or clients really helps," he argued, "so they feel purpose, and so voice of the customers is always represented—which is critical for business success; in essence, it is essential to relate effort with result and results must be displayed and each employee must have a chance to identify his own contribution."
You will still need a high degree of critical thinking to make a difference
Skills Employers Want and Need Most
Amongst the top attributes he believes employers look for, "Attitude is as important—or even more—than technical expertise", he argues. He also advocated for employees to become autonomous and self-motivated. "Try to have an enterprising spirit in your career; try to become autonomous within the organization, yet always actively contributing to the whole."
According to Vincent, applicants also need to show personal drive. To demonstrate motivation, "show an employer how you will contribute more energy than you will take from the organization," he said. "At work, you'll find that common sense is not always present—and if you use it, that can be to your advantage as it will help you reduce complexity; you will still need a high degree of critical thinking to make a difference."
In the session, he shared many words of wisdom with students, about finding purpose in work—and that a good leader helps his own teams to do the same. He shared personal memories honoring the legacy of his grand-father, who was highly dedicated to his deep dive into research in applied mathematics and operations, with tremendous passion—but who never forgot about family and friends as the higher priority: "Always do the things you do seriously," he suggested, "yet never take yourself too seriously."
The Career Talk was co-hosted by Beatrice von Mach, co-Director of Career Services and Bob Piller (Webster University faculty member, Operations Management), who are team teaching a career course to bachelor students in the spring semester. Webster extends its gratitude to Vincent Dessenne and all of our alumni who are contributing to the Career Talk series this year.