Webster University Welcomes New, Diverse Cohorts to Geneva Campus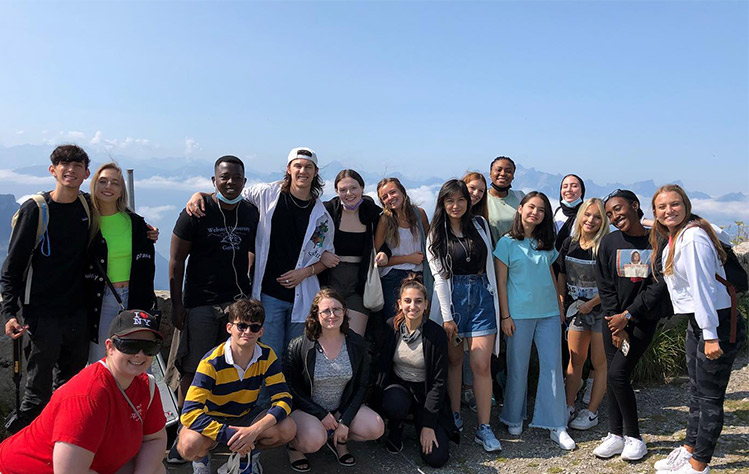 This week, Webster University Geneva launched the academic year by welcoming 81 new Geneva-based students (59 new bachelors and 22 new masters), along with another 12 visiting "study abroad" students from across Webster University's international network.
This year's new fall cohort is the largest intake of new students in several years at the Swiss campus--and among its most talented academically, with about 25% of our new first-year bachelors enrolling as part of our Scholars Program, an "invitation-only" curriculum track for top performers. This year also represents the re-opening of Webster's study abroad program in Geneva, following the pandemic restrictions of last academic year.
Traditions of Diversity Continue
Webster's Geneva campus has historically been its most diverse international campus by citizenship. Continuing with that tradition, this year's cohort is highly diverse, with 38 distinct nationalities represented, including:
Albania • Australia • Bahrain • Belarus • Bulgaria • Cameroon • Colombia • Congo • Croatia • France • Georgia • Greece • Iceland • India • Iran • Ireland • Italy • Ivory Coast • Kazakhstan • Kosovo • Luxemburg • Pakistan • Philippines • Poland • Russia • Saudi Arabia • Serbia • Slovakia • South Africa • Spain • Sweden • Switzerland • Turkey • Uganda • Ukraine • United Arab Emirates • United Kingdom • United States of America
Orientation Week
New Student Orientations were held on campus last week, with a separate session for parents and an online orientation for those remote students who are making final arrangements to join us in Switzerland soon. The orientation week included options for some local excursions, including a tour of the city of Geneva, a cogwheel train to the peaks of Rochers de Naye in the nearby Alps, and a boat ride on Lake Geneva. See photos from some of the activites on Facebook here and here.
Back to Campus—and Back to the Classroom
Following the prior semester of remote, interactive classes via zoom last Spring, this fall semester also brings professors and students back to classrooms on campus. To welcome new and returning students safely back to campus, the University has taken several steps to prepare the physical campus facilities—and has put the appropriate measures and policies in place to comply with mandates of the Swiss authorities.
The university's residence on campus in Bellevue, Geneva, where most first-year students live, has single room accommodations, which supports new hygiene standards and protocols. Webster's center-city residence, which is primarily for second and third-year students and for Study Abroad visitors, has also been allocated for single-room occupancy.
While many larger universities have struggled to welcome students back physically to campus, Webster's leadership team in Geneva, our faculty and staff remain optimistic about the advantages of being a smaller campus during the pandemic era. The campus actively encourages vaccination for all students, faculty and staff, and our Task Force on Covid-19 will monitor policies and will revise protocols regularly, to continue to ensure health and safety for the community.
Again, our campus community extends a warm welcome to all new students, especially to those who join us for the first time in Switzerland, and a welcome back to those who were attending remotely last year!
For more information about Webster University Geneva's programs and activities, reach out to the our admissions team in Switzerland: admissions@webster.ch.