Webster Ghana IR Students Visit the African Continental Free Trade Area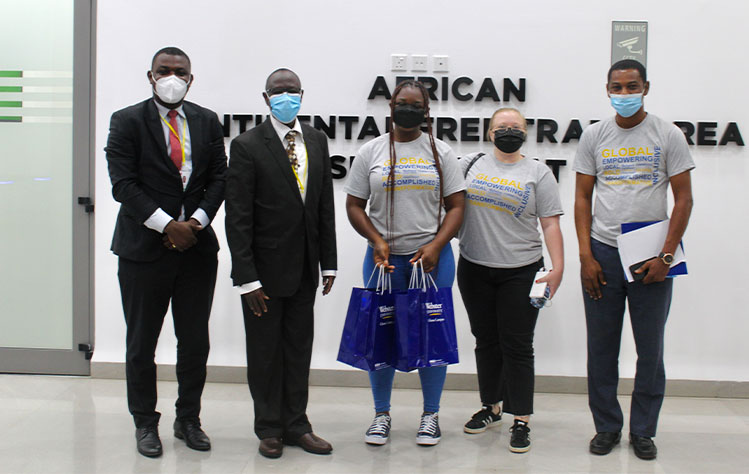 On Nov. 8, undergraduate and graduate students of the Webster University Ghana campus took a field trip to the African Trade House to interact with the staff of the African Continental Free Trade Area (AfCFTA) Secretariat in Accra.
The AfCFTA agreement was founded in 2018 by 54 of the 55 African Union (AU) states, with the goal of deepening intra-African trade across the continent. This is to be achieved through a number of objectives including creating a single African market, establishing a continental customs union, and aiding the movement of people, goods, and capital around the continent. Trading under the agreement began in January 2021, and 39 AU countries have delivered their instruments of ratification thus far. The agreement will increase Africa's export gains by $560 billion and has the potential to lift 30 million Africans out of extreme poverty.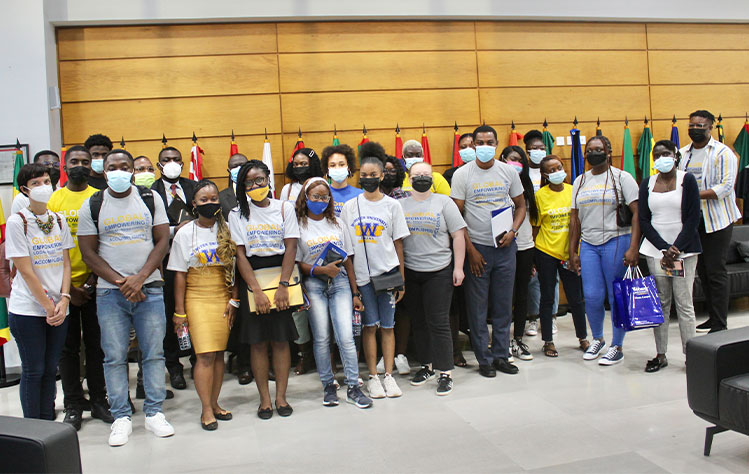 The purpose of the trip was to give the college students an insight into the organizational structure of the Secretariat, broaden their understanding of the AfCFTA agreement as well as expose them to the challenges and opportunities for African development. Led by three faculty members, including Dr. Felix Danso, head of the International Relations Department, the students were met on arrival by Silver Ojakol and Peter Sewornoo, the chief of staff and senior advisor to the general secretary of AfCFTA Secretariat, respectively.
Sewornoo presented on the State of Play of the African Continental Free Trade Area and gave a brief overview of AfCFTA, its objectives and the duties of the Secretariat. He also highlighted the challenges of the organization and concluded with what the Secretariat intends to do going forward. In his presentation, Sewornoo also mentioned the goal of the chief of staff of providing opportunities for African youth within the Secretariat.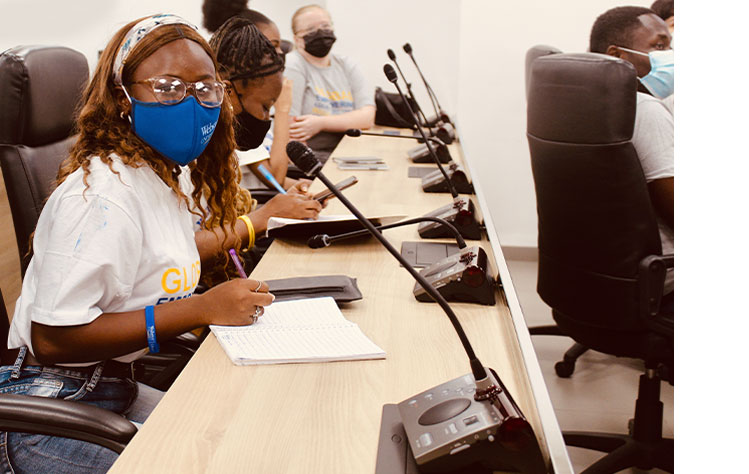 Ojakol reiterated some key points from the presentation and highlighted the vital work of the Secretariat in ensuring that the goals of AfCFTA are implemented in all member states across Africa. A profound statement by Ojakol summed this point perfectly: "We hold the aspirations of 1.3 billion people in our hands."
Given the occasion to ask questions. students and faculty members inquired around issues on anti-dumping measures, the problem of ethnocentrism and xenophobia, the possibilities of conflict of interest among the foreign donors of AfCFTA and the role of women and youth within the Secretariat. The stately affair ended with a handshake agreement to have Webster business majors to also visit in the Spring semester.