Webster Chancellor Stroble a Panelist at 2021 Global Innovation Summit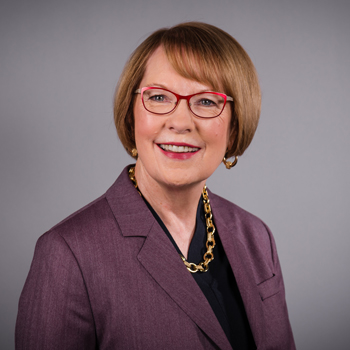 Webster University Chancellor Elizabeth (Beth) J. Stroble will be a panelist during the 2021 Global Innovation Summit, to be held virtually Thursday, Dec. 2. She will be on a panel to discuss "Future Markets - Spotlight on Africa."
Stroble's session starts at 7 a.m. Central Standard Time and can be viewed by registering at the conference website.
This year's overall theme for the summit is "Future Competitiveness." During the two-day event, panelists from 62 nations will discuss "strategies to drive future growth and inclusive prosperity with global leaders working on corporations, government agencies, universities and policy organizations."
Stroble's panel will define future competitiveness; how to weave innovation, sustainability, resilience, inclusiveness, and partnership into future competitiveness strategies; and how to formulate guidelines for action. During the session, the "GFCC 2021 Global Competitiveness Principles" and the "Frame the Future report" will be introduced.
Chancellor Stroble has led Webster University since 2009, including expansion of its global campus network to Africa in 2013, when it opened a campus in Accra, Ghana.
Besides Stroble, other panelists in Thursday's session include:
Frannie Léautier, senior partner and CEO of Southbridge Investments, Tanzania.

Nkem Khumbah, senior fellow of the GFCC and chairman of the Africa Future Developments Group, South Africa.

Gibson Chigumira, founding executive director of the Zimbabwe Economic Policy Analysis, Zimbabwe.

NJ Ayuk, executive chairman of the African Energy Chamber, Equatorial Guinea.

C. Derek Campbell (moderator), executive chairman of the AlphaSierra Group, United States of America.
The summit is sponsored by The Global Federation of Competitiveness Councils (GFCC). The GFCC is a network of leaders and organizations from around the world committed to competitiveness and higher living standards. The members strive to achieve innovation, productivity and prosperity in their nations, regions and cities. The GFCC develops and implements concepts, initiatives and tools to navigate the complex competitiveness landscape and urges action on those goals.
To learn more about the event, visit https://gis2021.thegfcc.org.