Webster University Senior Wins NCAA DIII Golf Championship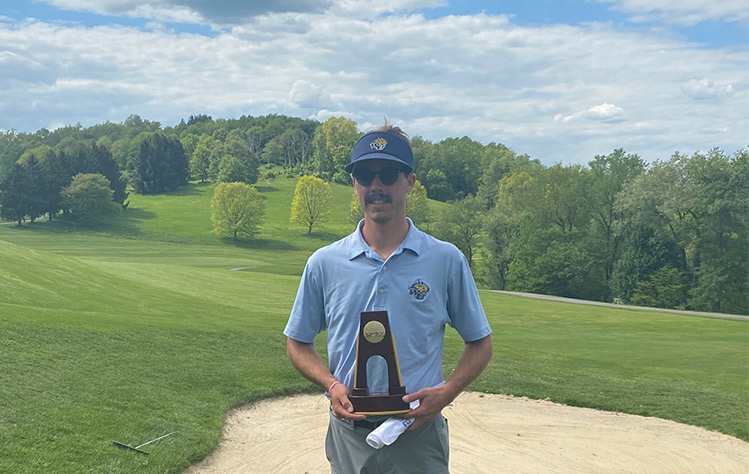 Webster University senior All-American Will Hocker (Grapevine, Texas/University of Oklahoma), won the 2021 NCAA Division III National Championship in golf Friday, becoming the first Webster University student-athlete to win an individual national title in any athletics field.
His performance was part of the golf team's best finish in school history at the national championship tournament.
Hocker grabbed the title on the Spiedel Jones Course in the third round of the NCAA Division III Men's Golf National Championships held at Oglebay Resort and Conference Center in West Virginia. He completed the first nine holes of the course in sixth place on Thursday and then played an amazing round of golf on Friday that included an eagle and two birdies.
"We are very proud of him," said Webster University Athletics Director Scott Kilgallon. "He had a tough SLIAC Championship a few weeks ago and he just rebounded on the biggest stage."
"The feeling of being a national champion hasn't even set in," Hocker said. "I am just most thankful for my family, teammates and coaches," Hocker said.
On Thursday, Hocker opened the third round of the tournament by beginning on the 10th hole of the Spiedel Jones Course and opened his round with back-to-back bogeys, before carding a birdie on the 12th hole. He would then record three straight pars and after carding back-to-back bogeys on 16th and 17th, he closed with a par to tally a 3-over par 35 on the back nine. After making the turn, Hocker would play the next six holes at 2-under par and after carding a bogey on the seventh hole, he would score pars on eight and nine to finish with a 1-under par 35 on the front nine.
On Friday, he started in sixth place. On hole five, he eagled, which moved him up to third place. On holes six and seven he birdied, which tied him for first. He shot for par on holes eight and nine, which put him on top and earned him the national championship. Overall, he scored a 285 out of 72 holes played over the four-day tournament, just two over par.
Hocker's medalist national championship was the third event that Hocker won during the 2021 spring season as he opened this season by winning medalist honors at the season opening Big Blue Spring Opener hosted by Millikin University and he won medalist honors at the Rhodes College Spring Classic.
Top Team Finish for Golf Program, with More to Come
Interim head coach Matt Gordon said that this week was special for himself and for the Webster men's golf program and will always be remembered.
The Webster golf team, which made the cut to the final 18 for the second time in program history this year, finished the championships with a program best finish as they were tied for 15th with St. John's (Minn.) after carding a 72-hole team score of 1,218 (+86). The tie for 15th place bettered Webster's previous best finish in the championships of 17th place in 2017.
"This week was something so special and something that we will never forget," Gordon said. "All these guys have been through a lot this year and I couldn't have asked for a better way to end with our guys finishing 15th in the country and Will (Hocker) winning a national championship," the Webster coach said.
"I am just so happy for Will. He's been rock solid all season and has put in so much work to finish the way he did. This is something that he will remember and cherish forever."
"Our guys are very thankful for the opportunity to be able to compete this season with everything going on in the world," Gordon added. "We have the best support system with our university and our parents.

Gordon says that next year's team will feature several returning players from this season, including the expected return of Hocker, and that this performance this season is something to build off of.
This story is a combination of breaking news and additional information added later. Read the full story on the team's performance at Webster University Athletics.