Webster Graduate Student Earns Voice Role in Horror Film
They show up unexpectedly during the day, the night, the weekend, and often at the most inconvenient times – telemarketers! Everyone has gotten those dreaded calls from an overly aggressive salesperson in a distant call centers trying to sell something, from extended car warranties to home services that most people don't need.
But do telemarketers get as frustrated as everyone else when their number is the target of an aggressive salesperson? A new short horror film, "The Call Center from Hell," takes the dread that everyone feels from call centers to the next level by exploring what happens when a telemarketer gets a taste of their own medicine.
And the voice of the sinister villain belongs to Webster University graduate student Tierra Gray, who is studying Media Communications.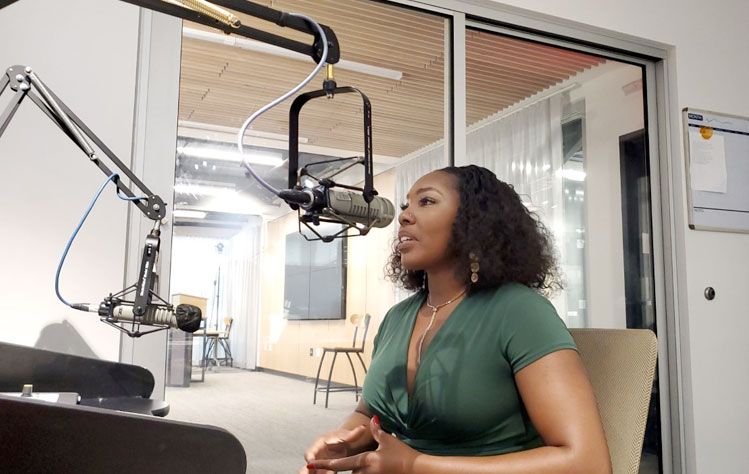 "Like many opportunities found during this time, I was online and came across a post about a work from home opportunity not related to voice acting," Gray said. "When I contacted the number on the post, the owner of this work from home opportunity was also an actor and director of a movie."
That actor and director, said Gray, is Robert Deon. "He's a retired war veteran who wanted to create a movie that would raise funds for a greater cause," she said.
"The Call Center from Hell" is about a call center worker who gets a horrific taste of her own medicine. Gray does the voice of Scary Phone Operator in the movie. "It's a timely short film," Gray said. "Haven't we all been on a call with a bill collector or company and felt like it was a call from hell?"
Gray said that while this role is her first voice acting part for a movie, it is not her first voice acting role. "I have done voice work with Webster as a grad assistant with the Global Marketing & Communications Department," she said. "Growing up, I have also performed with a variety of choirs, ensembles and performance groups including at the St. Louis Symphony, the St. Charles Christmas Caroling group, and many others. But it wasn't until recently that I considered voice acting a lucrative opportunity."
And, Gray said, she wouldn't have been able to discover that lucrative opportunity if it hadn't been for her education at Webster. "Webster helped provide me with the foundational knowledge for producing different forms of media. As an undergraduate, my original degree was Filmmaking then I changed my major to Media Communications," she said. "However, I am very grateful to have studied film because I understand the overall media production process. Film and video are part of so many industries and businesses and understanding this overall process helps when you are part of the cast, crew, or any film project because you understand the process from start to finish."
She continued, "Webster has given me the courage to pursue my goals. Going to a prestigious school says a lot about who you are and the type of education you are receiving. The opportunities to voice the University podcast, the Webster World Report, and other voice roles has been a learning experience in exploring voice acting," she said.
Gray said what she enjoyed most about the experience on the upcoming short film was meeting the other actors and crew. "Learning about their stories and their journey of how they got to where they are now has been very rewarding," she said. "Voice acting is different from other things I have done, and I am grateful to have the opportunity to step outside of my comfort zone and try something new."
"The Call Center from Hell" is slated to be released sometime this year. More information about the film can be found online at The Call Center from Hell (2021) - IMDb. The trailer can be watched here.