Webster University Chancellor Speaks at IAUP Conference on Innovation, Technology amid Pandemic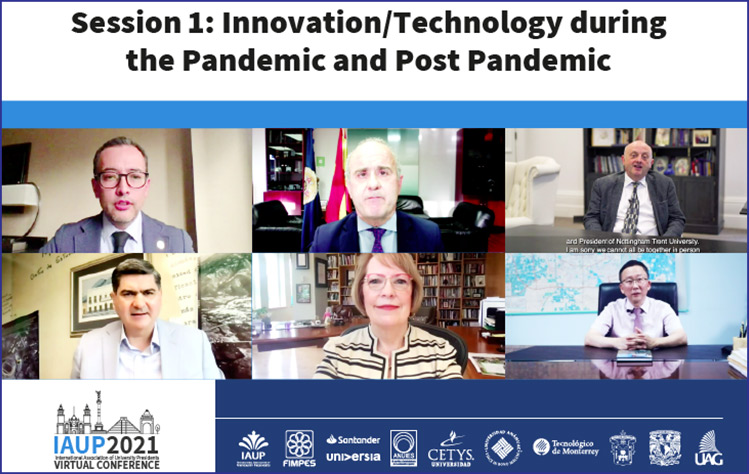 Webster University Chancellor Elizabeth (Beth) J. Stroble spoke on an international higher education panel about "Innovation & Technology During the Pandemic & Post-Pandemic," sharing insights from Webster's experience and response during COVID-19.
During the panel session, Stroble highlighted four ways Webster innovated with the use of technology during the pandemic to continue to build community, engage donors, recruit students and connect with parents. The presentation on July 29 was part of the three-day International Association of University Presidents Triennial Conference hosted by CETYS University in Mexico City, as higher education experts from around the world virtually discussed priorities and trends that will shape education in years to come, including adaptations to new realities in a post-pandemic world.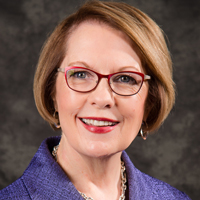 In Webster's case, Stroble noted that its early, organic development of online education at the turn of the century advanced the institution's mission of meeting unmet needs. That internal history also positioned Webster to quickly pivot when the pandemic shut down most in-person or on-site interaction in March 2020.
Stroble cited two recent case studies in The Economist that underlined how Webster's online platform provided important access for working adults who could not access night or weekend courses, especially to women in the workforce who were juggling work and family commitments while still pursuing better employment opportunities.
As Chancellor, it has been my goal to strengthen the ties among our global community—to tap the interests and experiences among our campuses, increase mobility, and develop global citizens committed to building an equitable and sustainable world.
Stroble's remarks on behalf of Webster focused on four ways the University community has innovated in the uses of technology during the pandemic—for purposes beyond instruction, honing Webster's impact for the current challenges and opportunities, as well as for the future: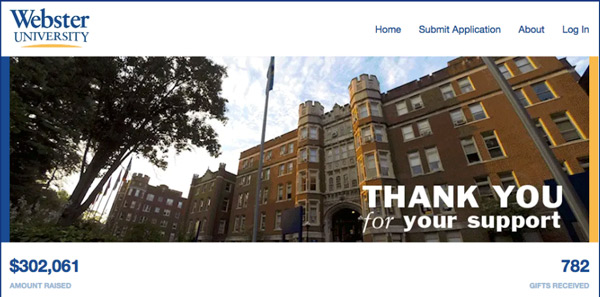 Webster engaged many first-time donors via crowdfunding during the pandemic.
Engaging donors -- Webster engaged donors in many new ways, including several successful crowdfunding initiatives that attracted many first-time donors, and holding the annual scholarship night in a virtual environment, which connected student scholars with donors who otherwise might not be able to attend the event.
Connecting with prospective parents -- Zoom-based "Wednesdays with Webster" were a popular way of welcoming and informing families of incoming students as well as to host events for students and their families throughout the year. "Our staff reached individuals with frequency and a freshness that created a bond with prospective families we had not before experienced," Stroble said.
Recruiting students -- Among many pandemic adaptations, the existing virtual campus tour was improved and proved an invaluable resoruce while in-person tours were not feasible. Aditional technology also allowed recruiters to provide personalized video messages to prospective students, providing a personal touch and follow-up in the absence of traditional in-person meetings.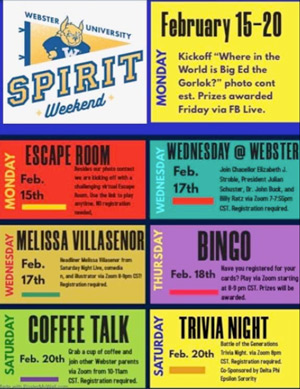 Building a global community -- From virtual performances and conferences to scholarship and donor events, staff gatherings and award ceremonies that spanned campuses and time zones, Webster was able to bring its global community together like never before. In many cases, the lessons learned from these adaptations will inform Webster's approach to post-pandemic activities.
"As Chancellor, it has been my goal to strengthen the ties among the members of our global community—to tap the interests and experiences among our campuses, to increase mobility, and to develop global citizens who are committed to the building of an equitable and sustainable world," Stroble said.
"It is this last purpose that has been most positively impacted by innovations in our technology. We stayed connected through technology and no longer focused those connections only on those who could be physically present. Technology bridged the boundaries of time and space, and ironically, we became closer as we were physically isolated."
Watch the full panel here. Chancellor Stroble's presentation begins at the 39:39 mark.