Gina Jensen Inducted into National Pi Kappa Delta Hall of Fame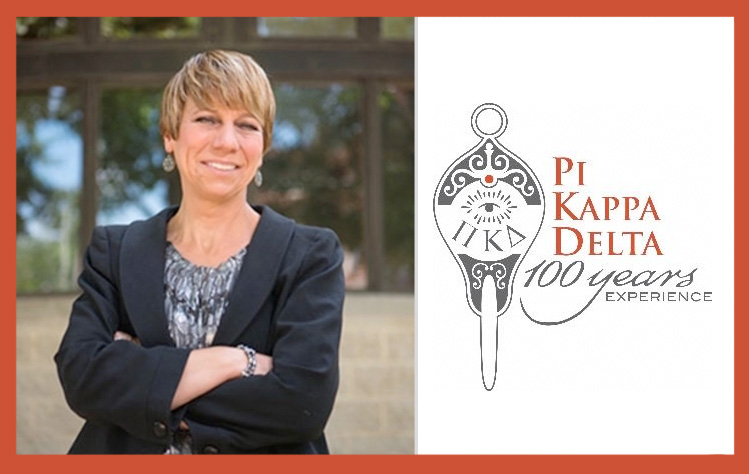 Gina Jensen, Webster University's director of Forensics and the forensic/debate program in the School of Communications, has been selected for induction into the Pi Kappa Delta Hall of Fame. She is only the fourth person to be inducted into the hall while still actively teaching and coaching.
Pi Kappa Delta (PKD) was founded in 1911 to support speech and debate educators, students and alumni across the United States. It's the oldest forensic organization in the nation today.
"This is a tremendous and well-earned honor, recognizing Gina's years of service to PKD as well as her success as a coach," said Eric Rothenbuhler, dean of Webster's School of Communications. "Under her leadership, our team has done exceptionally well and been one of the nation's top competitors."
In March, the Webster University Forensic and Debate team finished as one of the top six programs in the nation against 77 schools at the Pi Kappa Delta National Comprehensive Tournament (PKD-NCT), held virtually March 18-22. In addition to its team success, students competed in eight different national championship rounds, bringing home three national championships, and a second-place finish in debate. The PKD tournament happened on the heels of the International Forensic Association (IFA) Tournament in which the team finished sixth in a field of 38 schools.
Jensen's induction into the Hall of Fame will be part of the 2022 National Tournament and Convention in Orlando, Florida, scheduled for March 9-13 in 2022. Jensen will be the 43rd person in the organization's history to be inducted into the Hall of Fame. Among the inductees is her husband Scott, who previously served as director of Webster's forensic/debate program and was inducted into the Hall in 2015. The Jensens are the first married couple inducted into the Hall.
This is a tremendous and well-earned honor, recognizing Gina's years of service to PKD as well as her success as a coach.
Jensen is a past national president, as well as past national council member of Pi Kappa Delta. She previously served as host of five national tournaments—including the 2013 Centennial Pi Kappa Delta National Tournament and Convention, and the first National Comprehensive Tournament in 2000. She is also a past National Tournament Director, member of all national tournament management committees since 1999, an associate editor for "The Forensic," Pi Kappa Delta's refereed national journal, and an author of several articles and conference papers sponsored by Pi Kappa Delta. Jensen also will also serve as Convention Coordinator at the 2022 event, helping to organize and manage all of the non-competitive business and social events in Orlando.
Several past presidents, Hall of Fame members, coaching colleagues, and Webster alumni submitted letters of nomination on Jensen's behalf.
Besides being the oldest forensic honor society in the United States, Pi Kappa Delta also is the largest collegiate honor society in the nation. The society has more than 80,000 members.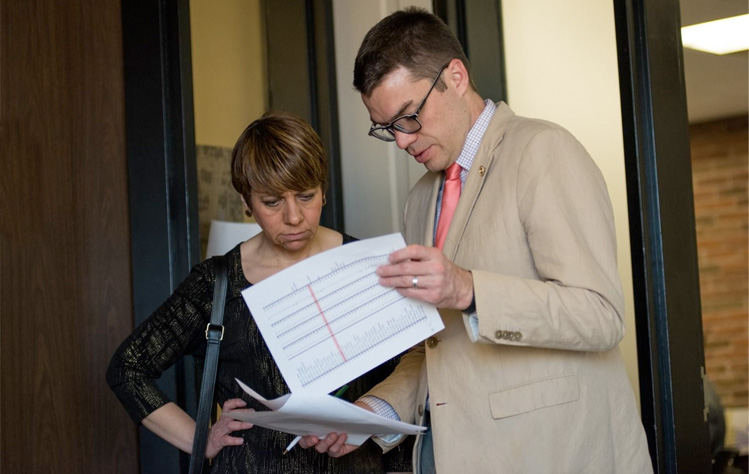 In addition to Jensen's induction into the Hall of Fame and her role as the 2022 Convention Coordinator, Webster alumnus Ryan Louis (pictured with Jensen above) will be sworn in as Pi Kappa Delta's national president for 2022-2024. Louis, a 2003 Webster graduate in film production, is currently a professor at Ottawa University. He has served Pi Kappa Delta as a national council member and President-Elect since 2011. Louis was a Webster team president and an accomplished competitor, earning multiple national championships in debate, oral history (a film production event), and oral interpretation, as well as being named an All-American in 2003. He will be the third Webster-connected national president: Scott Jensen served as PKD president from 1999-2001, and Gina Jensen was PKD president from 2011-2013.
Click here for more information about Pi Kappa Delta. For more information about Webster University's School of Communications, visit School of Communications (webster.edu).