2021 Messing Faculty Award Recipient: Stuart Chapman Hill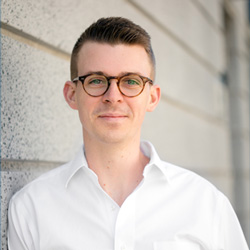 The Office of the President and the Office of Academic Affairs are pleased to announce the recipient of the 2021 Wilma and Roswell Messing Jr. Faculty Award: Stuart Chapman Hill, assistant professor of Music.
Since 1977, the Messing has been awarded to full-time faculty members for internationally focused summer activities that will strengthen the curriculum and improve the teaching/learning experience. Faculty proposals are peer-reviewed by an appointed University committee.
Hill plans to travel to Webster's campus in Accra, Ghana, to meet with music faculty at potential partner institutions, investigate facilities, and begin to build the outlines of study abroad options for music majors in Ghana.
The primary objective for Hill's on-ground visit to Ghana will be to explore how certain fixed components of music majors' curriculum including every-semester pursuits like private lessons can be fulfilled during the student's stay abroad.
Following the trip to Ghana, Hill plans to bring together a working group of faculty colleagues in the Department of Music to map out, in consultation with the Office of Study Abroad, a concrete plan for launching this new study abroad option for music majors.