Fund Recipient Spotlight: Fighting COVID 'a team effort' for RN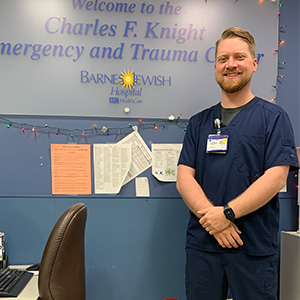 The Front-Line Responders Fund raised over $100,000 to provide financial support to Webster University students who are working in healthcare on the front lines of the COVID-19 pandemic while continuing their studies. In this series, student recipients of awards from the fund share their stories of balancing studies, family, work and more during the pandemic.
Spotlight: Drew Haugen
Occupation: Registered Nurse in the Emergency Department, Barnes Jewish Hospital
Academic Program: Master of Health Administration
"COVID19 has affected everybody, whether it is directly or indirectly," said Drew Haugen, an RN who is working on his Master of Health Administration at Webster University. "It has affected me in my personal life by keeping my wife working at home through the entirety of COVID, making me alter my marriage plans, and not be able to participate in nearly any activities I usually would, including seeing family members."
Haugen described how the pandemic affected his work as a nurse.
"The amount of PPE we use on the average patient is significantly more than in the past and is an exhausting task given that we have been required to clean and reuse multiple items that have previously been one-time use items. We have been exposed to COVID-positive patients nearly daily since the pandemic started, adding additional stress and worrying to the job."
He said the added stress has affected staffing loads to as some have left the field.
As we continue to come together, we will emerge stronger once this pandemic is over
Nonetheless, Haugen saw hope, too:
"There isn't a person in America who hasn't been affected by COVID-19," he said. "But as we continue to come together, we will emerge stronger once this pandemic is over. I see this strength every day in the heroes that I am so lucky to work with."
The award from Webster, too, gave Haugen more reason for hope.
"Fighting this pandemic has been a team effort. It has been taxing on everyone in different ways including physically, emotionally, and financially," he said. "This grant provided me with a little more comfort during a difficult time while trying to juggle school and work."