Rave Guardian: New app increases campus security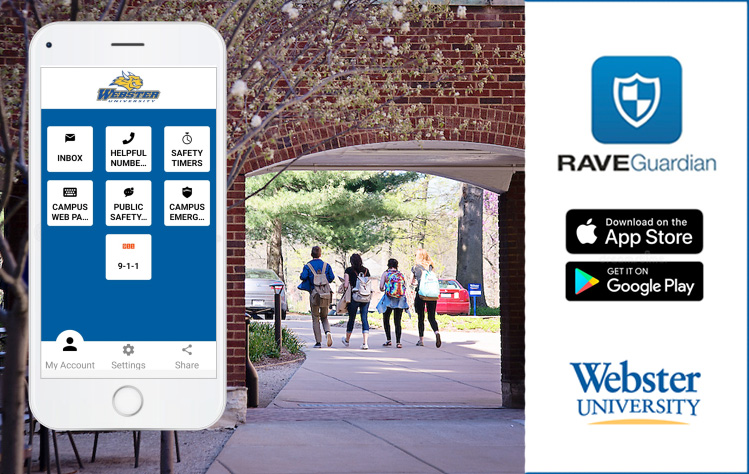 A new app that will connect students, faculty and staff at Webster University with various resources to increase their safety is being introduced to the Webster Groves campus in the coming months, and to international campuses during the 2021-2022 academic year.
The app, Rave Guardian, is part of Rave, the emergency notification system used by the Department of Public Safety. Rave Guardian will be free to download and use for all students, faculty and staff.
"The app features new technology that will allow users to send live updates to whomever they feel comfortable with—not just to Public Safety—that shows their current location," said Rick Gerger, director of Public Safety and Emergency Management. "The app also gives users immediate telephone numbers and e-mail connections to campus safety resources, and also allows users to add emergency contact information, pre-existing medical conditions and allergies in case they find themselves in an emergency situation."
The location sharing is used as safety timers, which allow users to appoint a personal contact or the Department of Public Safety as a virtual escort for a set amount of time which is customizable. "Users can enable a safety timer when walking on campus or when using a ride share," Gerger explained.
Users can also use the built-in Public Safety chat to report disturbances, suspicious activity, and property damages. The Campus Emergency tab provides a direct line to Public Safety with the tap of a button.
"Every campus location will have a geofence, a virtual perimeter, and anytime a user enters the geofence, they will automatically receive emergency notifications for that campus," Gerger said. The inbox tab within the app notifies users when there are any alerts in that particular geofence.
The campus web pages section provides users with direct access to links to the Public Safety, Title IX, Counseling, and the COVID-19 resource web pages. The app also features a helpful numbers tab that gives users access to important phone numbers such as the Public Safety and Title IX offices, campus counseling, the National Suicide Prevention Lifeline, and Poison Control.
According to Gerger, users will log in to the app using their Webster Connections credentials. In the settings section of the app, users can access the terms and conditions, customize their campus site between the different campus locations, update the location radius in which they receive notification alerts, and send suggestions and feedback about the Guardian app.
Gerger said that the app is completely opt-in. "Users can choose what they do or don't want to share. Things like location and personal information can remain completely anonymous if the user so desires."
The app has been reviewed by the university to ensure that it complies with FERPA and European privacy rules and will be tailored to each fit each individual campus's needs.
"Webster is always looking for ways to improve the safety of its students, faculty, and staff, not only at our home campus, but at all global campuses," Gerger said. "The Rave Guardian App is a great tool that will enhance safety."
Rave Guardian is available for free download on both Android and Apple devices.