Rick Rockwell Announces Retirement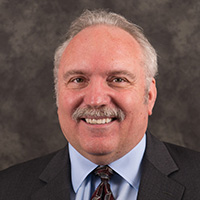 Webster University's Chief Communications Officer (CCO) Rick Rockwell announced his retirement to his staff last Friday. His last day at the University as CCO will be Dec. 31.
"Rick's higher education and industry experience have been a great asset to the University at a time when the entire field of communications is evolving in a rapid and dynamic way. His skills as a producer were key to the successful Webster hosting of the Solar Eclipse viewing in 2017 through the digital programming of recent years as evidenced in the groundbreaking Webster Speaks webinars and the Webster World Report podcast and the university's first-ever virtual commencement ceremonies. He led the way in Global Marketing and Communications' digital first philosophy, amplifying the impact of Webster's messages and stories," said Webster University Chancellor Elizabeth (Beth) J. Stroble. "I wish him the best in his retirement and look forward to seeing where life takes him next."
The Webster World Report podcast is a monthly program that announces the latest news about Webster University and features the accomplishments of faculty and students. Webster Speaks is a monthly online seminar hosted by the Office of Diversity, Equity and Inclusion that explores various components of diversity.
Rockwell was named the School of Communications associate dean of graduate, online and extended programs at Webster University in 2014 after serving as the director of the International Media Program at American University in Washington D.C. Before that, he was an assistant professor of Broadcasting at Northwestern University. He started his career in radio in Rhode Island in 1979, and worked for numerous media organizations, including Wisconsin Public Television, the Associated Press, PBS Newshour, Discovery Networks and ABC News.
In 2016, Rockwell was named the CCO for Webster where he served as the strategic leadership for three communications departments that make up the Global Marketing & Communication Division (GMC): Marketing & Creative Services; Strategic Communications; and Public Relations.
"Under Rick's leadership, Webster's Global Marketing and Communications team has accomplished significant goals on many fronts, from overseeing the redesign of our now award-winning website to directing the communications efforts that increased our peer recognition scores in the annual U. S. News and World Report rankings to record levels," said Webster University President Julian Z. Schuster. "He raised the bar for the quality of the university's communications and was an ever-present partner as Webster navigated the urgency of constant communications needed during recent pandemic times. "
Besides overseeing the website redesign, the peer recognition campaign and the Solar Eclipse event, under his leadership GMC won dozens of marketing awards, including a record number of national recognitions in the past 12 months. In addition, the number of professors quoted in news stories and the number of news stories that mentioned Webster University in a positive light hit new record highs during his tenure. Other accomplishments include:
Providing leadership and strategies for emergency and urgent messaging during the pandemic. GMC wrote and distributed 45 urgent and emergency messages during the 2020-2021 Academic Year.
Hiring the University's first social media specialist.
Creating the University's first digital experts guide.
Reformatting modernizing the Webster Today electronic newsletter.
Creating the University's first strategic communications plan.
Shifting resources to more strongly support Webster's fund-raising efforts.
He also continued to teach courses on social media, podcasting, and international media while he headed GMC through 2018.
Rockwell is the co-author of the book, "Media Power in Central America," which won a national Choice Award from the American Library Association, among other accolades. He earned a Bachelor of Science in Journalism (BSJ) degree in radio-TV journalism from Northwestern University and a Master of Arts in international journalism from the University of Southern California.
"I want to thank the Chancellor and the President for the opportunity to help the University community that I was given in 2016," Rockwell said. "Their decision-making allowed me to not only advance my career but gave me the opportunity in various situations to demonstrate creativity and leadership. I firmly believe Webster is a transformative institution. Just like the excellent work our staff and faculty provide in transforming and improving student lives, my experience here has enriched me. However, due to health reasons exacerbated by the pandemic, it is best that I move into retirement at this time."
An announcement about next steps to fill the CCO position in GMC will be made soon.