Webster University Conservatory of Theatre Arts Named in Honor of Peter Sargent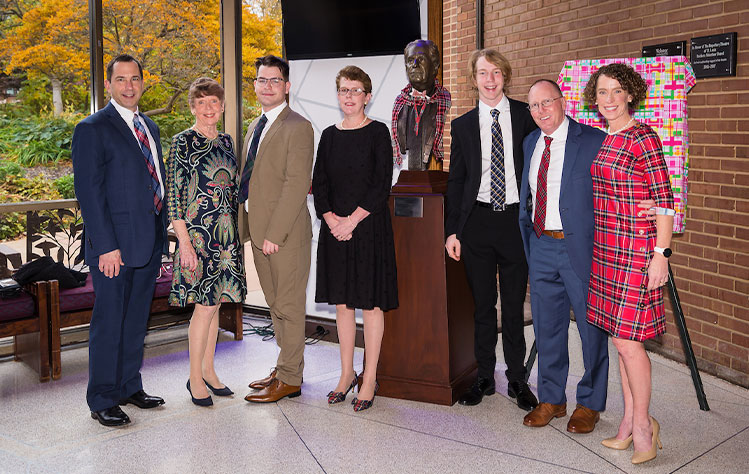 Webster University has renamed its nationally renowned Conservatory of Theatre Arts in honor of the late Peter Sargent, the founding dean of the Leigh Gerdine College of Fine Arts. Supporters, members of Sargent's family and Webster alumni celebrated the Sargent Conservatory of Theatre Arts during an event on Nov. 13 in the Webster University Loretto-Hilton Center, the professional arts complex where Conservatory students learn and perform.
Sargent, who was with Webster from 1966 until his death in 2019, was a mentor to some of the biggest stars on Broadway and in Hollywood, and a recognized local, state and national leader in the performing arts. The Conservatory's national reputation was established under his leadership and the team of performing and design professionals he assembled on faculty in the College of Fine Arts.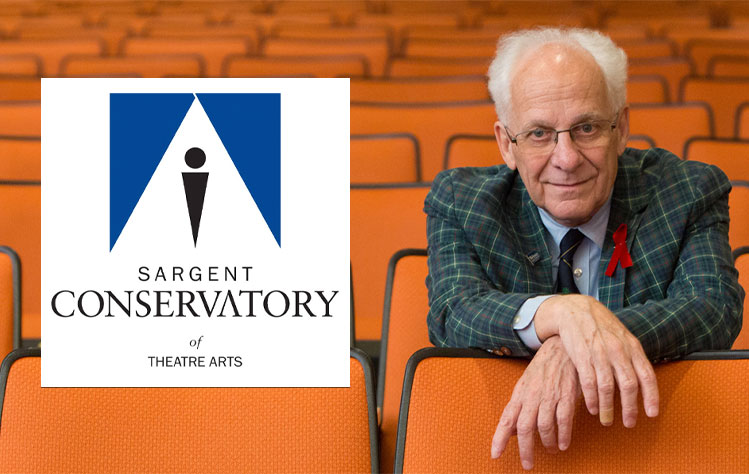 At the renaming event, Webster leaders and alumni shared reflections on Sargent's impact and the pioneering role the Conservatory has played. Their remarks were followed by a special performance by current Conservatory students.
"No matter how you defined your relationship with Peter Sargent, he was a force to be reckoned with," said Dean Paul Steger as he opened the event. "His strength of will, sense of humor, humanity, and his fierce determination were what made everyone who encountered him life their head a little higher and smile a little brighter."
"Peter carried a torch first lit by the Loretto Sisters—it is a torch all of us who love Webster carry with us each day," said Chancellor Elizabeth (Beth) J. Stroble. "I thank all of you for your support then and now. That is how vision is realized and passed from generation to generation. From the Sisters and Conrad Hilton to Marita Woodruff and Peter Sargent, to all of the longtime faculty and staff who have devoted their time to these students, to those of us here today, and all of those who will follow."
Webster University President Julian Schuster referenced two points of pride that Sargent believed set Webster's Conservatory apart: its ensemble nature and its long running partnerships with professional companies like the Repertory Theatre of St. Louis, The Muny, and the Opera Theatre of Saint Louis. "He emphasized the importance of everyone working together, putting negative competition aside, focusing on creating that experience as a whole that is greater than the sum of its parts," Schuster said. "Let us remember him and the legacy of his life."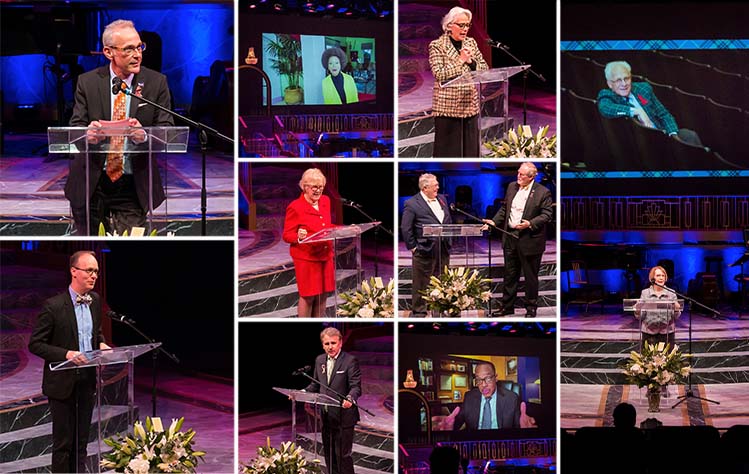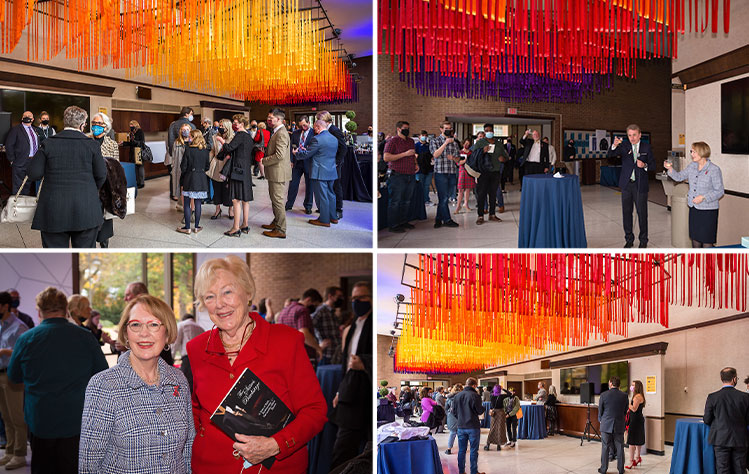 Gad Guterman, chair of the Conservatory, said that was part of Sargent's nature: "No one embodied ensemble more than Peter Sargent," Guterman said. "He understood how pieces fit in the whole and made people feel seen and valued. We will continue building on a legacy built on ensemble."
Webster alumni and well-known actors Jenifer Lewis and Rocky Carroll also had a part in the event, sending their well-wishes and memories of Sargent via pre-recorded video. "I am honored to be a graduate of the conservatory," Carroll said in his video. "But I am more proud to have been a part of Peter's legacy. I have nothing but gratitude."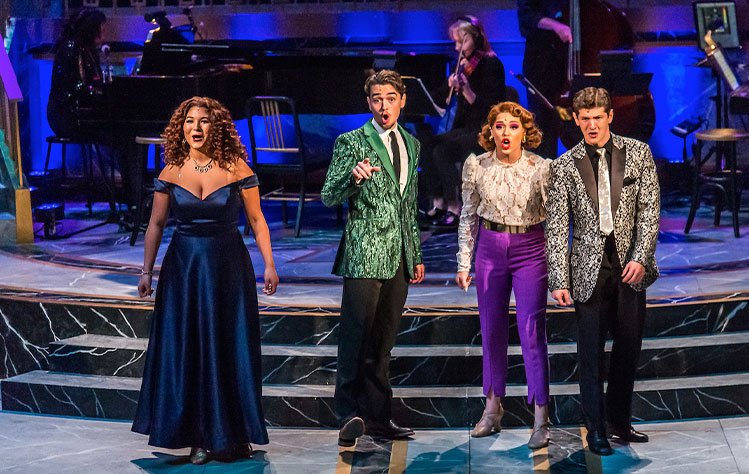 The renaming was made possible by fundraising led by several Webster alumni, notably Mary Alice Dwyer-Dobbin '63, Laura Herring '66, John Nickel '75 and David P. Weiss '75, who each also spoke at the event. A plaque with the new Sargent Conservatory logo was installed in the Loretto-Hilton, with the following:
Webster University
acknowledging the significant contributions of
Peter E. Sargent
with gratitude to the family, alumni, and friends,
hereby names Webster University's professional theatre training program
Sargent Conservatory of Theatre Arts
Dedicated this day, November 13, 2021
This naming was made possible by lead gifts from:
Mary Alice Dwyer-Dobbin '63
Laura '70 and Mike Herring
Impact Group Charitable Foundation
John '75 and Christy Nickel
David P. Weiss '75
"I am so pleased to make this happen and I know Peter is too," Dwyer-Dobbin said.
"Peter invited others to see others for who they were and who they would become," Herring recalled.
Weiss shared one of the lessons Sargent often gave to students as they went through their evolution as artists: "One learns more from failure than success."
And underlining a theme shared by many, Nickel said, "Peter was always looking at the bigger picture."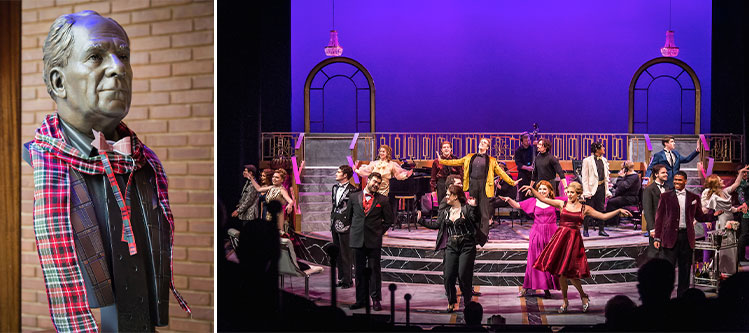 Before the reception and closing toasts from Chancellor Stroble and President Schuster, current Conservatory students performed the finale of Act I from the play "Sondheim on Sondheim" and a bonus performance of "Something's Coming."
"Sondheim on Sondheim," a look at the "father of the modern musical," was staged that same weekend as part of the Conservatory's 2021-22 schedule.
An HEC review of the Conservatory production raved about the students' performance, noting: "The cast radiated infectious energy when its members burst onto the stage for Sondheim on Sondheim. … The production was a sterling example of the Sargent Conservatory's work and a splendid tribute to its namesake."