Farewell to longtime CMS faculty member Robert Souza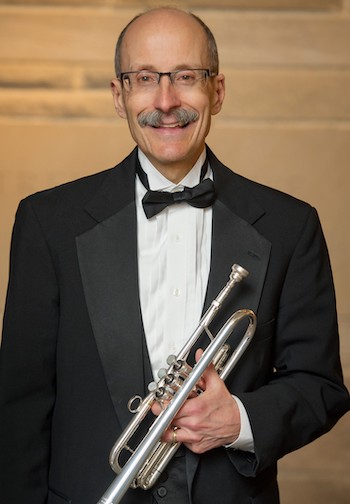 This month the Community Music School of Webster University bids a fond farewell to long-time faculty member Robert Souza (trumpet). Souza joined the CMS faculty in October 1994, during its time as the St. Louis Symphony Music School and transitioned with the move to Webster University in 2001. During his 27-year career with the CMS, Souza has inspired students with his love for his instrument and nurtured a life-long appreciation for music.
As a performer, Souza plays with multiple organizations in the St. Louis region, including Gateway Festival Orchestra, Mighty Mississippi Concert Band, St. Louis Brass Band, Webster Symphony Orchestra, Washington University Orchestra and University City Symphony.
Souza is a principal trumpet for Union Avenue Opera, a member of the American Kantorei Orchestra, Metropolitan Orchestra of St. Louis, Compton Heights Concert Band and Los Compadres Mariachi Band. He is a founding member of the Gateway Brass Quintet and leader of the Jim Dandys Dixieland Band. He performs frequently for the Heartland Festival Orchestra in Peoria and has appeared on numerous occasions with the St. Louis Symphony Orchestra. In 2009 he became a staff musician at the Cathedral Basilica of St. Louis.
A native of Massachusetts, Souza came to St. Louis in 1971 receto earn his Bachelor of Music degree, graduating summa cum laude from the University of Missouri - St. Louis. He also attended the Curtis Institute of Music in Philadelphia. He was a participant in the "International Brass Quintet Festival" in Baltimore MD in both 1984 and 1986 and was Assistant Principal Trumpet of the Orchestra of the State of Mexico in Toluca, Mexico from 1986 to 1987. In 1997 he was a guest soloist with the St. Louis Cathedral Choir on their tour of Italy, performing in the cities of Venice, Assisi, Florence and Rome.
Students, Colleagues Reflect on Mr. Souza
"It had been some 60-plus years since I had played the trumpet in high school. Several years ago, having inherited a trumpet, Robert was contacted for lessons. Thanks to Robert's technical skills, knowledge of music, teaching methods and patience, I have been able to appreciate and enjoy music beyond my expectations. More importantly, I began the relationship as a student and gained a lifelong friend."
-- Bob Rowlands, student
"Although I learned a lot about trumpet technique from Robert Souza, probably the most important ways in which he helped me become a better musician had to do with internalizing a mental and physical way of being while playing. Robert has a special ability to communicate that way of being, sometimes in ways that are hard to explain. At times when I was struggling in the upper register, he would sometimes remind me to 'blow straight ahead through the horn.' Taken literally, that seems like superfluous advice, since I don't think I could blow at an angle if I tried! Yet, somehow, it really did help me to think in those terms and I have never stopped aiming to consistently 'blow straight ahead.'
"I should add that, with our long acquaintance, Robert is not only my teacher but a good, kind, and true friend, and I am looking forward to continuing our friendship as he enters into retirement."
-- Kent Staley, student
"Robert Souza is the epitome of a dedicated teacher. The result of his work is evidenced by the success of his students and their pure enjoyment of playing! And their tone quality is beautiful! Not only is he an excellent teacher and mentor, but his warmth and caring extends to their families. He truly goes many extra miles for his students. Beyond all of this, Robert is the consummate professional and a wonderful friend to all. It was a joy to work with him for so many years. He certainly left his mark on the Community Music School."
-- Carol Commerford, former CMS Director
"Robert was a lot of fun to work with and 110% into working with his students, making sure they were getting what they needed out of their lessons at CMS. He taught on the old porch for many years up on the second floor of the 200 Hazel building, with the windows open, and people all around the area used to comment on how wonderful it was to be able to get to hear he and his students play. He felt it was very important to keep the parents involved in the students education, and always made sure to take the time to keep them in the loop, updating them on what they were working on, practice assignments, etc. His enthusiasm for his instrument and music was contagious. CMS has been truly blessed having him on their faculty."
-- Julie Giesegh, former CMS staff
"Robert Souza is one of the most dedicated and talented teachers I have worked with. His total commitment to his students' technique, artistry, progress and overall well-being is evident in every student interaction. In student recitals, it wasn't uncommon for Robert to perform along with his students where he modeled musicality and appropriate recital etiquette, and conveyed a sense of calmness which always put his students at ease. One can always identify Robert's students by their gorgeous tone and technique."
-- Linda Chickos, former CMS Assistant Director