Webster Mentoring Program Relaunches
The Webster Mentoring Program launched six years ago but took the last year off to reboot with improvements based on feedback from past participants.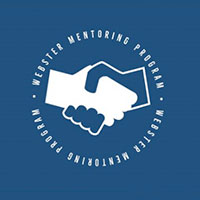 The Mentoring Program will now be a rolling program with no deadlines for applications for students or alumni mentors. Students will now be given access to a new Mentoring Database that they can search by job professions, places of business, alumni majors and more.
The students will have the ability to reach out directly to alumni to begin a mentoring relationship and end the relationship at a date they and their mentor agree upon. This more organic program will enable students and alumni to meet more people and gain more knowledge.
The Connect: New initiative connecting Alumni with Black students
Part of the new options in the Mentoring Program is an initiative called The Connect, a program designed to help current Black and other students of color connect with Black or other alumni of color. Interested alumni will be available to mentor any student, and students will search through the same mentoring database to participate in The Connect.
Join the Program as a Student or as an Alum
To learn more about the Webster Mentoring Program and for links to join, visit webster.edu/mentor.