Tashkent Campus Holds First Women's Entrepreneurship Festival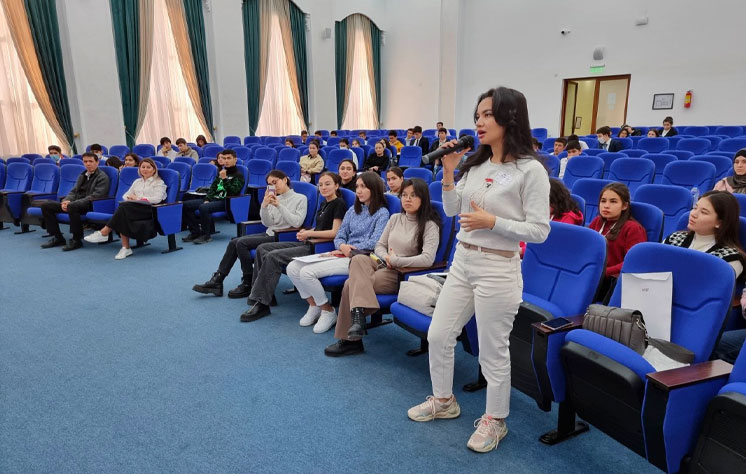 Webster University in Tashkent held its first annual Women's Entrepreneurship Festival (WEF) on Nov. 27, 2021. The event was organized with the aim of engaging, encouraging, and inspiring young women to see themselves as innovators, entrepreneurs, and leaders.
The festival included a panel Q&A with four entrepreneurs who run their own businesses in Tashkent, eight seminars lead by specialists and businesswomen, and a speed networking that allowed participants to get to know each other. It was open to anyone who was interested, regardless of gender, age, and whether they were a Webster student or not.
Parvina Khujaeva, faculty member at Webster Tashkent and organizer of the festival, shared her reason for being involved in WEF:
"A conversation with a female student took me back to my 18-year-old self," she said. "The same low level of self-esteem and lack of confidence in oneself is apparently still persistent among young women. Thus, I hoped that through Women's Entrepreneurship Festival I would be able, to a certain degree, empower young girls that they can be and achieve anything that they set their mind to."
The festival was purposefully formulated as a celebration of the achievements held by individual women-entrepreneurs in Uzbekistan.
A conversation with a female student took me back to my 18-year-old self. ... We need to address low self-esteem and lack of confidence among young women
"While there certainly are issues that need to be overcome, we wanted to spotlight the women who are successful in business despite it all. The goal was to give young women real people to look up to," said Malika Baratova, PR executive at Webster Tashkent and one of the festival organizers.
Speakers at the day-long festival included women who founded and head their own businesses – a chocolate boutique, a makeup franchise, a clothing retailer, original apparel and couture brands, a video production company – as well as consultants in the spheres of business, CSR, and green activism.
Inspiration from Mentors
One of the volunteers at the event, Asalya Nurislamova, a sophomore majoring in business administration, described her favorite presenter, Maria Portnova, the founder of the artisanal chocolate brand s: "She is a woman who made a successful business out of a hobby. She obviously has leadership skills and big ambitions. For me, Maria is an example of a true team leader, who is not afraid to take responsibility and learn something new."
Another volunteer, media studies freshman Imona Kabirova, felt driven to try her hand at entrepreneurship after attending workshops at the festival. "After the sessions with different businesswomen, I got the inspiration to start my business project soon. All speakers were so young and already successful. They proved that women are also good or even better at business," Kabirova said.
Nurislamova mirrored her peer's sentiment: "I got inspired by [the speakers'] stories of building success despite the biases that society puts on women. I got many insights on the 'unspoken rules' that exist in the modern business world."
Encouraging Interest in Leadership, Entrepreneurship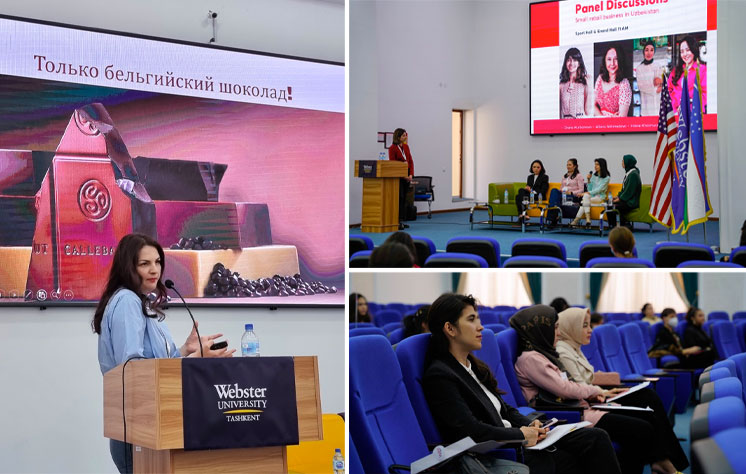 The festival aimed to help young women interested in leadership and entrepreneurship to meet each other and get introduced to the existing business community. Those who joined the speed networking during the festival's closing reported being happy to have met people from Webster and other universities. Volunteers had the added benefit of direct contact with speakers.
As Kabirova said, "I was 100 percent sure that as a volunteer, I would have an opportunity to talk with speakers, take photos with them, and discover something new and valuable. As a result, I got even more than I expected: motivation to work, unforgettable emotions, and new acquaintances."
Speakers also mentioned in discussions after the event that they were grateful for the chance to meet other entrepreneurs and young women. Madina Rajapova, MBA program coordinator and organizer, added that speakers benefitted from the festival, too. "Some of them spoke in public for the first time and were happy to share their knowledge and learn with listeners," Rajapova said "So, it was a win-win project."
Women's Entrepreneurship Festival was organized by a team of staff and faculty at Webster Tashkent, with significant technical and material support by the Ministry of Innovative Development of the Republic of Uzbekistan.
The organizers are planning to make the festival an annual event.