Webster Vienna Private University Celebrates 40 Years in Austria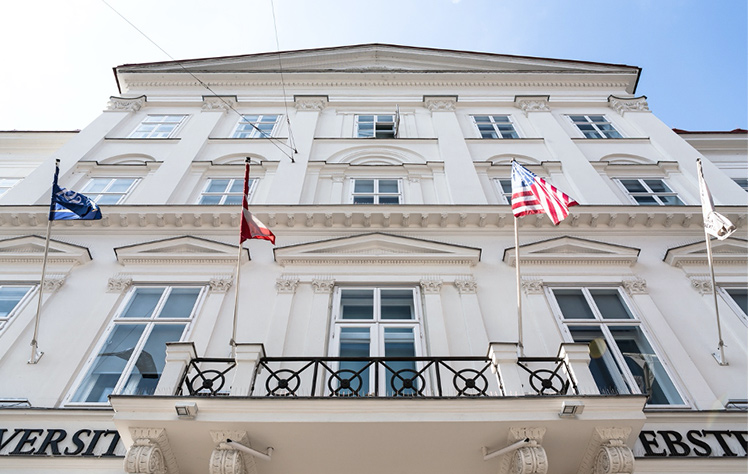 Webster Vienna Private University's (WVPU) roots as an American-based university have fundamentally shaped its history and evolution. Its beginnings as an extended site of a primarily teaching university afforded it the opportunity to establish a strong tradition in teaching excellence, one that brought in expert lecturers from among the best industry has to offer, individuals who taught students the latest in standards and practices.
It then built upon this tradition in the areas of government and diplomacy bringing in diplomats and experts from the many Vienna-based United Nations and international organizations, in media by tapping the resources of Vienna's rich tradition in journalism and most recently in experts in the areas of psychology and counseling.
Humble Beginnings
Webster Vienna is one of the longest operating private universities in Austria. Established originally as an extended campus of the U.S.-based Webster University in 1981 upon the invitation of Vienna's mayor, Dr. Leopold Gratz, it became the first university in the country to offer degree programs entirely in English, the first to offer an accredited MBA degree in 1985, and one of the first to receive full accreditation as a private university in 2001.
When Webster opened in Vienna in 1981 on the Schubertring with just 70 students, it could hardly estimate the rising demand for an English-language, American-style, university education with its focus on student mentorship, analysis and problem solving, and the development of knowledge through critical thought and hands-on experience. By the time the university introduced its MBA program, Webster Vienna had to move to a new location on Morokkanergasse to accommodate its rapid growth.
The 1990s and Early 2000s: Journey to Becoming a Private University
Having become the home of the third United Nations Headquarters in 1980, Vienna's international stature continued to rapidly rise, as did Webster's role in Vienna's higher education landscape. The university introduced a Partners in Education program in 1991, collaborating with the Austrian National Bank in an initiative to help cover financial costs for students. Then in 1996, with student numbers growing, the university moved its campus closer to the U.N. along the banks of the Danube.
Webster Vienna's roster of research faculty guarantee the indivisibility of teaching and research in the classroom while delivering practical real-life skills
By the end of the decade, WVPU, then known as Webster University Vienna (WUV), was attracting students from all over Europe, individuals eager to earn undergraduate and graduate degrees accredited both in the United States and Austria. Webster University Vienna was awarded its first official accreditation as a private university in 2001 under Austria's Universitäts-Akkreditierungsgesetz. Subsequently, Webster began to employ faculty with research agendas in 2009 and amended its programs accordingly to allow for increasingly rigorous degree programs. By the end of the decade, the university had successfully educated and graduated more than 1,000 students in Vienna.
In 2014, Webster found its permanent home at the Palais Wenkheim in Vienna's second district and two years later began the most comprehensive innovation process in its 40-year history. The university grew its permanent faculty attracting top-notch scholars, reformed its teaching and research program, and expanded its student services. As a result, the Austrian Accreditation Council granted Webster Vienna Private University (WVPU) its fourth consecutive accreditation in 2016. That same year, Webster Vienna surpassed 3,000 alumni and, together with substantial donation from Borealis established the Borealis Scholarships endowment. A year later, WVPU researchers won a large grant from the prestigious Austrian Science Fund, confirming the university's growing success.
WVPU Today
Today, 40 years from its humble opening, WVPU is an integral part of the Austrian higher education landscape. Since 2016, its faculty have published more than 200 research publications in leading journals and with prestigious academic presses and Borealis renewed its endowment (2019).
Well known for its rigorous teaching excellence and student mentorship, Webster Vienna's roster of research faculty guarantee the indivisibility of teaching and research in the classroom while delivering practical real-life skills.
Now, as WVPU applies for its fifth consecutive accreditation period, it celebrates 40 years of achievements and growth as it continues to bring out the best in its students, helping them to achieve individual excellence and preparing them for success in life and advancement in their careers. Always true to Webster University's core values, it continues to put students at the center of education instilling a respect for diversity and an understanding of their own and others' values to create global citizens.
For a review of Webster Vienna Private University's timeline of achievements, including profiles and testimonials from alumni, see: 40yearsofwvpu.com.