Spotlight: Webster Vienna Alumna and Faculty Member Antonija Pacek Releases New Album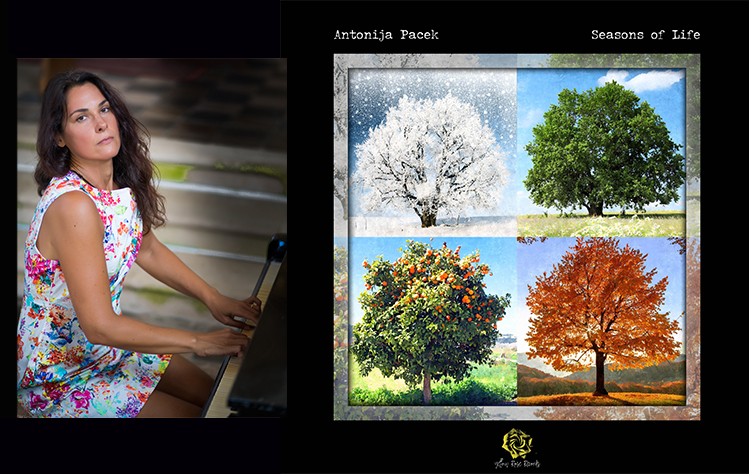 Webster Vienna Private University faculty member and alumna Antonija Pacek is also a neoclassical composer, a pianist, and a professor of psychology. Yellow Rose Records will be publishing her newest, the fifth album "Seasons of Life" on March 18, 2022, and four singles from the upcoming album are already available on major streaming platforms: "Lost," "Sadness," "Rain Drops," and "Life Is…". U.S.-based Parma Recordings published her fourth album, "Forever," and Take Effects Review wrote: "Forever often carries a captivating romantic spirit and an exceptional performance that will have you hanging on every note."
To promote her second "Life Stories" and third "Il Mare" albums, Antonija toured Italy in 2018-19 and played in five cities, including the prestigious Auditorium Parco della Musica in Rome and Teatro dal Verme in Milan. Il Giornale Milano wrote: "Three styles of the keyboard: Einaudi, Allevi and Pacek - the plan is to tell emotion."
Her critically acclaimed debut album, "Soul Colours," was published in 2014 by Autentico Music in Germany and was signed by Warner Chappell. German and Italian critics referred to Antonija's compositions and concerts as follows: "a female response to Ludovico Einaudi," "resembling Erik Satie's as well as Keith Jarrett's The Cologne Concert," "(it) creates an evocative, poetic love", "Pacek, Revival of the Great Classics."
Antonija's music is being played at a number of radio stations around the world, including Classic FM radio in London, UK; FM Classic in New York, USA; Klassik Radio in Vienna, Austria; Shades of Classics in Canada; TwentySound in Berlin, Germany; One World Music Radio in the UK, and more.
Melodies made of tension and deliverance, crafted by passion, inspiration, calm - sometimes sad moments – Antonija's music is soothing, empowering, and moving. The "Seasons of Life" album was named after titles such as "Winter Waltz," "Springtime," "Summer Tale," and "Fall Train" -- and all are a passionate expression of life in different periods of the year.
"Sometimes springtime does not need to be joyful and fluffy, considering the current circumstance with the pandemic, so this is reflected in this composition," Pacek said. Whereas the calming and meditative nature of the ocean inspired her to write a joyful song "Summer Tale." Her music reminds us of our memories, our present happenings and gives us hopes, and it will resonate with every generation.
Be true to yourself, have a confidence that each of us can bring something to the world
Interview
Webster Vienna caught up with Pacek to learn more about her music and its connection to her faculty role.
As an adjunct professor, composer and pianist, how do you combine your career in music and education? Are they a perfect match?
Pacek: This is not an easy question, but love is the ingredient for both: I love teaching psychology and composing, as well as performing. As a psychologist, I closely studied human nature, and some impactful real stories and lives inspire me to compose my music. Writing music feels therapeutic to my soul, and I sincerely hope that the same effect applies to my audience. In this sense the two professions that I pursue intertwine.
What would you say inspired you the most throughout the process of recording this new album?
Pacek: Each composition has its own story and my emotional background. "Lost" was written when I lost both of my parents and I felt like a tree with no roots. The sorrow and love (especially for my mom) echo in this composition. It is dedicated to all of us who lost very important people in our lives. "Sadness" connotates feelings of helplessness when a significant person in your life is ill and we are not able to help. "Rain Drops" is a melancholy song, but with some rays of hope inside. "Sadness" and "Rain Drops" were arranged for the oboe by Sanja Romic, who harmoniously and beautifully performed her part on the oboe.
"Life Is…" was an emotionally cleansing composition, and I cried as I composed it. Some sad leftovers went out of me when I played it. I left the title open for this song because listening to this composition should decide what life is or means for them. "Winter Waltz" was a highly imaginative and fantasy-pure, bitter-sweet composition depicting the beauties of wintertime. "Dreaming" is dedicated to all of those creative souls that continue to have dreams that are stronger than their fears, for those of us who dare to pursue their dreams despite all the difficulties. "Fall Train" came out of my night dream where I was searching and chasing after my loved ones within a train… Inspiration takes various forms, but the focus is always on people, their stories, dreams, exuberant/memorable films with strong messages.
Can you give us a sneak peek on what your new album will focus on?
Pacek: Sadness, hope, but also a joy of life, and this time these feelings are also placed in and inspired by a specific season. Seasons could also be correspondent to our stages of life… The focus is on opening up listeners' emotions through universal language of music. I hope that this album brings some forgotten stories back to the listeners, allowing them to be vulnerable within a safe atmosphere, and inspires them to dream new visions of their future.
Throughout your career as a composer and pianist, what has been your favorite highlight or milestone?
Pacek: First of all, inspiring and giving space to my listeners to be emotional, vulnerable. And then one of my favorite highlights were when I had a concert in Auditorium parco della musica in Rome in front of almost 400 people in the audience; and an open-sky, outdoor concert at the magical island of Brijuni in Croatia-next to a renown Matej Mestrovic and Mattew Mayer (both neoclassical composers and performers). I am also very grateful to my listeners from all over the world for following me and listening to my music–there is a total of around 200,000 streams of my four albums only on Spotify.
What would you recommend to new and current Webster psychology students?
Pacek: Deep dive your strengths and your purpose to be true to yourself, have a confidence that each of us can bring something to the world, find ways to express your creativity as it is good for the soul and sometimes it can be relevant for our society, practice compassion and gratitude, and make happy choices in life.
Additionally, a quote from Kevin Roberts accentuates, in one sentence, the essence of what to focus on: "If you want to make your life, your work, and your contribution irresistible, then give love, and feel love."
Follow Antonija on the web and social media: www.antonijapacek.com | Facebook | Instagram | Spotify | YouTube