Webster LEADS Enhances Undergraduate Degree in Europe
The Webster LEADS program, offered at multiple campuses in the Webster University network, enhances the undergraduate experience with co-curricular, leadership opportunities complete with the guidance of peers and veteran Webster LEADS participants. Each participant's involvement culminates with the Leadership Certificate, which is awarded when students complete the entire curriculum.
If you're considering studying in a cultural capital of Europe like Vienna, Webster Vienna Private University offers a practical leadership program designed to empower students in becoming global citizens. The Webster LEADS program fosters leadership skills, diversity, and educational growth to prepare graduates for a career on the international stage. Furthermore, Webster students who complete any component at a different campus while studying abroad (e.g. Geneva, St. Louis, Leiden) will be eligible to have their certificate designated with the special recognition of Leadership Certificate with Global Distinction.
Now more than ever, globalization is a way of life. Graduates are increasingly valued for their understanding of different cultures and perspectives, and their ability to communicate effectively in that environment. The Webster LEADS program offers students real organization, leadership, and team-work experience, preparing them to assume positions in the global workforce.
A Chance To Get Involved in the Community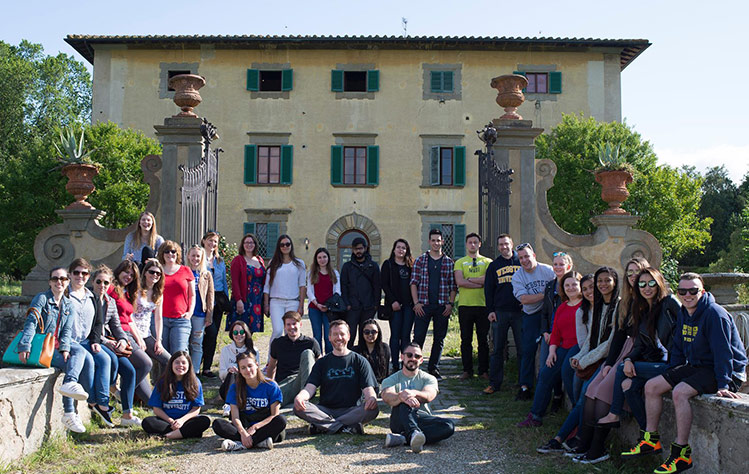 There are numerous benefits to studying in a cultural and intellectual hub of Europe. One of the unique opportunities offered by Webster Vienna Private University is the chance to access a diverse and stimulating community of international students. With an undergraduate degree in Vienna, students are exposed to different viewpoints and given the opportunity to foster significant relationships with their peers.
Specifically, the Webster LEADS program encourages students to serve as educational role models within the Webster community. One of the main components of the Leadership Certificate Program is a Service Learning Project, which includes 40 hours of volunteering for community projects at Webster or in the wider Vienna area.
Students also gain practical leadership experience by heading and organizing a club, working in the Student Government Association, or leading some of the new students' orientation activities. With a wide variety of experiences, students of the Webster LEADS program gain insight into the values of leadership across different communities.
Achieve Personal Growth as a Leader
A great leader strives for personal development while inspiring others in their work. Being able to reflect on your own strengths, weaknesses, responsibilities, and goals will allow you to fulfil your own potential, at the same time as encouraging growth in your community. The Professional Development Workshops offered by Webster LEADS makes personal growth a priority when it comes to developing good leadership skills. Students of the program are encouraged to consider and develop their personal philosophy when it comes to leadership. Their approach to work should align with their own values and beliefs. Pursuing a bachelor degree in Austria is a great way to find inspiration outside of your comfort zone and to explore your own educational path.
Stand Out on the Global Stage With a Bachelor Degree in Austria
Studying in Vienna provides students with a launching pad for a successful career as an international citizen. The global-centric approach of Webster highlights intercultural competence and encourages students to develop their ambitions in the worldwide community. Understanding the world around us, the social systems, and how we can work together effectively are invaluable skills in modern society.
The Webster LEADS program encourages further integration and collaboration between students, staff, faculty, and the larger Webster community. With the chance to serve as educators and role models, students of the LEADS program develop strong social support networks and gain first-hand experience of working alongside an international community. Once a year, the LEADS students have the unique chance of sharing their experience, and gain further insights from the other European campuses: the LEADS retreat in collaboration with the Webster Geneva and Webster Leiden, aims to foster the global community and the exchange among students from different campuses and backgrounds.
Would you like to earn an undergraduate degree in Vienna?
Contact Webster Vienna Private University for more information.