Celebrated 'Tree of Distinction' on Webster Groves Campus Destroyed in Storm
The Cucumber Magnolia tree located near the intersection of Joy and Magnolia avenues on Webster University's Webster Groves campus is no more. The tree, which was recognized as a "Public Tree of Distinction" by the City of Webster Groves earlier this year, was destroyed during Thursday's severe thunderstorm.
The University will use the wood from the tree to create unique items and will plant a new tree in its spot next year.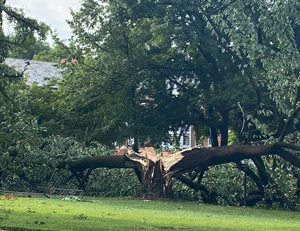 "That tree had a massive canopy and a lot of foliage, so when those straight-line winds came through during the storm, the wind hit the tree like it was a brick wall," said Dan Hankins, Webster University's ground supervisor. "The tree snapped at the trunk, very close to the ground."
According to the National Weather Service, gusts were recorded at around 70 mph during the hours-long late-night storm.
It was estimated that the tree trunk had a diameter of around 42 inches, was nearly 60 feet tall and had an overall spread of 70 feet. It wasn't the only tree damaged in the area. Officials in both St. Louis County and City reported hundreds of trees were felled by the strong storm. On Friday, Big Bend Blvd, was closed for most the day in front of Maria Hall due to a tree from a nearby residence that fell on the roadway and a nearby power pole across from the Visual Arts Building that snapped in half.
The tree was identified as being unique in 2020 after a member of the Webster Groves Green Space Advisory Commission nominated the tree for the city's annual "Public Tree of Distinction" award, Hankins said. "We were told that the shape and size of the tree was identified as a nearly perfect representation of that species,' Hankins said, adding that the 2020 awards ceremony was canceled due to the pandemic.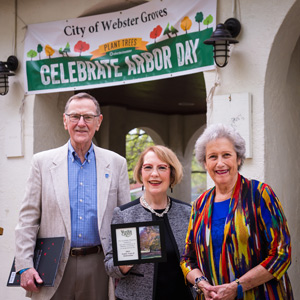 Chancellor Elizabeth (Beth) J. Stroble received the award on behalf of the University during a small outdoor Arbor Day ceremony held on April 27 earlier this year. She was accompanied by Webster University supporters and neighbors Bill and Joanne Fogarty (pictured), who lived across from the tree and helped maintain it over the years. Webster University development officer Michael Ryan also attended.
Hankins said wood from the tree will be used to make several unique items, much like how wood from a century-old tree that fell on campus several years ago was used to make a new ceremonial mace for use during Convocation and a new bench in front of Webster Hall.
"We have to wait for the rest of the trunk to natural die out and then remove it, but we have plans to plant something new there," Hankins said. "That will probably happen late next spring."