More Than One-Third of All Restrooms on the Webster Groves Campus 'All Gender'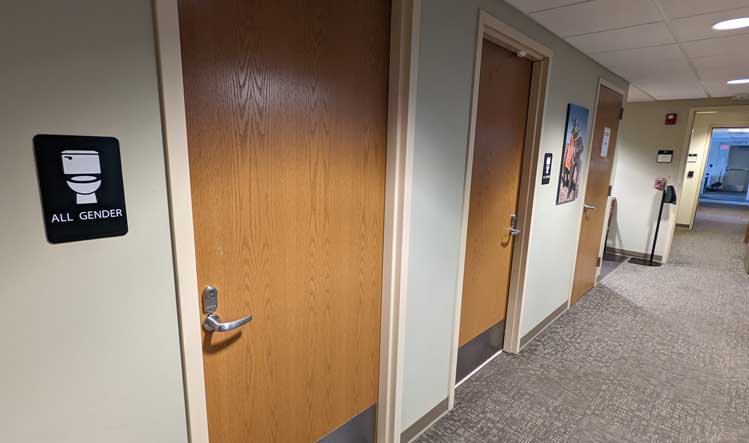 ST. LOUIS - Nearly every public building on Webster University's Webster Groves campus has at least one "All Gender" bathroom, it was announced this week. This is part of a six-year project that started at the request of students.
To date, 49 public restrooms with a single toilet have been designated as "All Gender" facilities, representing nearly 38 percent of the 128 public restrooms used by students, faculty, staff and campus visitors. Every building used by the public on the campus - with the exception of the University Center - has at least one "All Gender" facility, with most having several of them.
"This project demonstrates Webster University's long-term commitment to diversity on many levels," said Chief Diversity Officer and Vice President of Diversity, Equity and Inclusion Vincent C. Flewellen. "This particular issue is one about dignity so that those in the LGBTQIA community do not have their sexual identity dictated to them by a generic sign on a wall; however, it's really much more inclusive and benefits all people. This is a true display of Webster's commitment to inclusion."
Cheryl Fritz, chief human resources officer of Webster University, said that the change was necessary to show respect to all our employees, potential job applicants and community members and to encourage them to be their authentic selves. "Re-labeling restrooms to all-gender/gender-neutral supports our mission and shows Webster's continued commitment to inclusivity," she said.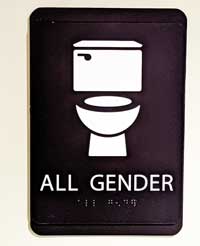 The idea for introducing "All Gender" restrooms was first raised in 2016 by students during the annual Delegates Agenda, a joint meeting between student leaders and administration to publicly discuss proposed changes to campus operations and regulations. The administration promised to survey all public restroom facilities on the campus and come up with a plan of action.
The University opened its first restroom with "All Gender" signs when Browning Hall was constructed in 2017. Including non-gender inclusive facilities was part of the master plan of the building's design. Since then, the University has identified every public restroom on the Webster Groves campus and determined which ones could easily be turned into an "All Gender" facility.
Moving forward, the University will focus on new construction and building renovations for future "All Gender" facilities, recognizing that there are greater challenges in converting spaces in older buildings. Every building will also retain at least one "Men's" and one "Women's" facility.