Webster Alumnus Receives Milken Educator Award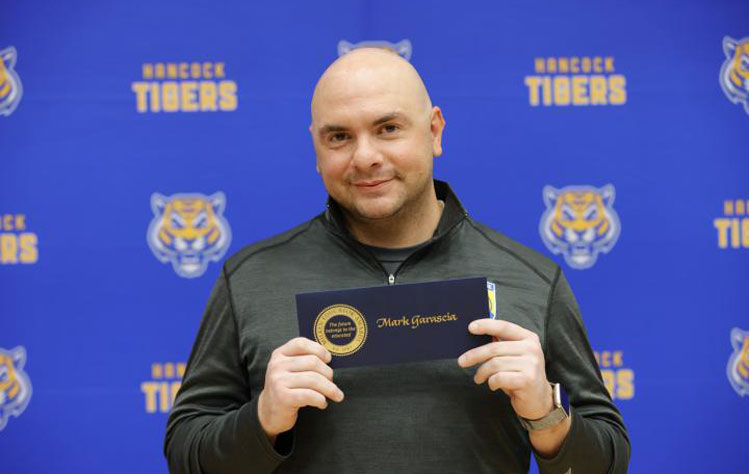 Mark Garascia, a 2013 and 2016 graduate of Webster University and an alternative education teacher at Hancock Place High School in St. Louis, received a Milken Educator Award in recognition of his work in creating and running PAWS (Providing Alternative Ways to Succeed). The PAWS program helps students with academic and disciplinary challenges recover credits so they can graduate from high school.
Garascia said he was completely surprised to learn that he was the award's recipient. He had heard rumors that someone at his school was going to be honored with a special assembly attended by state officials and the Milken Foundation, and during the event, he even scanned his colleagues in the room, trying to guess which one was being honored. He earned an MBA at Webster in 2013, and a master's in social science education in 2016.
"It never crossed my mind that it would be me," Garascia said. "I am not sure if I was more shocked that they pronounced my last name correctly or that I was the one who was being recognized at this all-school assembly with the press, politicians, educational leaders, and former Milken winners!"
For the officials presenting the award, Garascia was the clear choice for this year's award.
"Providing access to opportunity is our mission at the Department of Elementary and Secondary Education, and teachers like Mark are making that happen every day in classrooms across our state," said Margie Vandeven, Missouri Commissioner of Education. "The PAWS program at Hancock Place High School is developing a new generation of learners who are equipped with the skills they need to succeed in either postsecondary training, college, or the workforce, and we are so proud of Mark's hard work to ensure this program is advancing opportunities for his students."
The PAWS program does not present students with a "traditional classroom." Instead, each student works on individualized curriculum that meets their specific needs. The work is done in a room with couches, recliners and ottomans, so that students can work comfortably without being reminded that they are in a structured educational system.
"Being creative and thinking outside the box are habitual tendencies imperative for a highly functional setting for at-risk students," Garascia said. "Implementing a selective process that involves establishing appropriate expectations complemented with high levels of student and parent buy-in enhances the efficacy of learning objectives. Ensuring autonomy and accountability for everyone involved in alternative education supports building a positive environment that can be viewed as a privilege. This helps to erase the negative connotation of placement leading to unwanted attitudes and behaviors."
The results are clear. Since staring PAWS six years ago, Garascia has doubled student attendance and graduated every student in his class.
The idea for PAWS came from school administrations, Garascia said, but some of the ideas and strategies used in the program can be traced back to his time while working on his Master's in social science at Webster University. At Webster, he realized that he had a passion for teaching even though he worked for a bank at the time. He added that Lauren Schoellhorn was instrumental in his masterr's Thesis, and her guidance and input helped him land the job at Hancock.
"Her topic suggestion and input towards my master's Thesis contributed to receiving the offer to start the PAWS program at Hancock Place High School," he said. "She has provided me with a role model for the type of teacher I want to be, serving students to the best of my ability. I have incorporated many elements of her teaching style within my classroom. I can confidently say I am a better educator due to having so many classes with her."
He added, "I am so grateful for all of the connections I made at Webster. I would not be where I am today, if it weren't for my time there."
And that includes being the latest Milken Educator Award winner.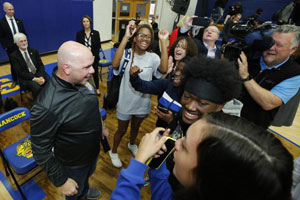 The Milken Educator Awards was conceived by Lowell Milken to celebrate, elevate and activate the teaching profession. It is the nation's preeminent teacher recognition program and often hailed as the "Oscars of Teaching." For 35 years, the Milken Family Foundation has devoted over $140 million in funding to the Milken Educator Awards, including $70 million in individual Awards to more than 2,800 recipients plus powerful professional learning opportunities and networking with leading education stakeholders.
As part of the award, Garascia will receive a stipend of $25,000. He plans to use the money to buy a new computer tablet, do some traveling, and finally purchase something that he has never purchased brand new before: "I will buy a new bowling ball. I rarely get a brand-new ball for myself as I often get pre-owned equipment re-drilled from other people I bowl with. And I will take my family out for a nice dinner."