Webster Athens Celebrates First Commencement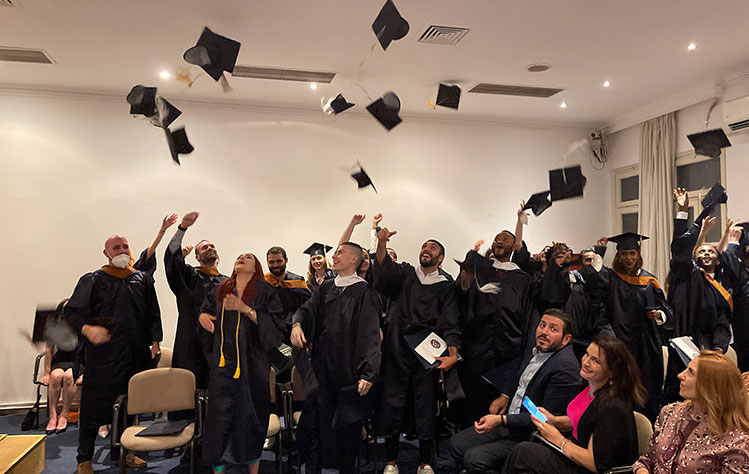 Webster Athens celebrated its first commencement ceremony May 18 with the graduating classes of 2020, 2021 and 2022. The ceremony took place at the Webster Athens Cultural Center, a historical neoclassical building nestled below the Acropolis and behind the Roman Agora. Excitement was in the air as students put on their caps and gowns in the adjacent Webster Athens library. As students lined up to march into the Cultural Center, tourists stopped to admire them.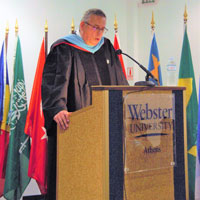 Sixty-eight students received their graduate or undergraduate degrees. Those in attendance marched into the Cultural Center with the Bios Chamber Orchestra, under the direction of Conductor Maestro Alexandros Halapsis, playing the traditional song "Pomp and Circumstance." After the performance of the Greek and American national anthems, the rector of the Athens campus, Vasilis J. Botopoulos, welcomed the graduates, their parents, faculty and esteemed guests. He congratulated the students on their accomplishments and encouraged them to continue to strive for excellence in all they do.
The ambassador and general consul of the Republic of Panama to Greece, H.E. Julie Lymberopulos, was the commencement speaker and recipient of the Distinguished Partnership Award, which was established for eminent personalities who have contributed to our institution in distinguished ways. In her commencement speech, Lymberopulos advised students to "dream big and to believe in themselves, never to stop trying, to keep learning, and to be strong!" She also advised them to always embrace failures, reminding them that failure does not define, nor change who they are, and it should not be enough to hold them back. Lymberopulos said, "The key to life is to develop an internal moral and emotional guidance that can tell you which way to go." She urged them to try and create a world they want to live in through their actions and decisions.
The next award recipient was H. E. David Dondua, ambassador of the Republic of Georgia, who received the Embassy Educational Partnership & Collaboration Award, which is an award recognizing partnerships and collaborations between Webster Athens and Embassies in Athens. Ambassador Dondua thanked Rector Botopoulos for great cooperation through the years and congratulated the decision of Webster University to open a campus in Georgia.
The Distinguished Civic Leader & Philanthropist Award went to Jennifer Moiles, founder and director, LERRN (Love Elevates Refugee Relief Network). Moiles was unable to attend the ceremony; therefore, the award will be given to her at another time.
The recently-retired Webster Athens Bursar and Director of Building/Facilities Operations Stamos (Tom) Mazarakis received the Excellence in University Service Award for his years of dedication and service to Webster Athens. The graduating students and audience stood up and applauded him while he received the award. He expressed his gratitude to the University and to the students, congratulating them on their achievements.
Professor Giannoula (Joanna) Vasiliou received the Faculty of the Year Award, which is given to a faculty member who embodies the mission of Webster University: to prepare its graduates for effective, responsible and articulate membership in the complex societies in which they live and serve, and to always strive for excellence and distinction in their professional and personal lives. She received the award to a standing ovation. Vasiliou was emotional, remembering her father who passed away a few years ago and was not there to see her son, his grandson, receive his BA and MA degrees that evening.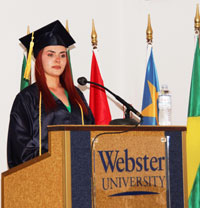 After a lively musical interval with the famous Greek melody from "Zorba the Greek" by Mikis Theodorakis, this year's valedictorian, Sofia Mitic, BS Psychology, delivered a personal speech about her journey with Webster Athens. "Graduation is a time of reflection on the past and looking to the future," she said. "This is the time to remember everything we have experienced through the past several years together and how much we have grown. Today is our chance to pause for a moment and take all this in before moving on to new adventures life has in store for us." Mitic thanked several faculty and staff members who helped, inspired and guided her to achieve her goals. She also thanked her parents who traveled from Serbia to be with her on this milestone in her life.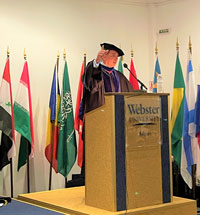 The much-anticipated conferring of the degrees came next, during which students received their degrees from Rector Botopoulos and Webster President Julian Z. Schuster. Parents rushed to the front of the stage to capture the moment in a photo, while some students live-streamed the event for their families to watch if they were unable to attend in person.