Webster's Chess Team Heads to Final Four National Championship
For the 10th consecutive year, Webster University's chess team has qualified for the "Final Four" President's Cup collegiate chess championship. The team qualified after placing in the top four of the Pan Am Collegiate Chess Championship in Dulles, Virginia, just outside of Washington D.C. this past weekend.
"It has been a very competitive tournament with the best chess teams from many well-known colleges and universities in the Americas. With thorough preparation, perseverance, and teamwork, we qualified for the Final Four again," said Webster University Chess Coach Liem Le. "I am very proud of my students and look forward to leading the Webster University Chess Team to a victory in the Final Four."
At this year's Pan Am tournament, 57 teams competed. Among those players were 23 grandmasters and 19 international masters. Webster sent eight students to make up two teams of four players each for the competition. Seven students are grandmasters, the highest title in the world of chess.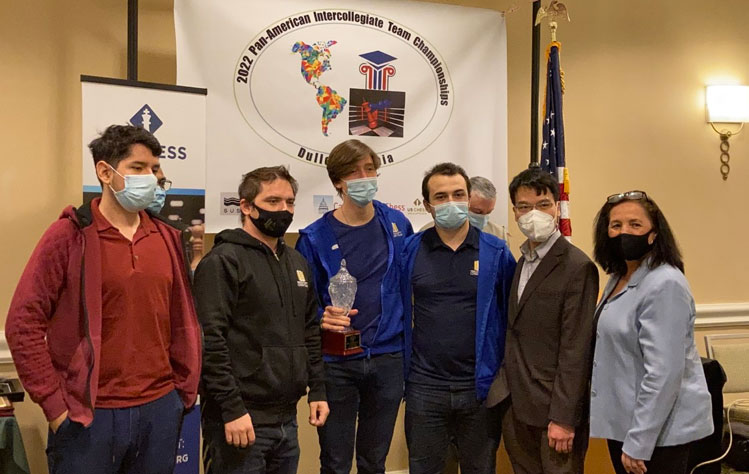 The tournament started Thursday and ended Sunday afternoon, representing six rounds of play. With four wins, one loss and one draw, Webster's "A" team (above photo) finished in fourth place, qualifying for the national championship later this year.
The "B" team (below) was close behind, finishing in seventh place, also with four wins, one loss and one draw. The reason that the B team did not tie with the A team, despite having similar results was due to a tiebreaker that did not go the team's way, Liem said.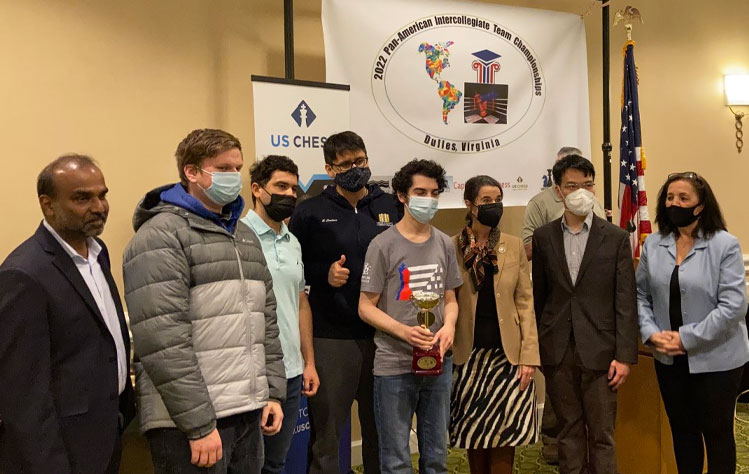 Individual players from Webster also did well at the Pan Am tournament this year. Grandmaster Emilio Cordova, who just graduated in December 2021, won the first place of board 3 and the best performance overall. Grandmaster John Burke won the second place of board 2. Click here to view individual standings.
The "Final Four" competition is usually held in April. This year it will be a competition between Webster University, Saint Louis University, Texas Tech University and University of Texas at Dallas. Click here to view all the team standings.
Webster Chess No Stranger to the Final Four
Webster has historically done well at the "Final Four," having won five of the past eight competitions and having been ranked the #1 chess team in the country for all 10 years. The 2020 "Final Four" was not held due to the pandemic, though Webster had already qualified to compete, so this year will be the team's ninth appearance at the championship.
Webster's dominance of the collegiate chess circuit has continued through this year. This year, the chess team won more titles than any other participating school at the 2021 U.S. Collegiate Rapid and Blitz Individual Championship this past fall. Webster has finished in first place in eight of the past 10 Pan Am tournaments.
To learn more about Webster University's chess program, visit webster.edu/chess.