College of Humanities and Social Sciences Launches GELT Institute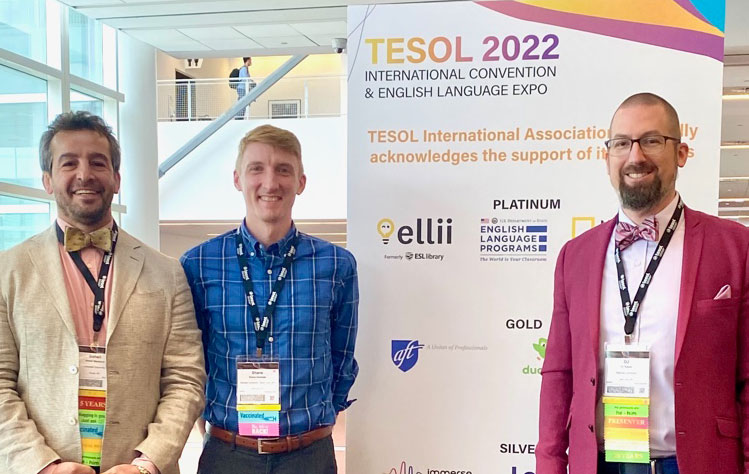 Soheil Mansouri, Shane Kennedy and DJ Kaiser presenting at the TESOL 2022 International Convention and English Language Expo in Pittsburgh, Pennsylvania.
The College of Humanities and Social Sciences has launched the Global English Language Teaching (GELT) Institute, with the goal of establishing Webster University as a global center for excellence in the field of English language teaching (ELT).
Webster is already a leader in this field with two National Professional Development (NPD) grants from the U.S. Department of Education, which have prepared more than 200 K–12 grade teachers in Missouri by providing full tuition for courses leading to the Missouri ELL (English Language Learnings) certification.
The faculty and staff associated with the GELT Institute, Dr. DJ Kaiser, Dr. Soheil Mansouri, and grant coordinator Shane Kennedy, will continue to engage in grant activities and seek additional forms of external funding.
The GELT Institute will engage in several activities to promote ELT, including a professional development webinar series. In spring 2023, the GELT Institute will host a conference in St. Louis for K–12 teachers on English language teaching and meeting the needs of English learners and multilingual learners in their classrooms. These and other in-person or virtual events seek to provide greater accessibility to ELT for professionals around the globe.
"The activities of the GELT Institute to facilitate better English language teaching serve the College of Humanities and Social Sciences as we seek to provide the foundation of good citizenship and good stewardship, locally, nationally and globally," said College of Humanities and Social Sciences Interim Dean Danielle MacCartney. "We're happy to have GELT as part of the College."
The MA in Teaching English to Speakers of Other Languages (TESOL) program is currently housed in the GELT Institute along with the Teaching English as a Foreign Language (TEFL) certificate program. The TESOL program is also approved to offer courses leading to Missouri ELL certification for K–12 teachers (most of whom also complete the full master's program).
Webster's TESOL program currently serves more than 300 students, with students in the U.S., Uzbekistan, Kazakhstan, Greece, and across globe through the online program.
"We are excited to engage with the ELT community in new ways. At the same time, we have focused on strengthening the program," said DJ Kaiser, professor and GELT Institute director.
Starting fall 2022, a new curriculum for the TESOL program will roll out for seven core required courses with updated readings and new assessments aligned to the most recent set of TESOL standards. Core TESOL courses will use carefully selected chapters from e-books, articles from top journals and other relevant readings, so students will not need to purchase textbooks for these courses.
"Our goal is to be more mindful of equity by reducing the program costs associated with textbooks, and to include more readings reflective of the diversity of the teachers we seek to recruit into the program and reflective of the diversity of the language learners they will encounter in their classrooms," Kaiser said.
Webster University's Teaching English as a Second Language (TESL) program has changed its name to Teaching English to Speakers of Other Languages (TESOL). Since 2010, Webster University has graduated more than 700 candidates with their MA in TESL/TESOL.