Sverdrup Construction Update - July 19, 2022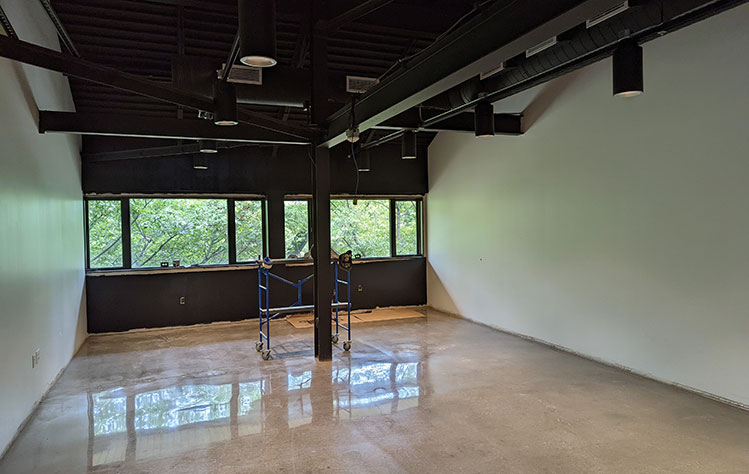 The second floor of Phase II of the Sverdrup Complex remodel is nearly complete. Last week, construction crews began polishing the floors and finishing the painting in the newly configured classrooms and photo gallery.
The first floor also shows significant progress, with drywall installation nearly completed for its new creative spaces.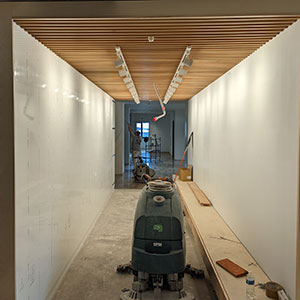 "Musick Construction deserves a lot of praise for keeping this project on schedule," said School of Communications Dean Eric Rothenbuhler. "They have been working 10-hour days, and often are on site on Saturdays as they work to get this space ready for students in the fall."

Rothenbuhler also praised V Three Studios, the architecture company for the remodeling.

"This will be a wonderful facility for our students and faculty and will be the best communications facility in higher education in the entire Midwest," Rothenbuhler said. "V Three brought a strong vision about architectural function and aesthetics as it relates to creative work and delivered a design that encourages creativity and collaboration, while providing everything we needed in the technical, media production facilities."
The first floor will include an audio and video recording suite, a sound stage, workshops, public spaces and a refurbished auditorium. The sound stage will include an LED video wall for virtual cinema production, providing students with experience using the newest techniques in film, video and television production. The audio suite will be similarly state of the art and fully networked, allowing students to work within their specialties, and across other media and disciplines.
The second floor will house classrooms and labs for game design, animation and video post-production, a new photography studio, the new Kooyumjian Gallery (replacing the May Gallery), meeting places and a space to share student work. Students and faculty will also have opportunities to peer into some of the creative spaces on the first floor using large windows being installed on the second floor.

Watch for further updates in future issues of Webster Today.