Cybersecurity Professor Jim Curtis Offers Tips on How to Secure Personal Devices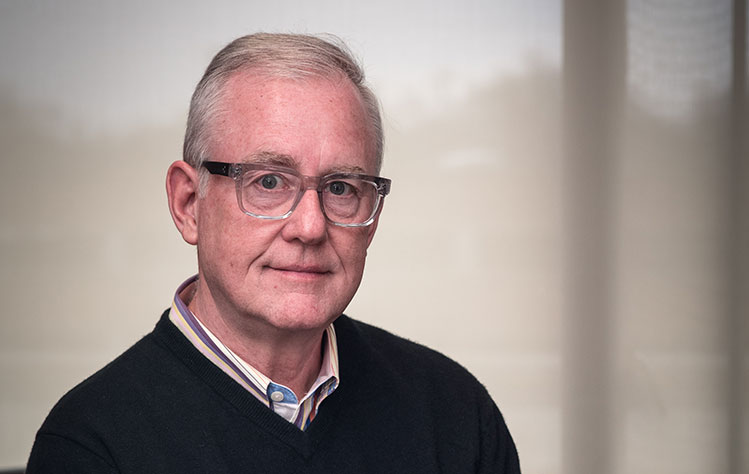 Nov. 30 is National Computer Security Day. Jim Curtis, an associate professor for Information Technology (IT) and Cybersecurity, and chair of the math and computer science department, is offering up 10 tips that anyone should take to protect personal computers or other electronic devices.
Before entering academia, Colonel Curtis was a career Air Force communications/cyber officer who served in the White House as a presidential communicator for Presidents George H. W. Bush and Bill Clinton. He also spent 16 years in the IT industry culminating as a vice president and regional director with SRA International. His expertise encompasses information assurance; critical infrastructure; risk management; cybersecurity policy; social engineering; and space and transportation systems.
Top 10 Steps to Protect Your Computer and Data
These are simple steps you can take to keep your computer operating at peak performance, protect your data, and defend against the 'bad guys.' Remember, digital vigilance online is paramount.
1. Set software updates to AUTO: Turn on automatic updates in Windows Update and iOS General Settings to keep Windows and iOS applications up to date. Turn on automatic updates for other software as well, especially browsers and apps.
2. Back-up data: If you do not use a cloud storage option, portable external hard drives are inexpensive and worth the investment to regularly back-up your computer data (I recommend once per week) versus the misfortune of losing a hard drive with your documents and files.
3. Use a virus protection program: Most free versions are effective against online virus threats. Pay versions provide more services often making them worth the small purchase fee.
4. Update privacy settings: Social media services have become more attuned to enabling case-by-case privacy settings ranging from map access to social chat apps. For most apps, a setting allowing access to your location and files only during its use is best.
5. Practice password/authentication hygiene: Use two factor authentication wherever offered, and change your password at least every six months. Develop a memorable method for unique passwords (i.e., the first letter of a line from a favorite song mixed with numbers for letters).
6. Manage cookie settings: A cookie is a text file used to identify and track user movements online. They are like a bookmark for website links, but they also lead to privacy threats by leaving a trail of your activities. You can manage or disable cookie access through your browser, or regularly clear your cookie cache to wipe out your browsing history.
7. Don't plug-in unknown devises: Never insert USB/external devices into your computer unless you know its content and the source. Social Engineers call this a Road Apples malware insertion technique – it is one of the most successful methods used to gain access to your system.
8. Use a Virtual Private Network (VPN): A VPN helps navigate the Internet more securely. When connecting through a VPN, data is encrypted and sent through a private connection "tunnel" which adds another layer of protection. Some VPNs are free through reputable virus programs.
9. Keep the computer uncluttered: Run disk clean-up utilities, delete temporary and unneeded files, ensure the defragmenter program is working, and reboot your computer regularly.
10. Be guarded about online petitions: The 'bad guys' are inventing new and better ways of stealing our stuff. Be wary of emails, texts, and other online offers. If you are not sure, don't respond -- instead, go to your browser and initiate contact through a verifiable, legitimate site.