Webster University Dance Ensemble Spring Concert April 29-May 1
Webster University Dance Ensemble (WUDE), under the artistic direction of Xi Zhao, will present their 2022 Concert April 29-May 1. The Dance Ensemble performs on the Browning Mainstage of the Loretto-Hilton Center, 130 Edgar Road, on Friday and Saturday, April 29-30, at 7:30 p.m.; and Sunday, May 1 at 2 p.m. The concert features a variety of works performed by students in a wide range of styles, from Contemporary to Ballet, to International Dance, highlighting the dancers' extensive technical training and eclectic performance abilities.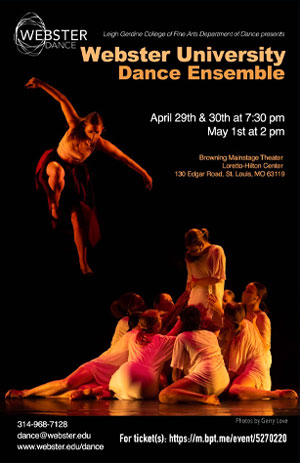 The Department of Dance is honored to welcome guest artists Rodney Hamilton, former dancer and assistant rehearsal director of Ballet Hispánico and currently the Professional Studies Program Director for Ballet Hispánico's School of Dance; and Tyne Shillingford, the head of the dance department and the Upper School Fine Arts Department Chair at Holland Hall School in Tulsa. Other choreographers include Webster faculty members Geoff Alexander, Maggi Dueker, Michael Uthoff and Xi Zhao. With the exception of a reconstruction of Ballet Hispánico's Bury Me Standing, all are premiers and original works for this year's performance.
Tickets
Tickets are free for Webster students, faculty, and staff with a valid Webster ID; $15 for adults; $7 for seniors, Webster alumni, and non-Webster students; $2 for children age 12 and under. Webster students, faculty, and staff free with a valid Webster ID number
Click here to purchase tickets.
For more information contact the Fine Arts Hotline at 314-968-7128 for tickets, or email dance@webster.edu with questions.
Concert Features
Webster University Dance Ensemble is proud to be performing excerpts of Ballet Hispánico's Bury Me Standing, originally choreographed by Ramón Oller and premiered in NYC in 1998. The reconstructor and director of the work at Webster was Rodney Hamilton, former principal dancer and assistant rehearsal director of Ballet Hispánico and currently the Professional Studies Program Director for Ballet Hispánico's School of Dance. The unique culture of the Gypsy or "Roma" people, a marginalized community that has journeyed across continents for thousands of years, inspired Spanish choreographer Ramón Oller to create Bury Me Standing. The compelling rhythms and melodies which accompany the ballet reflect the emotional essence of the Roma: their strong communal bonds, sensuality, feelings of oppression and longing, and their strength and exuberance.
Geoff Alexander, Webster Faculty and a founding member of The Big Muddy Dance Company, speaks of his work, "Rehearsals for this piece began after losing a family member. As an artist it is common for tragedy to strike but for work to continue. Often, we work by obligation. The old saying of "The show must go on" rings true to many of us. But work can also be the therapy we need to cope with our emotions. In beginning this process, however, I wondered what prolonging, or completely skipping the grieving process would feel like. What would be the outcome of burying those negative feelings so as to not have to confront the pain of losing someone or something special? And how could that inevitably change how you relate to other people and their feelings?"
Maggi Dueker, chair of Webster Dance, comments on her contemporary piece, "In this work, I wanted to explore the sense of urgency to emerge or escape that has been so prevalent during these last two years. I was interested in the desire to look to the future and move forward when it seems that time has stood still. To me there's a compelling tension that exists between individual pursuits and communal needs. In this piece I've tried to find a continual interplay between these leading ultimately to a tenuous balance between the two."
Tyne Shillingford, the Lara Elizabeth Turek Alumna recipient guest artist for WUDE this year, speaks of her work, "I wanted to create a piece in collaboration with the dancers, because it is important to me that we all felt connected to the movement. That connection leads to an authentic and truthful performance that those on stage and in the audience can experience together. All of us – dancers, creators, humans – have had a really challenging life experience these past couple of years. This piece, titled Beauty in the Wreckage, was not only inspired by a quote from a favorite author of mine, but inspired by the resilience of the artistic and human spirit in times of great struggle."
Michael Uthoff, lecturer at Webster University and the executive director of Dance St. Louis, has created a Ballet Inspired by movements of his father's, Ernst Uthoff, version of Carmina Burana. He mentions, "I have tried to bring to life some qualities, ideas and movements of my father's version of Carmina Burana that would bring subtle challenges to our dancers while gifting the work to my wife, Flor, who loves the music and who needs a lift after a difficult year."
Xi Zhao, Webster faculty and the artistic director of WUDE, is bringing her students in International Dance course to perform the various styles of dance: Tibetan Dance, Dai Dance, and Mongolian Dance. Xi mentions that in offering courses like International Dance, Webster Dance allows students the opportunity to gain a global perspective and appreciation for the diverse culture and art forms in the world.