Werfelmann Places 3rd in Zodiac International Music Competition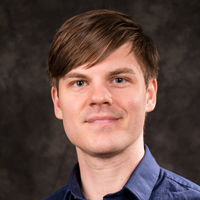 David Werfelmann, director of the BA in Music program in the Leigh Gerdine College of Fine Arts, was announced as a finalist of the fourth Zodiac International Music Competition in the Composition category. Winners were announced on March 28 and Werfelmann received third prize in this competition.
The competition was juried by a panel of distinguished performers and composers from the UK, U.S., and Europe. "Every year the level of the entries seems to grow and this year was no exception," writes Kliment Krylovskiy, who coordinates the competition. "The artistic abilities represented both in the instrumental and composition categories was extremely high, rendering the task of selection very, very difficult.
The Zodiac International Music Competition aims to discover exceptional musical talent, both in performance and composition, from across the globe, and bring it to the stage of the Zodiac Music Academy & Festival in the South of France and New York.
The competition invites artists from all parts of the world to participate via recorded video submission (or score submission for composers).
A performance of compositions by the finalists can be found here. Werfelmann's work begins at 44:24.
The competition website can be found at zodiaccompetition.com.