The Department of Dance Presents 'Exhale,' a Bachelor of Fine Arts Choreographic Concert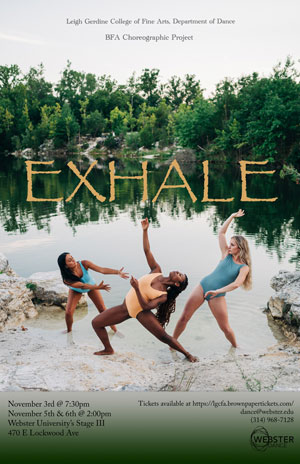 Webster University's Leigh Gerdine College of Fine Arts Department of Dance presents "Exhale." The concert showcases the original choreography of senior BFA Dance candidates Demi King, Abbi LeBaube and Haley Rhiney.

Exhale runs Nov. 3 at 7:30 p.m. and Nov. 5-6 at 2 p.m. The performance will take place on Stage III, the lower level of Webster Hall, 470 E. Lockwood Avenue. The concert is ticketed at $15 for adults; $7 for seniors, Webster alumni, and non-Webster students; $2 for children 12 and under; and free for Webster students, faculty, and staff. Seating is limited. Reservations are highly recommended.
Tickets can be purchased online.
Concert Overview:
When asked about her duet, King said, "My duet is inspired by me and my sister. We have a strong relationship, and are always going to be there for each other. Even though my sister and I have a large age gap, I know that we have each other's backs. We're not the same person, we have our own uniqueness/individuality, but we will always support and love each other!"
LeBaube said of her work, "My pieces are a response to my working reflection of self in a fluctuating society. Great inspiration has arisen from empowerment through unity and physical connectedness. I have been pushed toward issues facing human species in the variety of forms that they take. This embodiment of energy is hopefully a call to action and drives others to think about the ways in which we choose to spend our lives. An acknowledgment of our disconnected nature in our society, with regards to technology and lack of human interface, propels me to desire being present. I believe we must rebel against the part of ourselves that won't let us, creating an invitation of becoming more caring with an aspect of gentleness. Take care of yourselves, allow the space to feel your senses, and be open."
"I want my work to be a culmination of my journey here at Webster University," said Rhiney. "My pieces for the BFA concert explore self-preservation within the African American experience. As well as exploring community through rhythms and the balance between athleticism and intimacy."
Choreographer's Biographies:
Demi King is from St. Louis, Missouri. Dance has always been part of her life. Growing up, her mom taught her dance and continues to do so. Dance is in her genes and even her name is a technical dance term. Demi is a teacher at Steppin Up Dance Productions in O'Fallon, Missouri and her work is consistently in the top at various competitions. While attending Webster University, she has taken classes from teachers including Maggi Dueker, Beckah Reed, Xi Zhao, Dawn Karlovsky and Betsy Brandt.
Abbi LeBaube, a native of St. Louis, Missouri, began her dance experience in 2004 at Motion Express School of Dance and Acrobatics under the direction of Tanya Shea. With a passion for performance, choreography, and teaching, Abbi began her study of dance at Webster University. Through classes and performances, she has worked with artists including Geoffrey Alexander, Betsy Brandt, Gregory Dawson, Maggi Dueker, Dawn Karlovsky, Ashley McQueen, Monica Newsman, Beckah Reed, Michael Uthoff and Xi Zhao. Abbi has also had the privilege to perform works by José Limón and Ballet Hispánico. In addition, she has performed in BFA Concerts, New Works Concerts, the American College Dance Association Regional Conference, Burroak Baroque Festival, along with Resilience Dance Company, and Karlovsky and Company Dance. Abbi has produced, directed, and performed in Webster's Creations Concert, live and virtually, for four semesters. She also spends her time choreographing, creating dance for film and teaching various styles of dance. Abbi has recently studied abroad in Ghana learning Contemporary Ghanian/African Noyam techniques. Upon graduation, she will receive a BFA in Dance, with an emphasis in modern. Abbi is also beyond excited to be starting her professional career with Resilience Dance Company for the 2022-2023 season.
Haley Rhiney, a native of St. Louis, Missouri, began her dance training with traditional West African dance company Afriky Lolo, under Diadie Bathily. This past summer, she was privileged to study abroad in Ghana and learn traditional Ghanaian dance from the University of Ghana. In addition to performing as a part of the Webster University Dance Ensemble, Rhiney has performed with Afriky Lolo and at the University of Ghana.