Florian Bihler, First Webster IT Intern, Sets High Bar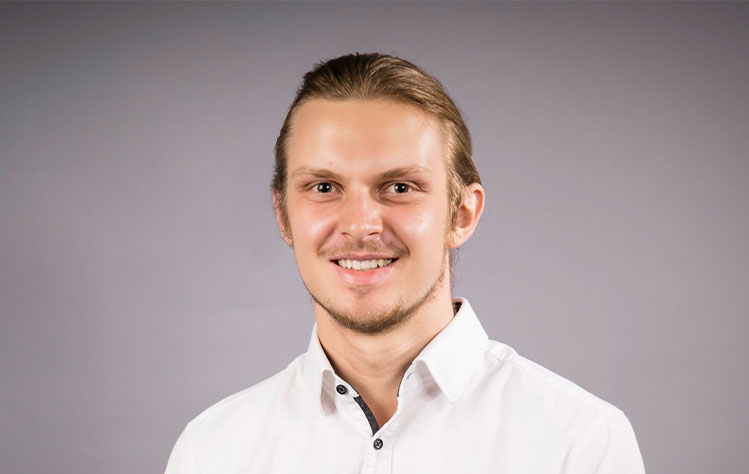 When Florian Bihler's Webster University experience first began, he couldn't have known that he would become the first intern in an innovative new program hosted by the University's Information Technology team, or that he'd achieve so much success during the internship that he'd be offered a part-time job by the time of its conclusion.
After all, Bihler didn't know then that he'd be in the United States, let alone Missouri.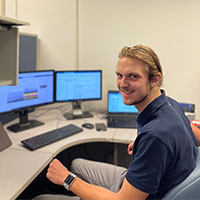 Bihler's path to the University's main campus in Webster Groves, Missouri, started at Webster Thailand in January 2021. Originally from the small German town of Calw, which he described as "charming" and about 30 minutes away from the Porsche and Mercedes-Benz headquarters, Bihler chose Webster for its global network of campuses; Thailand specifically because of his interest in and respect for Asian culture. But COVID-19 threw a wrench in those plans.
After attending Webster Thailand for only a few months during the height of the pandemic, Bihler learned the campus would be closing the following December. Undeterred, but needing to forge a new path, he and his girlfriend (also a Webster student) transferred to the University's main campus in January 2022. By summer, as his educational journey was feeling more settled, the Computer Science major and Cybersecurity minor needed to find work.
Enter Webster's Global Chief Information Officer Greg Malone and a new internship opportunity with the University's IT team.
"The Webster University IT Internship Program provides students pursuing undergraduate or graduate academic degrees in the technology field with real-world experience through a rigorous and comprehensive program," Malone said. "After completion, the participants will have valuable work experience, access to industry experts, and will be more equipped to navigate the hiring process upon graduation."
Bihler set out to be among the first to reap those rewards.
He was tasked with jumping into a high-level project involving the transition of the University's core operating system across its global network to a newer more efficient model; one that could integrate and replace other secondary systems. The ongoing project, aptly called WebsterOne because it has the power to cohesively bring together one Webster, needed someone who could develop a comprehensive communication strategy across the University's various constituencies from an Information Technology perspective. Bihler took on that task and more.
"From day one, Florian was determined to make the most of this experience," Malone said. "He was not afraid to search, inquire and proactively find ways to complete his assignments."
Those assignments – and his accomplishments – included completing several training courses to understand the new system and its complex capabilities, sharing that expertise with the project executive and team members, designing and launching an internal information site for faculty, staff and students, and building a platform for internal project collaboration.
Of all the challenges he faced in completing such major tasks, Bihler said the biggest involved the use of soft skills – including the communication of important deadlines.
"As a student intern with little work experience among managers and directors, this was extremely difficult for me," Bihler said. "I often wondered how I would encourage our team to complete an urgent task, without crossing the line. English not being my first language did not help in this situation."
And yet, just as he had during unforeseen hurdles in his education more than a year before, he persevered.
"I did some research online and discovered that deadlines are usually managed by team leaders only," he said. "However, I quickly located transferable communication and leadership skills that I could apply to construct concise announcements."
Malone was impressed, and overall feedback from the team was positive. So much so that by summer's end, Bihler was offered the opportunity to continue on in a part-time capacity as the WebsterOne communications lead – a role he accepted and continues currently alongside his degree program.
Bihler summarized the internship and ongoing position as a truly "unique and growing experience" for which he has immense gratitude. Among the plethora of skills and expertise he continues to develop, he said his greatest reward has been working alongside his mentors-turned-colleagues.
"Greg Malone has been one of the best supervisors I have ever worked with, and I truly admire him for his friendly and energetic personality while he's staying on top of all his different tasks as CIO," Bihler said. "Tori Smith, our project manager, was the most encouraging person to work with. She's remarkably good at communicating responsibilities and expectations with the team in a nice way. As for everybody, whether it's the coworkers in IT or other departments I have worked with, I've had only positive interactions."
Malone, too, described Bihler's experience as all positive from his perspective.
"As one of our first students to complete the Webster University IT Internship Program, Florian Bihler has created a high bar for all that follow," Malone said. "He made significant contributions to the WebsterOne project that will continue long after he graduates."