Webster's School of Communications to Host St. Louis Police and Youth Game Jam on Oct. 1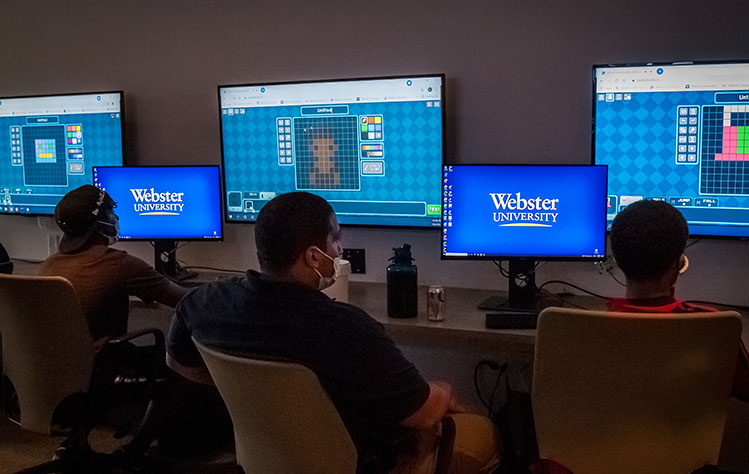 Thirty police officers, firefighters and tech professionals from the region will team up with 30 area youth to learn how to build video games. Called the "St. Louis Police and Youth Game Jam," the day is designed to build bridges between the community and youth from under-resourced areas by introducing both to the skills needed to build video games.
The event is hosted by Webster University's School of Communications in the Sverdrup Complex on the main campus in Webster Groves. Other participating organizations include:
St. Louis County Police
Careers and Pathways Through Law Enforcement (C.A.P.L.E.)
CyberUp (cybersecurity)
Lion Forge (animation)
Another Reality Studio (virtual reality)
Leidos (geospatial)
Federal Aviation Administration (air traffic control)

"The kids will not only develop their soft skills and technical skills working in teams to design games but will also gain insight from successful STL tech companies on how they can pursue careers in their relative field," said School of Communications Game Design Professor Matthew Burton. "By learning together, we hope to build bridges between the police and the youth while also building bonds as they share a finished product at the end of the day."
The event starts at noon with the students being paired with police officers to have lunch and review the agenda of the day. Then at 1 p.m., they will learn how to build a video game using the Bloxels app. Bloxels, which is made in St. Louis, requires no coding experience to create a complete game and emphasizes storytelling as part of the process. By 2:30 p.m., the teams will start play testing their video games, and they will show off their finished products between 3 p.m. and 4 p.m.
At the end of the event, guest speakers from CyberUp, Lion Forge, Another Reality Studio, Leidos and the Federal Aviation Administration will give short presentations about how the basic skills they learned through building a game could lead to future careers such as film, cybersecurity, the geospatial industry and law enforcement. The event will end by 5 p.m.