Webster University Geneva Launches New Master's Degree in Migration, Climate Change and Environment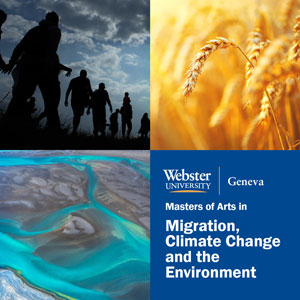 The International Relations Department at Webster University Geneva has launched a new and pioneering program: Master of Arts in Migration, Climate Change and Environment (MAMCE). Students can enroll this fall.
The program is co-led by Dina Ionesco, a leading specialist with the UN Climate Secretariat, and former head of migration, environment and climate change at UN Migration (the International Organization for Migration). It was created because of concerns and evidence that climate change is impacting migration, concerns that are creating a growing need for professionals with knowledge and specialized skills for researching and responding to the impacts.
"Given the unique location of Webster's campus, the Program benefits from an exceptional advantage, being directly embedded in multilateral Geneva, a hub for multilateral action on this topic," Ionesco said. "Our Program benefits from close collaboration with a wide range of actors such as the International Organization for Migration (IOM), the International Federation of Red Cross and Red Crescent Societies (IFRC), the Internal Displacement Monitoring Centre (IDMC) and many others."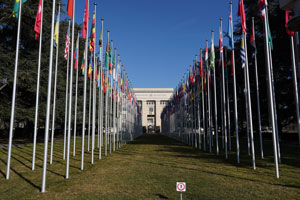 Webster Geneva is a member of the United Nations Academic Impact (UNAI) program, which aligns institutions of higher education with the United Nations in supporting and contributing to the realization of United Nations goals, including the promotion and protection of human rights, access to education, sustainability and conflict resolution.
The program directly builds on Webster's core values, with a focus on global citizenship, by educating a diverse population locally, nationally, and internationally, acting responsibly toward the environment, taking cross disciplinary and creative approaches and strengthening its purpose to serve affected communities.
The MAMCE program is designed to accommodate the needs of students and professionals, with two classes per term taking place in the evening. It is taught by a team of recognized experts, who combine academic and practical experience, and includes a course on research methods that contains innovative approaches to migration and displacement. This program would be suitable for students who are passionate and motivated about having an impact on how nature and people are treated.
For further information, please visit the website or contact:
Graduate Admissions at graduateadmissions@webster.ch
Ms Dina Ionesco, Co-Director and Lecturer of MAMCE at dina.ionesco@webster.ch
Dr. Jubin Goodarzi, Acting Director of the International Relations Program at Webster University Geneva at goodarzi@webster.ch.