Webster University Georgia Welcomes New Students with a Ceremony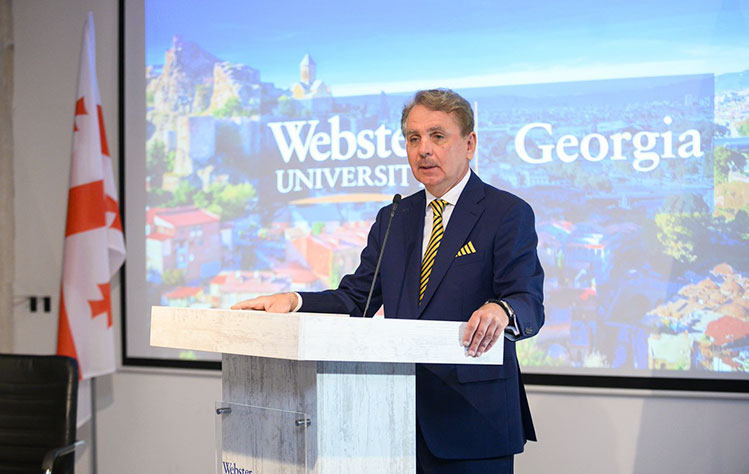 Webster University Georgia greeted its first students at a welcome ceremony in Tbilisi. The Oct. 21 event was attended by several Georgian government officials, U.S. Ambassador Kelly Degnan, Webster University President Julian Z. Schuster, Vice President and Webster Georgia Rector Nancy Hellerud and others from Webster locations around the world.
"We are here to stay and excited to bring the best attributes of American education to Georgia and the Caucasus region," Schuster said. "Blending academic theory with practical and professional hands-on experience, Webster University Georgia will help students develop competencies and skills needed for meaningful impact in their workplaces and communities."
In addition to Schuster and Hellerud, guest speakers included Nunu Mitskevichi, deputy minister of Education and Science for Georgia; George Amilakhvari, chairman of the Education and Science Committee of Parliament of Georgia; and Her Excellency Ambassador Kelly Degnan.
"We are happy that Webster University has opened its campus here in Georgia, not only local students, but those in the region will benefit from a U.S.-based education," said Mikheil Batiashvili, who is Webster's partner in Georgia. "With the help of Webster University professors, students will get one of the best quality educations without leaving the country - at a fraction of the cost of attending university in the United States. Of course, after the first successful year, the University will continue to work, admit other students and raise the new generation that will contribute to developing our country's economy."
"We are thrilled to welcome the first students to Webster University Georgia," Hellerud said. "This inaugural group of highly qualified and motivated individuals is now part of our global community of more than 10,000 students and 200,000 alumni. As an institution accredited in Georgia and in the United States, Webster University Georgia will offer the best of both educational systems for our students."
The initial programs offered are bachelor's degrees in International Relations, Business Administration, and Media Studies. Graduate degrees are offered in in International Relations, and Business Administration. Classes began in the fall of 2022.
Webster University Georgia strives to provide excellent learning enviroments and experiences that transforms students into global citizens. To become a Webster University Georgia student, visit www.webster.edu.ge.