Webster Ghana Reflects on Black History Month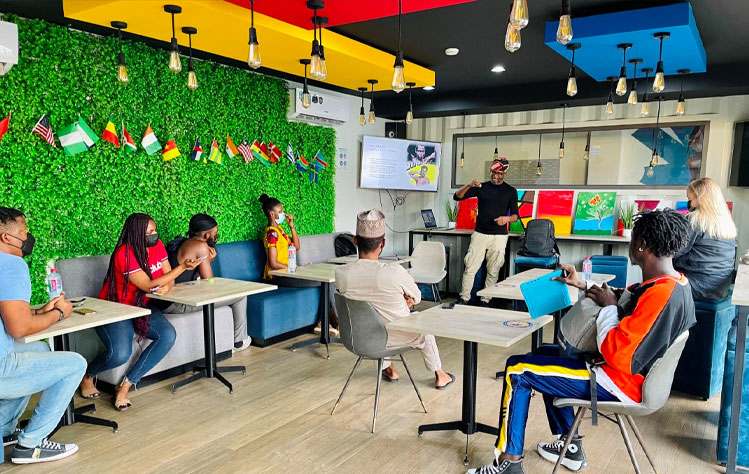 Webster Ghana students, staff and faculty engaged in a series of educatiional and fun activities to celebrate Black History Month this year. The celebrations began with a Feb. 22 screening of the music videos and footnote interviews from Jay Z's "4:44" music album, which featured several Black male celebrities who shared their experiences with mental health challenges. Students felt even more comfortable to see that they are not alone. Some discussion points included the attitudes or actions that students have been taught to associate with strength, treatments from parents that have affected students' mental health both positively and negatively, power struggles in relationships among others.
Mental Health Challenges & Global Wellness Discussion
On Feb. 23, the Webster Ghana community engaged in an intimate discussion on "Mental Health Challenges and Global Wellness Issues Among Black People," examining the theme from the perspective of Black/African men. Globally and more especially on the African continent, men are raised to hide their emotions simply because they are men and they therefore have to appear strong at all times with no hint of vulnerability. Men also can face many mental health challenges such as anxiety, depression, loneliness, low self-esteem and traumas.
The discussion sought to teach our younger generation the healthy ways to deal with some of these challenges and how to heal from them ultimately.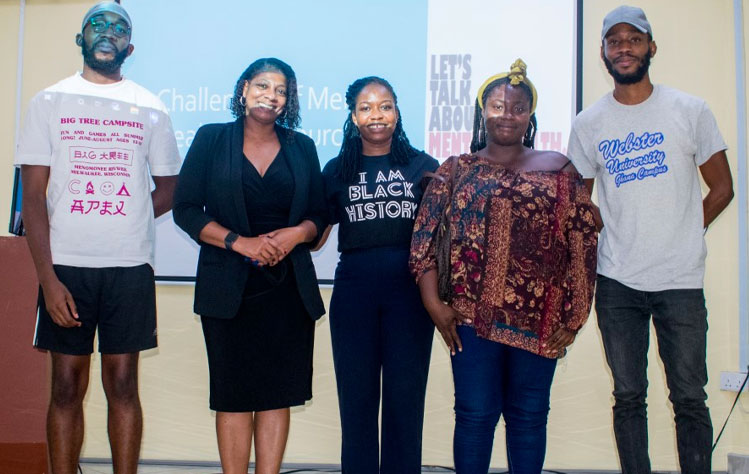 One of the visiting international faculty members, Professor Stacey Olden from Webster University's Myrtle Beach Campus, who is also a licensed and certified counselor, joined the mental health panel. Olden spoke on the mental health challenges from the African American perspective and provided mental health resources that are available in Ghana for students to utilize and share with family and friends.
Professor Eli Tetteh joined the discussion virtually and spoke on vulnerability and healing for Black/African men, sharing his personal experience with some challenges he had and how he got out of that dark space.
The discussion sparked a brilliant idea from one of the students who wants to work with Olden to develop a mobile app that will help people deal with daily mental health issues. The app will be programmed to have some key responses of a therapist to help people deal with their emotions, anxiety and depression on a daily basis. The app will also have a list of mental health resources with contact details for organizations that can assist.
Hosting the American Chamber of Commerce for Black History Month Celebrations
As a long-standing member of the American Chamber of Commerce, Webster Ghana was delighted to collaborate on the Chamber's 2022 Black History Month main event, hosing this celebratory affair on campus on Feb. 24. Themed The Health and Wellness of Accepting the Remnants of a Haunted Past and showcasing the newly published book by renowned Ghanaian photographer, Yaw Pare entitled Remnants of a Haunted Past: Forts and Castles of Ghana, the program featured a skit performed by Village Minds Production on the traumas that transpired in the forts and castles captured in the book. The event was well attended by local businesses, members of AmCham, the African American Association, students, faculty and staff of Webster Ghana.
Win with Knowledge of Black Excellence
The annual social media #BHM series, by the Marketing Department, continued this year with weekly Friday posts online featuring persons of Black excellence from the USA and across the African Diaspora. Webster Ghana page fans were exposed to the stories of Langston Hughes, Angelique Kidjo, Harriet Tubman, Chimamanda Adichie, Lebron James amongst others and also given the chance to answer questions on the first Blacks to achieve in certain categories.
The month-long trivia contest ended with a raffle of the participants and the winner, sophomore Diana Ngoumape, took home a beautiful Adinkra African art wall hanging.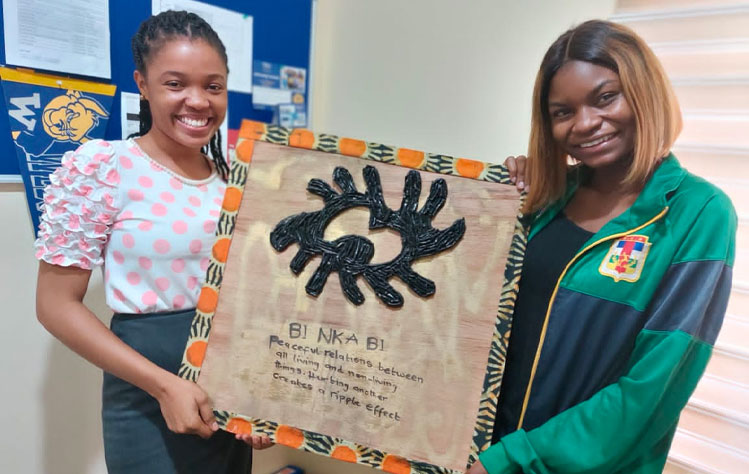 Crowning It All off With Rhythm
The week's celebrations ended with an Afro beats dance workshop and a dance class which highlighted the evolution of afro beats and the contributions of Black people, especially West Africans, to the global entertainment industry.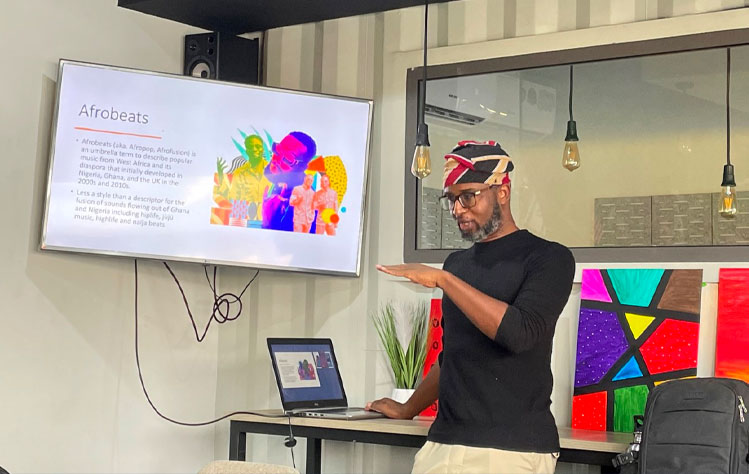 Students had an amazing time one of our faculty, Prof. Kobby Graham who led the workshop and a guest dance instructor to teach the dance class.