Webster Ghana Hosts Public Lecture on Illegal Mining Activities in the West African Nation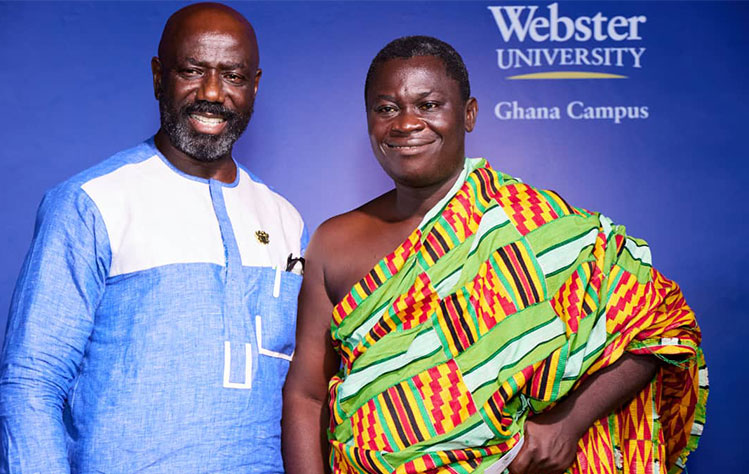 Webster Ghana hosted a public lecture on Dec. 8 to bring together important voices on the topic of illegal gold mining activity in the West African nation — activities known in Ghanaian as "galamsey."
The lecture, titled "The Galamsey Menace in Ghana: A National Security Concern," was the 22nd edition of the University's Public Lecture Series and the first in-person lecture after two years of pandemic-era online restrictions.
The theme was carefully selected to drive conversation around an issue that presents a very real and current challenge to Ghana's socioeconomic development. The event was the result of a collaboration between Webster Ghana's Office of Diaspora Affairs and the Office of the Presidency in Ghana.
"Today's Public lecture falls within the mandate of community engagement," said Felix Danso, head of Webster Ghana's Department of International Relations. "Through such engagements, we contribute to national and international development conversations by bringing varied stakeholders together and contributing to the quality of public debates before policies are made."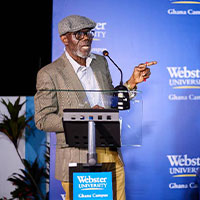 The program was moderated by Nerfertiti Puplampu, a professor in the University's Department of Media Studies. Speaker presentations were carefully selected to bring different perspectives to the discussion. Invited speakers included:
Erastus Asare Donkor, a broadcast journalist with Multimedia Group Ghana, who provided revealing insights on the driving forces of galamsey and demonstrated its devastating effects on Ghana's river bodies.
Larry Gbevlo-Lartey Esq., a leading national security expert with Human Security Research Center Ghana, who shared insights on the national security implications.
Nana Tabono Bonsu III, a traditional chief with the Asante-Akyem Akyeasehene in the Ashanti Region, who highlighted the stance of traditional leaders in the galamsey fight.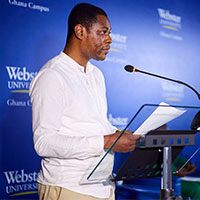 An interactive question-and-answer session featuring many thoughtful questions about policy, leadership, and government from Webster Ghana students and community members closed out the lecture. A networking and cocktail session followed.
Webster Ghana aims to continue its Public Lecture Series with the goal of growing thought leadership by bringing together experts who drive conversation around relevant discourse and subject matters of interest to the community.