HAEC Pan-African Student Summit Held in Ghana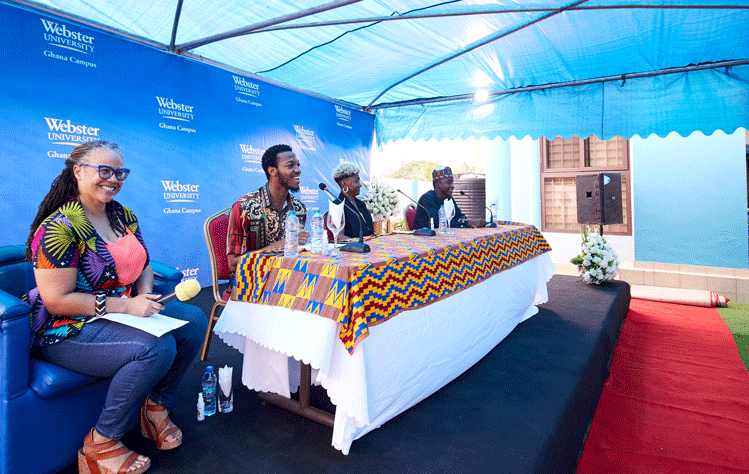 The inaugural Historically Black Colleges and Universities African Education Coalition (HAEC) Pan-African Student Summit took place at the Webster University Ghana campus in May. This event was part of a series of programs organized during the week by the co-chair of the HAEC 100,000 Strong Africa Initiative, Dr. Beverly Booker Ammah, in collaboration with Washington D.C.-based nonprofit Give, Gain, Grow (3GC, Inc.).
Webster University Ghana is a founding member of HAEC's 100,000 Strong initiative and continues to value Webster International Network Schools (WINS) partnerships with HBCUs and other institutions that have also selected to study abroad at the campus in Accra. During the next five years, 100,000 students will experience the opportunity to study abroad between Africa and the United States, going in both directions.
The panel event featured students from local universities in Ghana and students from HBCUs who were in Ghana to participate, including Hampton University, Clark Atlanta University, Tennessee State University, Morgan State University and Howard University. This initiative aims to encourage educational exchange programs for Africans in the diaspora and Africans on the continent.
There were three panel discussions with each moderated by faculty members from Webster Ghana. Each panel included a student from a local university in Ghana, an HBCU student and a Webster University Ghana student. The discussions were entitled, The Role of Students in the Struggle for Pan-Africanism: Past, Present, and Future; The Challenges Faced and Opportunities Available for African Continental Unification; and The Role of the African Diaspora in the Struggle for Pan-Africanism: Past, Present, and Future.
The summit, which commenced with a coffee and tea event for HBCU administrators at Webster University Ghana, proved to be a success with positive reviews from more than 150 guests. A question-and-answer session was held at the end of each panel during which the audience engaged the panel with their various questions and comments on Pan-Africanism. With many questions answered and many minds inspired, all attendees left with a feeling of indomitable optimism towards Pan-Africanism and the future of Africa.