Webster Ghana Hosts Inaugural Summer Dance Partnership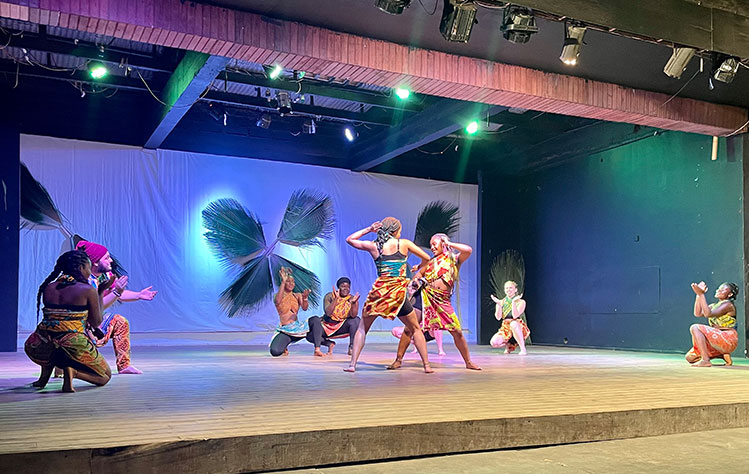 This summer, Webster University Ghana welcomed students from the St. Louis campus and students from WINS-affiliated institutions for a course in dance. This was an exciting inaugural collaboration between Webster University Ghana and the Department of Dance Studies at the University of Ghana.
The goal of the collaboration was to merge the theoretical, practical and immersive examination and exploration of traditional and contemporary Ghanaian dance forms. The trip was led by Webster Dance Department Chair Maggi Dueker.
The Volta region was the destination of the participants' first academic trip outside of the greater Accra area. They went to three separate funeral events to learn about local customs, how funerals are conducted and how the indigenous Agbadza dance is performed with various variations.
The students then took a three-day ethnographic field trip to the Anloga and Keta districts in the southeastern section of the Volta region to observe daily activities of the locals as related to dance. They had the rare opportunity to experience traditional dance and explore the marketplaces in Keta and Dabala. Students also took part in a night of dancing and storytelling with the chief and locals from the Dabala township. They also went fishing at Fiaxor, a place well-known for its lagoon fishing and fish processing.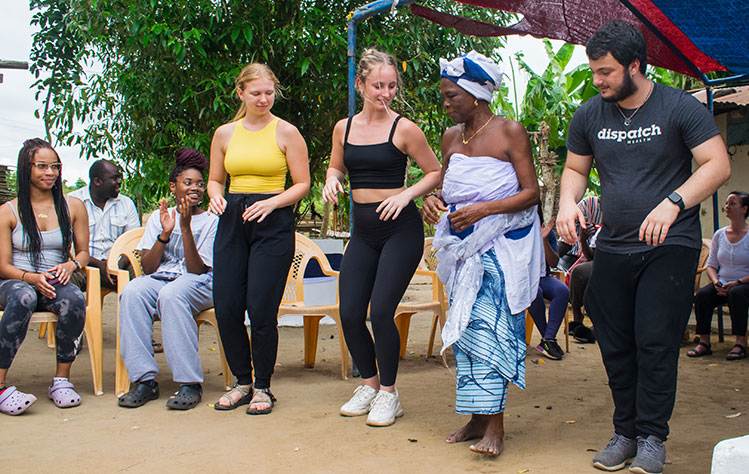 The itinerary of the trip was carefully crafted so students could experience a variety of historical and tourist sites, such as the Tafi Atome Monkey Sanctuary, the canopy walkway at Kakum National Park, the Elmina Slave Castle, the Wli Waterfalls, and the Black Stars Square. It was an opportunity to learn more about the trans-Atlantic slave trade and to immerse in Ghanaian history and culture.
The students wrapped up their summer experience with a live stage performance at the Efua Sutherland Drama Studio. It was an evening of dance, music and poetry, which featured performances from Ghana and the United States, as the students portrayed connections between traditional and contemporary dance forms.