Webster Presents at Global Learning Reimagined Conference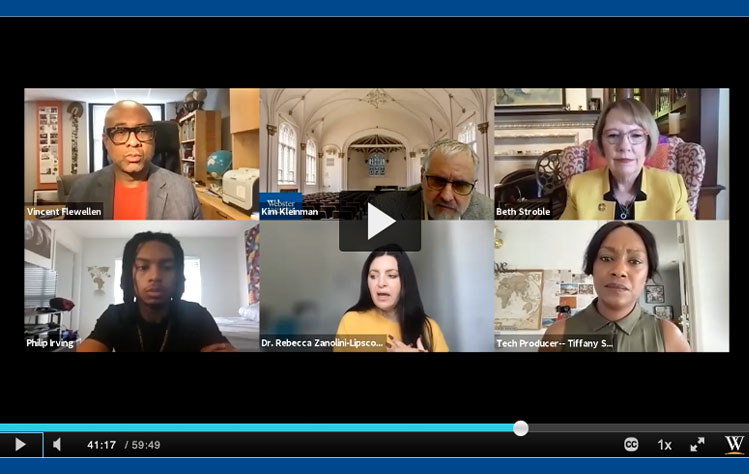 "A Globally Diverse University Aligns Learning, Impact, Equity, and Inclusion" was the theme for Chancellor Elizabeth (Beth) J. Stroble, Chief Diversity Equity and Inclusion Officer Vincent C. Flewellen, Director of Undergraduate Advising Kim Kleinman, and recently graduated Chancellor's Scholar Phillip Irving at the American Association of Colleges and Universities' virtual conference on Global Learning Reimagined.
The four presented on Saturday, Oct. 9, highlighting how Webster has leveraged our international network of campuses, as well as our long-standing Diversity Equity and Inclusion Conferences. They discussed our involvement with the African Renaissance and Diaspora Network around the United Nations' Sustainable Development Goals and the Red Card Campaign to end violence and discrimination against women and girls, which deepens our alignment of learning, impact, and action with equity and inclusion.

'Year of Return' Experience
In October 2019, Flewellen and Irving visited Webster's Accra campus as part of a delegation of Ghana's United Nations-endorsed Year of Return, and a portion of a special Introduction to Africana Studies course. Participants -- students, faculty and staff, all African American -- experienced that vital city, its food, music, culture, advertising and commerce, and, above all, history. Particularly moving was the delegation's visit to the Slave Castles where the enslaved were held before taking their last steps on the African continent before being loaded onto the slave ships for the so-called Middle Passage.
The delegation's experience is chronicled in Irving's documentary "Silent Shores."
Global Cornerstone Seminar: This is the Place
Kleinman has shown the documentary in his Global Cornerstone Seminar "This is the Place" in both 2020 (with Irvings's remarks and introduction) and 2021 and also welcomed Flewellen's moving comments both years. This class has developed ideas about place-based learning that Stroble and Kleinman have shared with the Reflective Teaching Community, Sky Krakos' Bridge Builders StL, and, of course, the students in the class each year.
Stroble and Kleinman have developed their thinking into these three concepts:
Places are 1) made by humans; 2) where communities happen and identities are shaped; and 3), therefore, worth studying for the pasts they reveal and the histories we can construct but also for the new futures, identities, and communities we can create as we interrogate those places.
A recording of the presentation may be accessed here by current members of the University community (an ID number is required for access.)
With supportive feedback from other conference participants, some quite interested in the Webster International Network of Schools (WINS), we want to continue to deepen our appreciation of our globally diverse university by using this framework.