Eric Goedereis Named Assistant Vice President for Research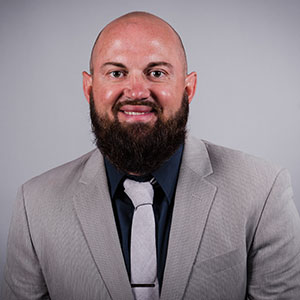 Associate Professor Eric Goedereis was named the assistant vice president for research. In his new role, he will work with colleagues across the University to promote high-quality scholarship by providing faculty development and support for grant seeking, award management and research compliance.
He will oversee the Office of Research and Sponsored Programs (ORSP) and will report directly to Webster University President Julian Z. Schuster. He also will continue teaching in the Psychology Department in the College of Science and Health.
"Eric has a successful track record closely working with the Office of Research and Sponsored Programs," Schuster said. "He collaborated with administrative staff and faculty to secure and administer a five-year grant from the National Institute of Health, the first such grant to Webster from that agency. His work also has increased support for faculty professional development activities, developed an institutional student/faculty collaborative research grant, and helped create a regular student research conference highlighting student achievement, known as the Research Across Disciplines (RAD) Conference. He is well qualified for this position, and I look forward to working with him to find new ways to enhance and advance our institutional goals."
Besides teaching, Goedereis has extensive insight into federal guidelines for human subjects research. He served as both a member and co-chair of the Institutional Review Board (IRB), and co-led a major overhaul of institutional policies and procedures aimed at facilitating greater research activity during a period in Webster's institutional history that emphasized increased research productivity. Goedereis also engaged in various outreach efforts to promote research best practices at the University, including the development and delivery of research compliance training for students and faculty.
"Since joining Webster in 2009, I have worked hard to promote high-quality faculty and student research at our university and Webster has made impressive strides in this domain. We've shown that Webster can absolutely be an institution where one can be both an excellent teacher as well as an engaged, productive scholar," Goedereis said. "I am excited to continue collaborating with Linda Dahlgren, Kelly Young, and Steve Rich - the OSRP team - and partnering with relevant units and stakeholders so that we can continue supporting our talented faculty as we build upon this momentum."
Goedereis joined Webster University in 2009. He holds a bachelor's degree in Psychology and master's degree in Experimental Psychology from Western Illinois University and doctorate in Developmental Psychology from West Virginia University. He is a recipient of the 2015 William T. Kemper Award for Teaching Excellence, the 2016 Learning Happens Everywhere Award, and multiple Faculty Research Grants from Webster University.
He will start his new role immediately.